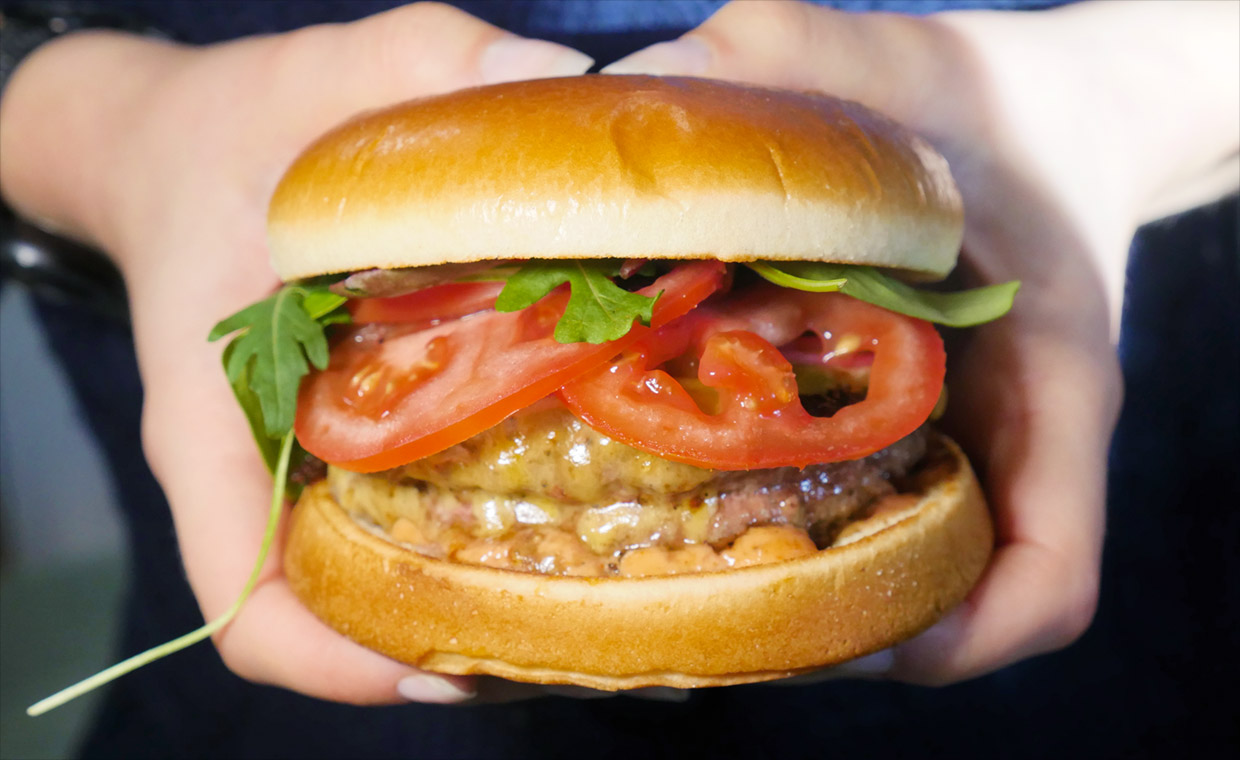 Sassafras Farm & Kitchen ligger i Norrtälje kommun, strax utanför det lilla samhället Edsbro. Här har maten tagit inspiration från USA och fokus ligger på när- och egenproducerade produkter. I det gamla missionshuset är inredningen pittoresk, och trädgården är full av grönsaker som används i maten eller blir till must och andra drycker – både med och utan alkohol. Vi besökte dem under söndagsbrunchen, och beställde deras signaturburgare med 180 gram nötkött, guanciale (lufttorkad griskind), cheddarost, picklad rödlök, burgardressing, tomat och sallad. Den kostade 150 kronor och då ingick även pommes frites och en coleslaw.
Den rejäla bistroburgaren hade en ganska tjock köttpuck som var otroligt mör och riktigt saftig. Den var stekt medium och hade en lagom röd kärna. Vi uppskattade sältan i guancialen som gav balans till resten av ingredienserna, och burgardressingen tillförde en härlig ton av rökighet och var faktiskt riktigt imponerande. Däremot så var osten ganska stel och tråkig, och brödet hade inte värmts och var lite för kompakt. Dessutom var valet av blandsallad (med bland annat ruccola) lite udda, och mängden tomat var oproportionerligt stor. Men utöver dessa mindre missar var vi ändå nöjda, främst tack vare det fina hantverket med både kött och sås. Pommes fritesen var räfflade och tunnskurna – så kallade crispers – som hade kryddats milt med någon form av grillkrydda, vilket faktiskt passade gott med den krämiga coleslawen.
Tillsammans ingav hela måltiden en känsla av Sverige möter USA. Sassafras ligger en bit bort från storstadspulsen, men är värda ett stopp – oavsett om du bara har vägarna förbi eller vill unna dig en paus.
In English
Sassafras Farm & Kitchen is a Swedish restaurant, located in Norrtälje municipality just outside Edsbro. Their menu has an American feel to it, and they focus on local and home-made products. The picturesque building is a remodelled mission house, and the garden outside is filled with vegetables that they use in their cooking or to make beverages; both with and without alcohol. We visited them during their Sunday brunch and ordered their signature 180-gram cheeseburger with guanciale (cured pork cheek), cheddar, pickled red onion, burger sauce, tomato and leaf lettuce. It cost 150 SEK (17 USD), including fries and a coleslaw.
The hefty bistro burger had a thick patty that was incredibly tender and really juicy. It was cooked medium and had a deep pink centre. We really liked the saltiness in the guinciale, which balanced out the other flavours in our burger. The burger sauce also impressed us with its smokiness. On the other hand, the cheese hadn't melted properly and felt dull, and the unheated bun was pretty compact. The choice of mix salad leaves (including rocket) felt a bit baffling as well, and there was too much tomato. But despite these mistakes we were still pretty happy with our meal, mainly thanks to the excellently handled beef and the tasty sauce. The thin and crinkle cut fries (so-called crispers) had a grill seasoning that actually worked quite well with the creamy coleslaw.
Overall, the meal really felt like a meeting between Sweden and America. Sassafras Farm & Kitchen may lie far off the beaten track, but they're well worth a visit; no matter if you find yourself nearby or just fancy a day trip from Stockholm.