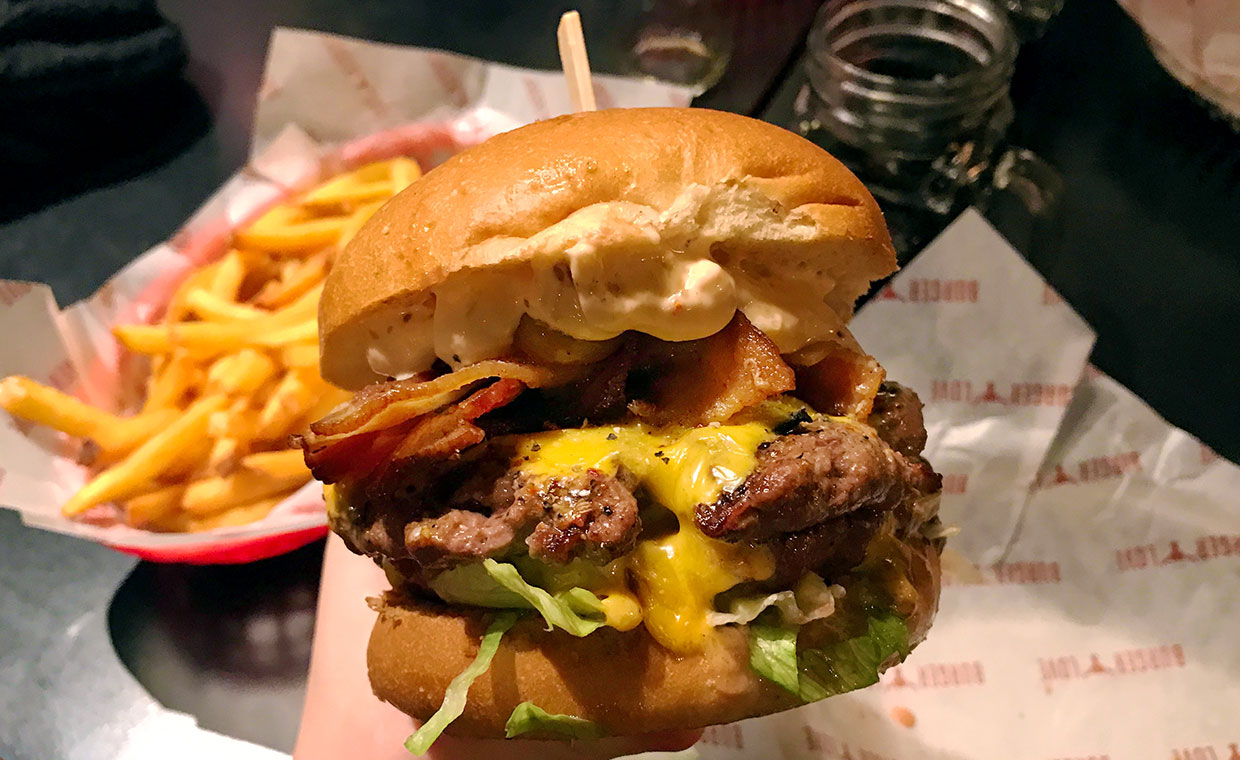 Intresset för hamburgare gjorda från grunden växer ständigt i Örebro, och Burger Love slog faktiskt upp sina portar för flera år sedan med en varierad meny. En enkelburgare på 180 gram kostar runt hundralappen utan tillbehör, och för ytterligare 20 kronor får du två mindre puckar på totalt 250 gram.
Vi beställde en dubbel "Burger Love", med två köttpuckar nymalen högrev samt chilimajonnäs, sallad, cheddarost, tomat, stekt lök och bacon. Det hela omslöts av ett briochebröd som var färskt och luftigt, men som borde ha rostats lite mer. Trots mycket kött och många ingredienser så såg burgaren snygg ut och låg bra i handen.
Köttet hade en fin stekyta och var ordentligt kryddat, men var dessvärre kompakt och en aning torrt. Salladen på vår burgare kom från den sämre delen av salladshuvudet, vilket kändes onödigt och snålt. Den dubbelfriterade pommes frites smakade i alla fall väldigt gott och bjöd på ett krispigt tuggmotstånd.
Burger Love tar sin plats på burgarscenen i Örebro och är ett prisvärt val. Vid lunchtid får du en burgare med pommes frites och dryck för 95 kronor, vilket är klart godkänt. Tyvärr har inte vår smakupplevelse varit konsekvent under våra besök, något vi hoppades skulle vara åtgärdat vid det här laget. Vi hoppas att de verkligen visar prov på sin burgarkärlek snart, för alla komponenter är bra och det finns gott om potential att bli bättre.
In English
Burger Love is a veteran in the Swedish city of Örebro, and we tried their namesake burger with chili mayonnaise, lettuce, cheddar cheese, fried onions, bacon and double patties (250 grams) of chuck steak. The brioche bread was soft and nice, but could have been better toasted. And even though the burger was quite massive it still fit in our hand and looked really nice. The meat had a good crust and was properly seasoned, but was a bit too compact and dry. Burger Love is an affordable burger joint with a lot of potential, but every time we've visited them something has been a bit off. They've been around long enough to sort these small problems out, and we hope they let their love for burgers shine soon.