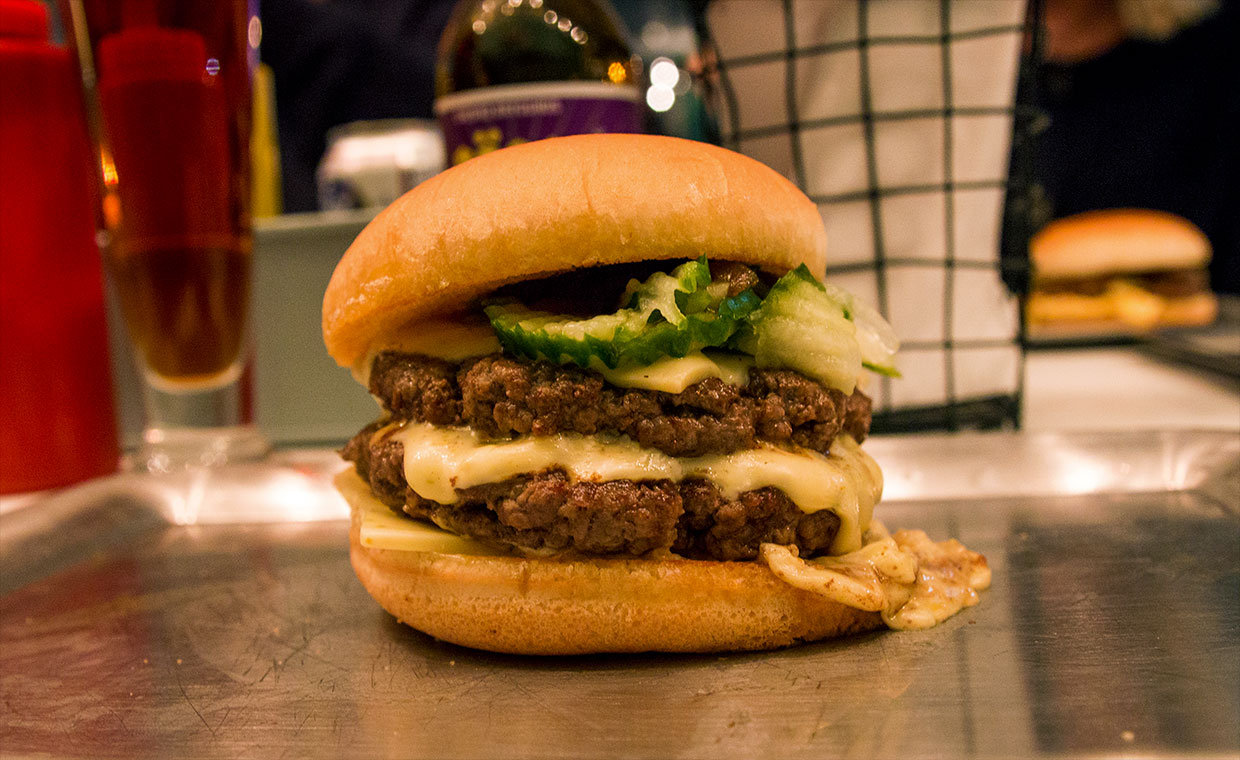 Jimmy's Diner har stängt sin verksamhet.
Uppdatering, september 2017: Jimmy's Diner har nu stängt för gott.
Jimmy's Diner är en nyöppnad restaurang i Örebro som lagar mat som har inspirerats av den amerikanska diner-kulturen. Vi var såklart på plats för att prova deras burgare, och beställde in en "Double O Cheesus" bestående av två nötfärspuckar på 113 gram vardera, tre lager ost, majonnäs och deras egen karamelliserade lök och inlagda gurka. Vi beställde även in deras hemmagjorda pommes frites.
Brödet såg däremot inte ut att vara bakat i köket eller komma från något lokalt bageri, utan såg snarare fabriksproducerat ut. Trots att köttpucken bestod av en ganska mager nötfärs så var det ändå väldigt smakrikt och saftigt. Den karamelliserade löken var god men aningen för söt, vilket också gjorde att den tog över lite för mycket smakmässigt. Den inlagda gurkan tillförde däremot en syrlighet som passade väl ihop med de andra ingredienserna. Tyvärr var deras egengjorda pommes frites en ren besvikelse. De var dåligt friterade, blöta och degiga – verkligen raka motsatsen till vad vi hade förväntat oss.
Stämningen och inredningen på Jimmy's Diner var trevlig om du gillar den där klassiskt amerikanska stilen, och priserna är helt klart godkända. Huvudfokus ligger kanske inte på att servera Örebros bästa burgare, men om de gör några kvalitetsförbättringar kanske de blir godkända åtminstone.
In English
Jimmy's Diner is a newly opened American diner in the Swedish city of Örebro. We tried their "Double O Cheesus" which had two 113 gram beef pattys, three slices of cheese, mayonnaise and their own caramelized onions and homemade pickles, with a portion of their homemade fries. The bun felt like it was made in a factory, which really made the burger feel less exclusive than we'd hoped. The meat was juicy and rich with flavors despite being quite lean, which was a definite plus. The caramelized onions were tasty, but a bit too sweet and overpowering, but thankfully the the pickles complemented the flavours really well. Unfortunately, the homemade fries were soggy and undercooked. The burger might not be top notch, but if you like low prices and an American diner atmosphere you'll probably have a nice time at Jimmy's Diner anyway. We hope they step their game up though.