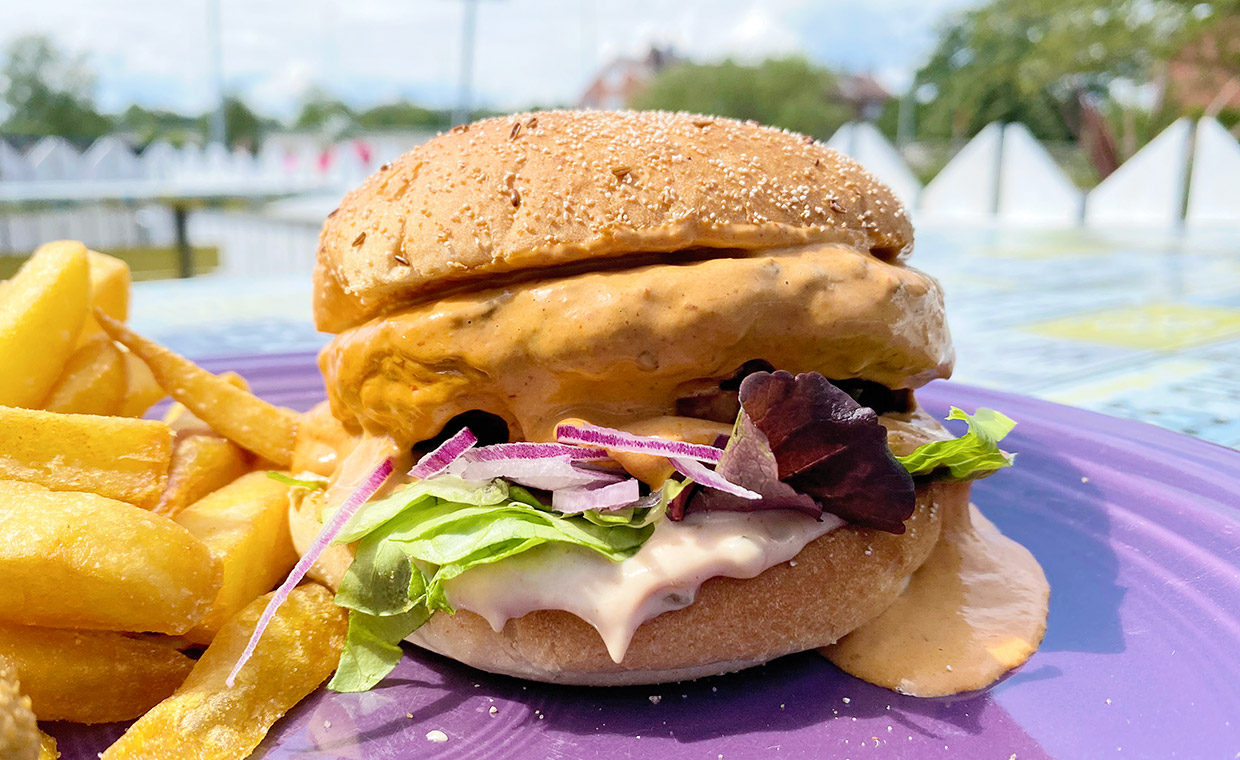 Bildsköna Oxelösund ligger cirka 10 mil söder om Stockholm och en kort resa från centrala Nyköping. Här har Camilla & Puttes Breakfast & Diner serverat burgare och annan diner-inspirerad mat sedan 2014 i sin 50-talsinspirerade restaurang. Gemytlig service och hyfsade priser gav ett gott första intryck, och vårt val föll på en "I hetaste laget"-burgare med en köttpuck på 150 gram, chilimajonnäs, jalapeñopoppers, rödlök, sallad och burgardressing för 110 kronor inklusive pommes frites och coleslaw.
Men när burgaren serverades så trodde vi nästan att någon hade spelat oss ett spratt. Hela burgaren var helt indränkt i chilimajonnäs, så pass mycket att det övre brödet nästan hade glidit av burgaren helt och förvandlat hela måltiden till en kladdig sörja. Som tur var så smakade själva chilimajonnäsen riktigt gott, i alla fall när vi doppade pommes fritesen i den. Själva köttet hade en fin smak men var lite kompakt, och trots att burgarbrödet såg rätt trist ut med sina fullkornsfrön så var det mjukt och fint uppvärmt på insidan. Grönsakerna gjorde sitt bästa att tillföra lite krispighet, men hade inte en chans mot majonnäsen och den helt överflödiga burgardressingen. Det visade sig även att hamburgarens jalapeñopoppers serverades tillsammans med pommes fritesen snarare än inuti burgaren, men detta visade sig vara lite tur i oturen då de hade en grynig konsistens och smakade rätt surt. De tunga och tjockskurna pommes fritesen var visserligen mättande, men rätt trista rent smakmässigt
Det kändes riktigt tråkigt att vår burgare var så hafsigt och finesslöst monterad, för Camilla & Puttes burgare skulle nog kunna bli ganska bra om de tillagats med lite mer eftertanke. Och lite mindre chilimajonnäs.
In English
Picturesque Oxelösund is located about 100 kilometres south of Stockholm, and just a short trip outside Nyköping. Here, Camilla & Puttes Breakfast & Diner have served burgers and other diner food since 2014 in their 50's themed restaurant. Great service and low prices gave a good first impression, and we chose their "I hetaste laget" burger with a 150 gram beef patty, chili mayo, jalapeño poppers, red onions, lettuce and burger sauce for 110 SEK (12 USD) including fries and some coleslaw.
But when they served our burger we thought they'd played a practical joke on us. The entire burger was completely covered with chili mayo, and the top bun had even slid off the burger, turning our meal into a soggy mess. At least it tasted great when we dipped our fries in it. The beef patty was a bit chewy, but properly seasoned and tasted good enough, and despite the bun being covered with pretty unappealing whole-grain seeds it was soft and toasted on the inside. The vegetables did their best to add some crispiness, but didn't really stand a chance against the mayo and the completely superfluous burger sauce. We also noticed that the jalapeño poppers came served with our fries rather than inside the burger, though this turned out to be a bit of a blessing in disguise seeing as they had a granular texture and tasted quite sour. The thick fries were filling, but didn't really taste of much.
We felt a bit disappointed that our burger was so unevenly constructed, seeing as Camilla & Puttes' burgers have the potential to be quite good as long as long as they start paying more attention to the details … and perhaps use a bit less chili mayo.