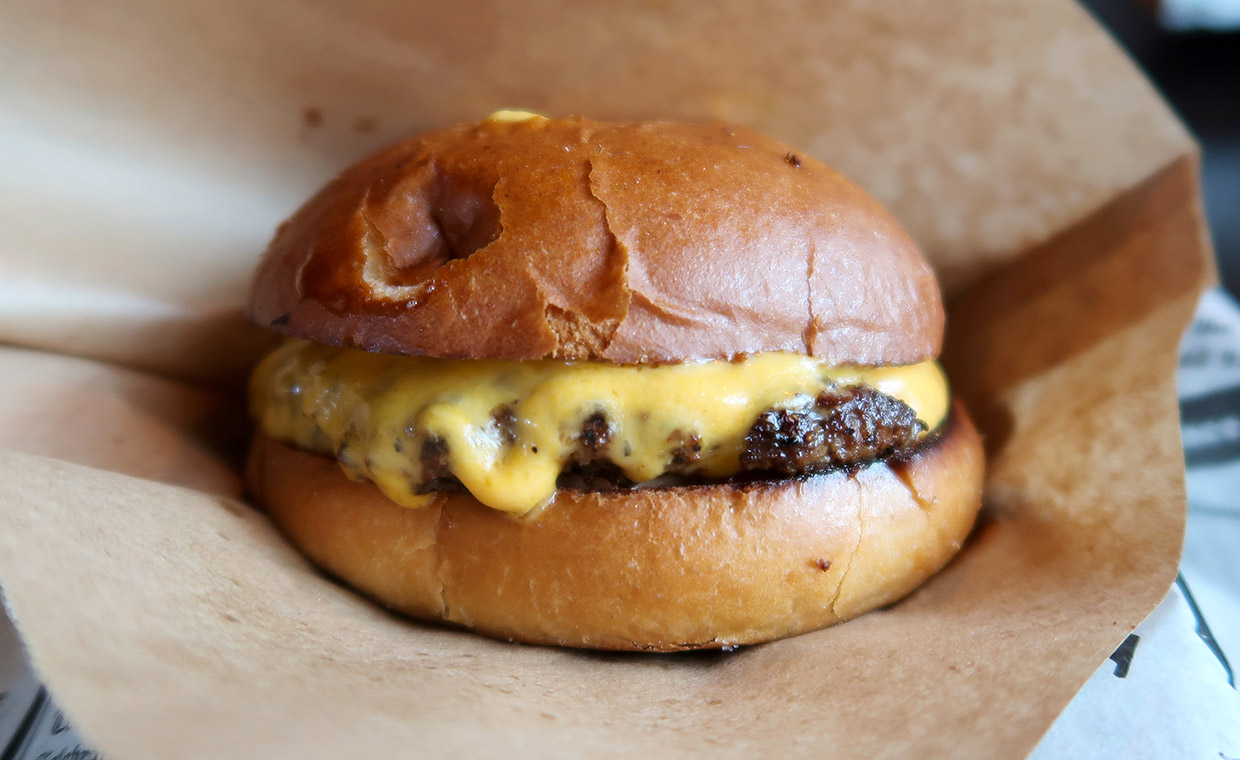 Nala's Burger öppnade 2019 i centrala Sandviken, kort utanför Gävle. Lokalen känns ljus, fräsch och rymlig och köket delas med grannpizzerian, som ägs av samma familj. Menyn är föredömligt kort och enkel med fyra vanliga burgare, samt en vegetarisk och en vegansk burgare som alternativ. Vi beställde ett par olika hamburgare, nämligen deras Ostburgare med cheddar och dressing samt deras Jalapeñoburgare med sallad, lök, jalapeños, cheddar och dressing. Burgarna innehöll 120 gram kött och kostade 80 respektive 85 kronor styck. Vi testade även vanlig pommes frites (20 kronor) samt sötpotatispommes (25 kronor).
Köttet var hyfsat saftigt med en angenäm köttsmak, men vi hade föredragit lite mer krispig stekyta. Osten låg som ett mjukt täcke över köttet och smakade precis som burgarcheddar ska. Brödet var mjukt, varmt och hade en snygg yta som skvallrade om att den fått ligga med på stekbordet lagom länge. Grunderna satt alltså – ingenting var exceptionellt och fantastiskt, men allt var väl godkänt. Våra toppings svajade dock lite. Grönsakerna på vår jalapeñoburgare kändes fräscha, men jalapeñosarna i sig smakade bara paprika – helt utan tillstymmelse till hetta. Och dressingen (som finns på alla deras burgare utom den veganska) kändes malplacerad på cheeseburgaren där den tog alldeles för mycket plats.
På tillbehörsfronten så lämnade pommes fritesen inget starkare intryck, men sötpotatispommesfritesen var riktigt goda och gav mersmak. Om du befinner dig i Sandviken så är Nala's Burger helt klart värda ett besök, och vi är glada över att det numera även går att få bra burgare i Sandviken.
In English
Nala's Burger opened in 2019 in Sandviken, a Swedish locality just outside Gävle. They have a bright, fresh and spatious restaurant that shares a kitchen with the neighbouring pizzeria (which is owned by the same family). Nala's Burger have a short and simple menu, with four regular burgers and two meat-free varieties. We ordered a few different hamburgers; a cheeseburger (with cheddar and sauce) and a jalapeno burger (with lettuce, onions, jalapeños, cheddar and sauce), costing 80/85 SEK (about 9 USD) each for a burger with a 120 gram patty. We also tried their regular fries for 20 SEK (2 USD) and sweet potato fries for 25 SEK (almost 3 USD).
The meat was pretty juicy and tasted beefy, but the crust could have been crispier. The cheese was nicely melted over the meat and tasted just as we'd hoped, and the bun was soft, warm and had been toasted just right. We were happy that these basics had been met, but the toppings were a bit shakier. The veggies on our jalapeñoburgare were fresh, but the actual jalapeños had no heat whatsoever and just tasted like green peppers. And the ubiquitious sauce (that was found on all burgers except their vegan option) felt out of place and overpowering on the cheeseburger.
As for the sides, the regular fries did the job without adding much, but we enjoyed the sweet potato fries a lot. All in all, Nala's Burger are definitely worth a visit if you're in the area, and we are happy to see that good burgers are spreading across all of Sweden.