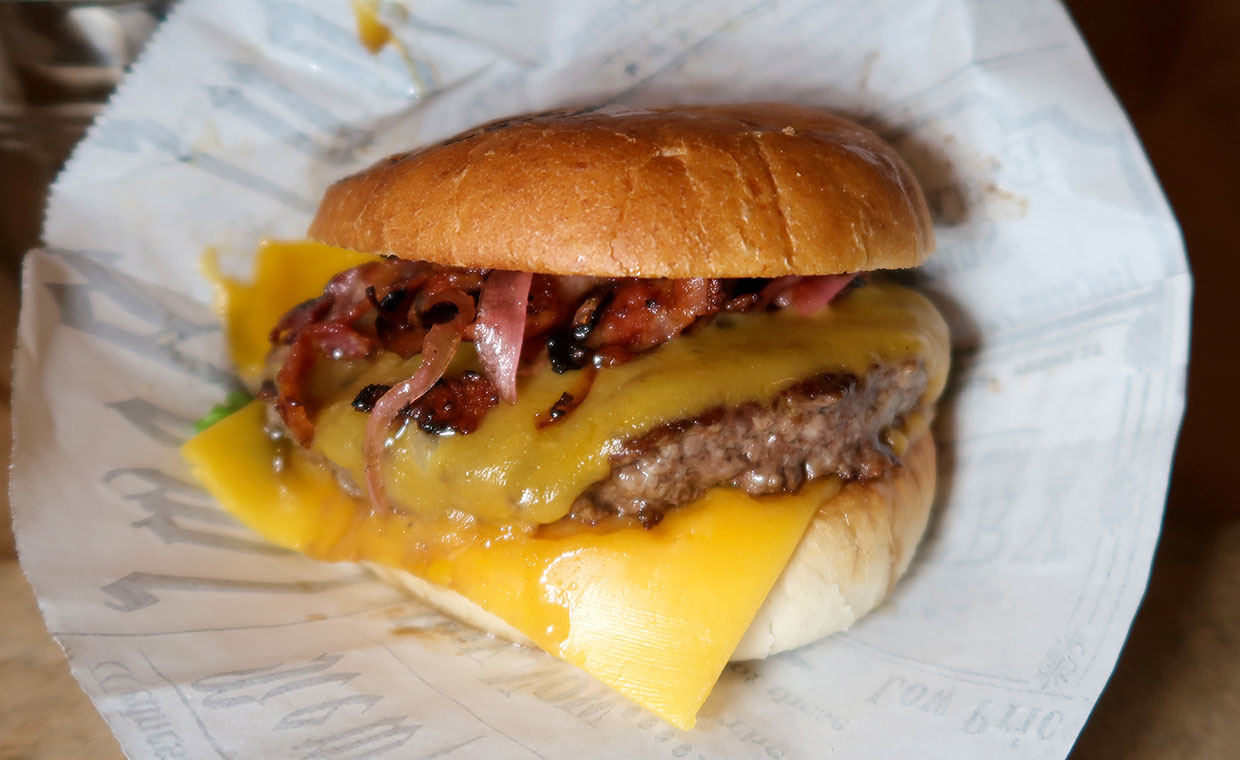 M&M Burger öppnade sin verksamhet 2017 i Södertälje i södra Stockholm. Med en gedigen burgarmeny skapad "efter eget recept" och flera rekommendationer från våra läsare i ryggen klev vi in i deras lokaler med gott mod.
Burgarna i sitt standardutförande kostar 99 kronor med en köttpuck på 160 gram, och det går även att lägga på en extra köttpuck för 40 kronor extra. Generöst prissatt med andra ord, och vi beställde flera olika burgare, däribland deras Cheesy-burgare med lagrad cheddarost, baconmajonnäs, syrad lök, dressing, karamelliserad lök, bacon och krispsallad.
Det första vi noterade när burgaren serverades var den osmälta ostskivan som låg under köttet, som var ett underligt val som vi fortfarande inte förstår tanken bakom. Köttet var relativt saftigt till en början, men vi märkte att texturen kändes ganska ojämn och skilde sig mellan tuggorna. Köttsmaken var dessutom väldigt anonym, och köttpucken hade mått bra av en rejäl stekyta samt mer salt och peppar. Förutom deras inbrända logotyp på ovansidan av brödet så hade det inte rostats nämnvärt, vilket verkligen känns som en grundläggande sak att göra.
Något vi blev imponerande av var deras pommes frites som var vikta och räfflade med en riktigt trevlig krispighet och smak. Deras sötpotatispommesfrites var också bra, med en rejält tillfredställande fritering.
Hamburgarna på M&M Burger är generöst prissatta, levererar en helt okej upplevelse och lyckas precis få ett godkänt betyg, men här finns faktiskt ganska mycket utrymme för förbättring.
In English
M&M Burger opened back in 2017 in Södertälje, in Stockholm County. They have a large burger menu created "after their own recipe", and after several reader recommendations we stepped into their restaurant with high hopes.
A regular burger costs 99 SEK (10 USD) for a 160 gram (5,5 oz) patty, and extra meat costs an additional 40 SEK (4 USD), which was pretty generous. We ordered several different burgers, among them a Cheesy with aged cheddar, bacon mayo, pickled onions, burger sauce, caramelised onions, bacon and lettuce.
We first noticed the unmelted slice of cheese underneath the meat, which is something we're still a bit confused by. The patty was pretty juicy in the beginning, but the texture felt a bit uneven. The meat flavour was very anonymous, and we would have liked a better char and more salt & pepper. And apart from their logo that had been seared into the top bun, it had hardly been toasted at all. We were left a but surprised by this lack of basic burger knowledge.
Thankfully we were impressed by their fries, that were kind of folded and crinkle cut, with a nice taste and a great crunch. Their sweet potato fries were properly cooked as well.
The burgers at M&M Burger are nicely priced, taste alright and just manage to get a 3/5 grade, but there are quite a lot of things that can and should be improved.