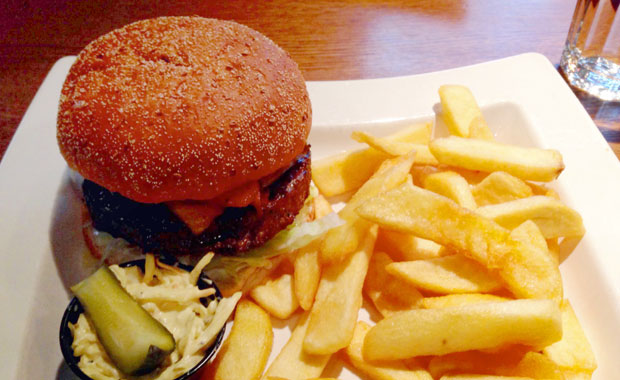 American Bar & Steakhouse har stängt.
Uppdatering, juli 2017: American Bar & Steakhouse har nu stängt för gott.
Vi hittar American Bar & Steakhouse högt upp på drottninggatan – ett stenkast från ett av Sveriges absolut bästa hamburgerhak Flippin' Burgers. Utöver kvällsmålen lägger de väldigt stor vikt på sin hamburgarlunch, och det än den som primärt har testats.
Deras burgare består av 200 gram hundraprocentigt nötkött som har kryddats med deras alldeles egen kryddblandning. När man får sin burgare så förs tankarna direkt till restaurangkedjan Texas Longhorn och deras burgare, så de serverar ett liknande torrt bröd innehållandes en tråkigt uppvärmd köttpuck ackompanjerat av bleka och smaklösa pommes frites.
Ölutbudet är vad man kan förvänta sig av en restaurang med amerikanskt kök och bjuder inte på några direkta överraskningar. Enligt deras motto "behöver du aldrig gå hem hungrig", och det stämmer visserligen. Tyvärr går vi inte hem belåtna.
In English
American Bar & Steakhouse are located just around the corner from the amazing Flippin' Burgers, which isn't something that works in their favour. Their much-touted burger lunches aren't very impressive, with a dry bun and patty accompanied by pale and boring fries. Do yourself a favour and walk the extra distance to a proper burger joint instead.