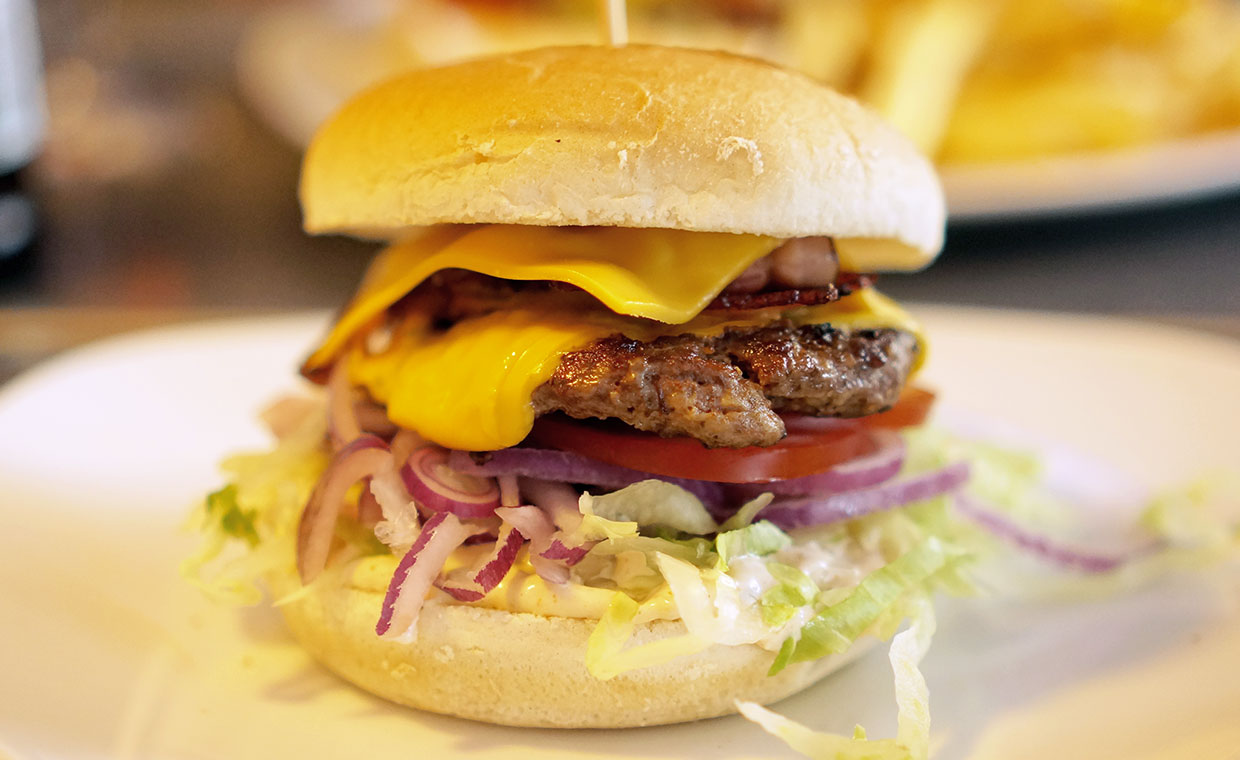 Axel's Grill har funnits i Hagsätra sedan 80-talet i olika skepnader, och har sedan en handfull år tillbaka haft den lokal de har idag. Stället känns typiskt för gatukök runt om i Sverige idag, men de torra burgarbröden med sesamfrön och de stora tunna fryspuckarna är borta, och skyltarna stoltserar istället med "högrev" och "brioche". Det finns ambitioner och vilja, men av olika anledningar så gör de kompromisser och tar genvägar, och det märks på resultatet.
Vi valde att testa en Axel's Special med ost, bacon och klassisk burgardressing, samt en Axel's Dubbel med ost, bacon, lökringar och chipotledressing. Båda hade även tomat, lök och sallad, och av någon anledning helt olika bröd. Dubbeln hade ett pretzel-liknande bröd, och specialen hade ett ganska blekt och neutralt bröd. Grönsakerna kändes fräscha, och dressingarna var inte så söta som väntat vilket var ett klart plus. Det ljusa brödet fungerade rätt bra, men det mörkare var ganska torrt och tuggigt. Både kött och bacon var rejält stekta, och det är ju tyvärr nästan alltid här det faller för gatuköken. När köttet behandlas så här kan det bara bli godkänt som bäst, och det här var inget undantag.
Prisnivåerna är normala; de flesta burgarna kostar runt 70-80 kronor – och kvaliteten är ganska bra för vad det är. Vi kan väl rekommendera Axel's Grill om du befinner dig i området och är sugen på en gatuköksburgare, men det är inte värt en omväg för någon annan.
In English
Axel's Grill has been in the Stockholm suburb Hagsätra since the 80s in different locations. Today it's in a quite spacious grill kiosk with a diner feel. Like so many other classic fast food places in Sweden today, they are in the process of changing over to the artisanal approach that's dominating the business. The buns are now fancier and the burgers are made with chuck roll instead of mystery meat, but it's still cheap-ish fast food (around 70-80 SEK for a burger) and shortcuts have been made. We tried the Axel's Special and Axel's Double, and they came with similar toppings, but quite different buns. One was a pale, neutral bun that was pretty good, and the other was a pretzel type bun that was slightly dry and chewy. The toppings, including the greens, were pretty good but nothing special. The meat and the bacon were, as suspected, compact and bland, and the low point of the burgers. As far as old school fast food burger joints go, Axel's Grill is pretty good, but if you're in the pursuit of a high quality burger it's obviously not for you.