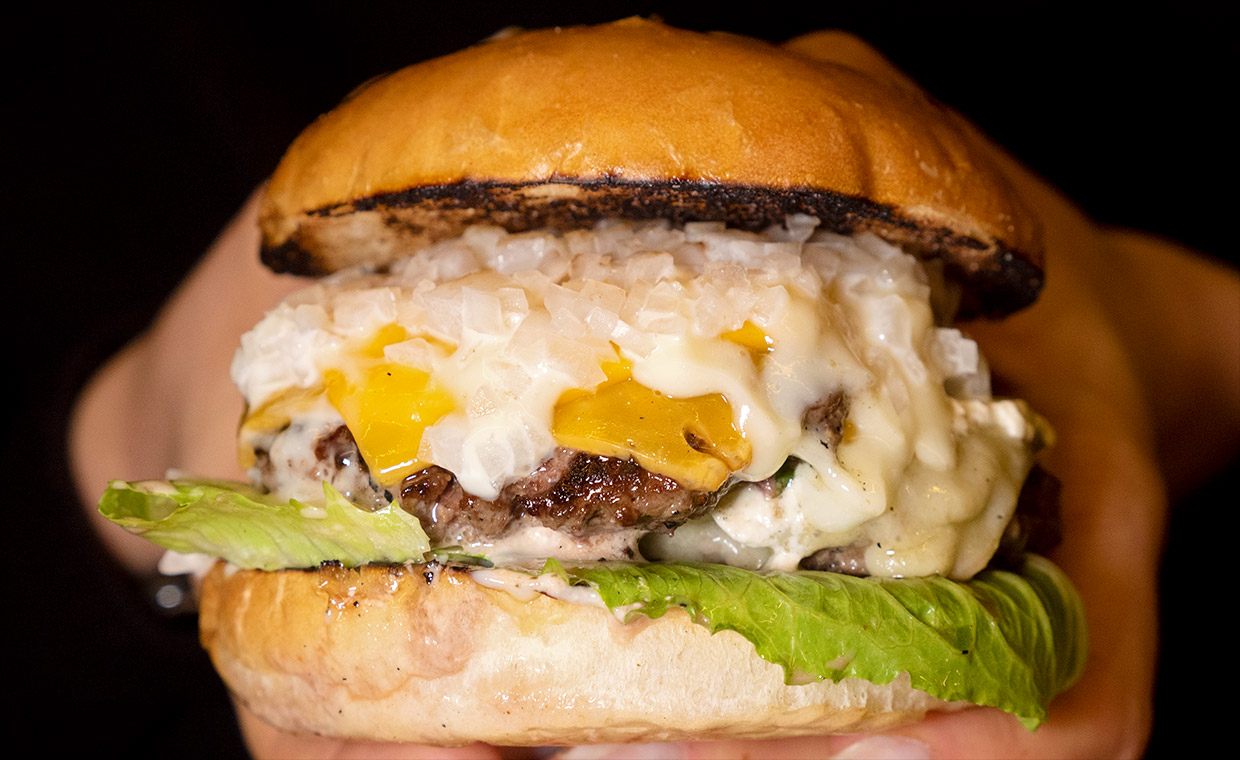 Bageriet BAK i Stockholmsförorten Hökarängen är mest kända för sina goda bullar och bröd. På senare tid har de grillat hamburgare under vissa kvällar, vilket tydligen ska bli ett återkommande inslag. Under vårt besök erbjöd de en hamburgare med två 80-gramsköttpuckar som serverades i ett egenbakat japanskt mjölkbröd för 150 kronor. I övrigt serverades den med ekologisk burgarcheddar, Tegelost, majonnäs, silverlök och salladsblad, tillsammans med ugnsrostade rotfrukter och en dippsås. Menyn beskrev noggrant köttets resa från kalv till bord, vilket var öppet och ärligt men på gränsen till makabert.
Vårt första intryck av burgaren var att detta skulle bli en såsig måltid. Hamburgaren hade hela sex skivor ost och de hade inte snålat med majonnäsen. Köttet grillades utomhus och hade en starkt grillad smak som fungerade som en trevlig kontrast till de andra milda och feta smakerna. Köttpuckarna hade en lätt rosa kärna och smakade gott, men eftersom de var mindre än brödet så försvann de litet grand. Vi saknade även lite mer syra för att bryta igenom smakerna, vilket silverlöken inte riktigt lyckades med. Det som imponerade på oss mest var det japanska mjölkbrödet, vilket kanske inte var särskilt överraskande med tanke på att vi befann oss på ett bageri. Det smakade riktigt gott, hade en utmärkt konsistens och höll ihop till sista tuggan. De ugnsrostade morötterna, gulbetorna och krossade potatisarna gav kanske inte samma krispighet som pommes frites gör, men var ordentligt kryddade och gjorde måltiden lagom mättande och prisvärd.
Det finns mycket som talar för burgaren på BAK, och vi hoppas att den blir ett mer fast inslag. Under tiden får du följa dem på sociala medier och hålla koll på deras schema.
In English
The bakery BAK in the Stockholm suburb of Hökarängen are renowned for their tasty bread and baked goods. Lately they've also started to grill burgers during some evenings, and this is apparently something that's going to happen more often. During our visit they served one kind of burger with two 80-gram patties in a homemade Japanese milk bun for 150 SEK (18 USD). It also contained organic burger cheddar, Tegel cheese, mayo, white onions and lettuce, and came served with oven roasted vegetables and a dip. The menu detailed the meat's journey from calf to table, which was open and honest but a bit macabre.
Our first impression of the burger was that this was going to be messy. It contained a total of six slices of cheese and loads of mayo. The meat had been grilled outdoors, giving it a smoky, fiery flavour that contrasted nicely against the mild and fatty ingredients. The patties were pink on the inside and tasted great, but they were a bit smaller than the bun and got a bit lost. We could have done with something acidic to cut through the flavours, and didn't feel that the white onions managed to do this sufficiently. The thing that impressed us the most was the Japanese milk bun, which perhaps shouldn't have come as a surprise seeing as they baked it themselves. It was tasty, had an excellent consistency and held together throughout the entire meal. The oven roasted carrot, yellow beet and smashed potato didn't have the same crispiness as French fries, but were generously seasoned and made our meal satisfying and well worth its price.
BAK's burger has a lot of things going for it, and we hope that it's here to stay. Make sure you follow their socials to see when it makes its next appearance.