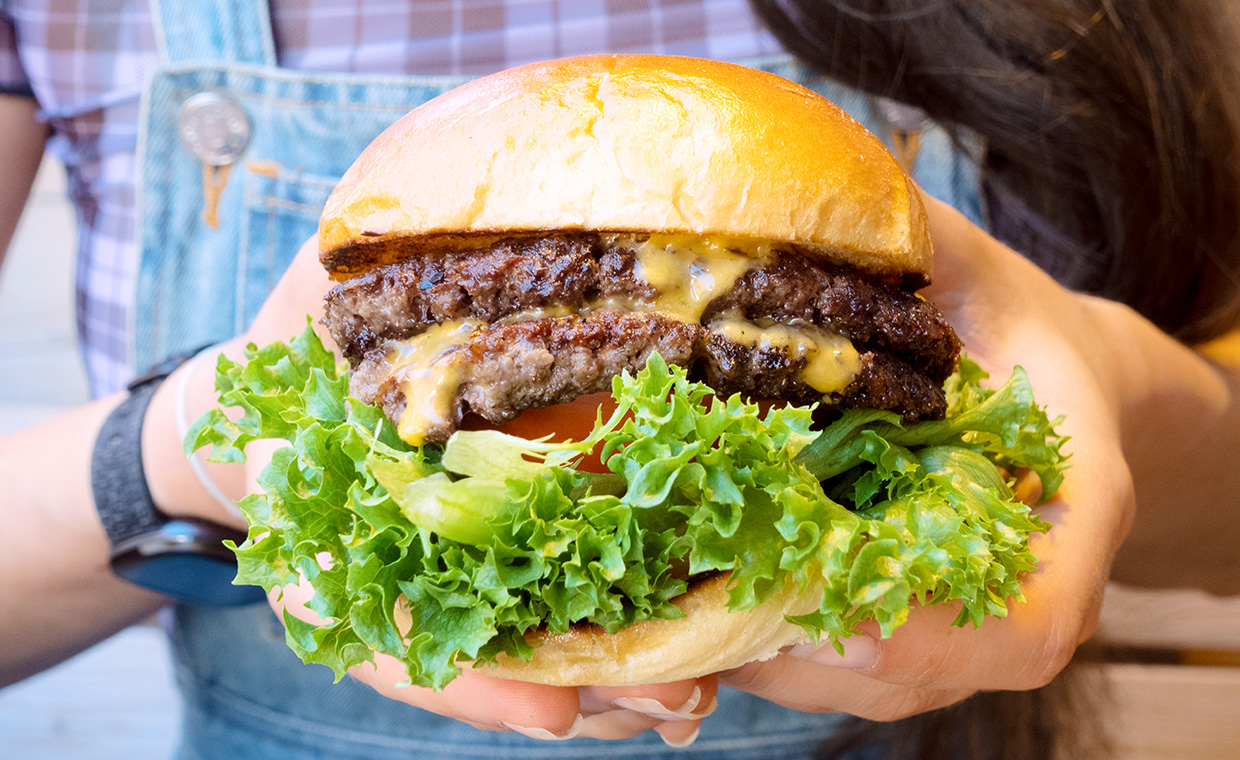 Beer n' Play ligger på Hornsgatan i Stockholm i närheten av Hornstull, och är en sportbar med fokus på hantverksöl och spel av olika slag. Här finns biljardbord, flipper och andra maskiner och bakom baren syns ett brett utbud av olika brädspel. Menyn beskrivs som klassisk streetfood med kvalitetsingredienser. Fokus verkade ligga på pizzorna, men det fanns några olika hamburgare på menyn.
Förväntningarna var faktiskt inte skyhöga när vi beställde en The Original för 149 kronor med två stycken 90-gramspuckar samt cheddar, tomat och sallad. I priset ingick pommes frites och vi lade till en chilidippsås för 15 kronor. När maten serverades blev vi därför glatt överraskade, särskilt av köttets fina stekyta och det fluffiga brödet. Burgaren innehöll kanske lite för mycket sallad, men det syntes att kocken hade försökt bygga en så snygg burgare som möjligt.
Vid första tuggan så kände vi även att köttet, som var en blandning av högrev och bringa, smakade riktigt gott. Tomaten var däremot alldeles för tjock och lite för vattnig, och brödet var helt orostat på insidan och borde ha fått lite värme på stekbordet. Men det var ändå mjukt och fluffigt och höll ihop förvånansvärt bra trots allt. Osten var däremot intetsägande, och burgaren innehöll dessutom en väldigt rinnig hamburgerdressing som inte smakade särskilt mycket. Pommes fritsen var lite för lätt friterade och chilidippen var även den lite för lös. Allt som allt kände vi att hela vår måltid hade tjänat på att få lite mer salt.
Det finns kanske ingen anledning att vallfärda till Beer n' Play just för att äta deras hamburgare, men den passar fint ifall du blir hungrig mellan spelsessionerna.
In English
Beer n' Play are located near Hornstull in Stockholm, and this sports bar focuses on craft beer and various games. They have pool, pinball and other amusements, and you'll find a wide assortment of board games behind the bar. Their food menu consists of street food dishes, and despite an emphasis on pizzas we also found a few burgers as well.
To be honest, we didn't have very high hopes when we ordered a The Original for 149 SEK (17 USD), with two 90-gram patties plus cheddar, tomato and lettuce. A portion of french fries was included in the price, and we ordered some chili dip for an additional 15 SEK (1.5 USD). But when our food arrived we were pleasantly surprised by the excellent crust on the patties and the fluffy bun. Sure, there was a bit too much lettuce, but it was clear that the chef had made an effort to make a nice looking burger.
And our first bite revealed that the beef, which consisted of a mix of chuck and brisket, was really tasty as well. However, the tomato was sliced too thick and was a bit watery, and the bun hadn't been toasted on the inside and would have benefited from a short moment on the griddle. But it was still soft and fluffy, and held together surprisingly well. The cheese didn't add much though, and the burger also included a runny burger sauce that didn't add much at all. The french fries could have been crispier, and we felt that the chili dip was too runny as well. Overall, everything could have done with some more salt.
Beer n' Play may not be an unmissable burger spot, but if you get hungry in between your game sessions you'll at least get a decent hamburger that won't disappoint.