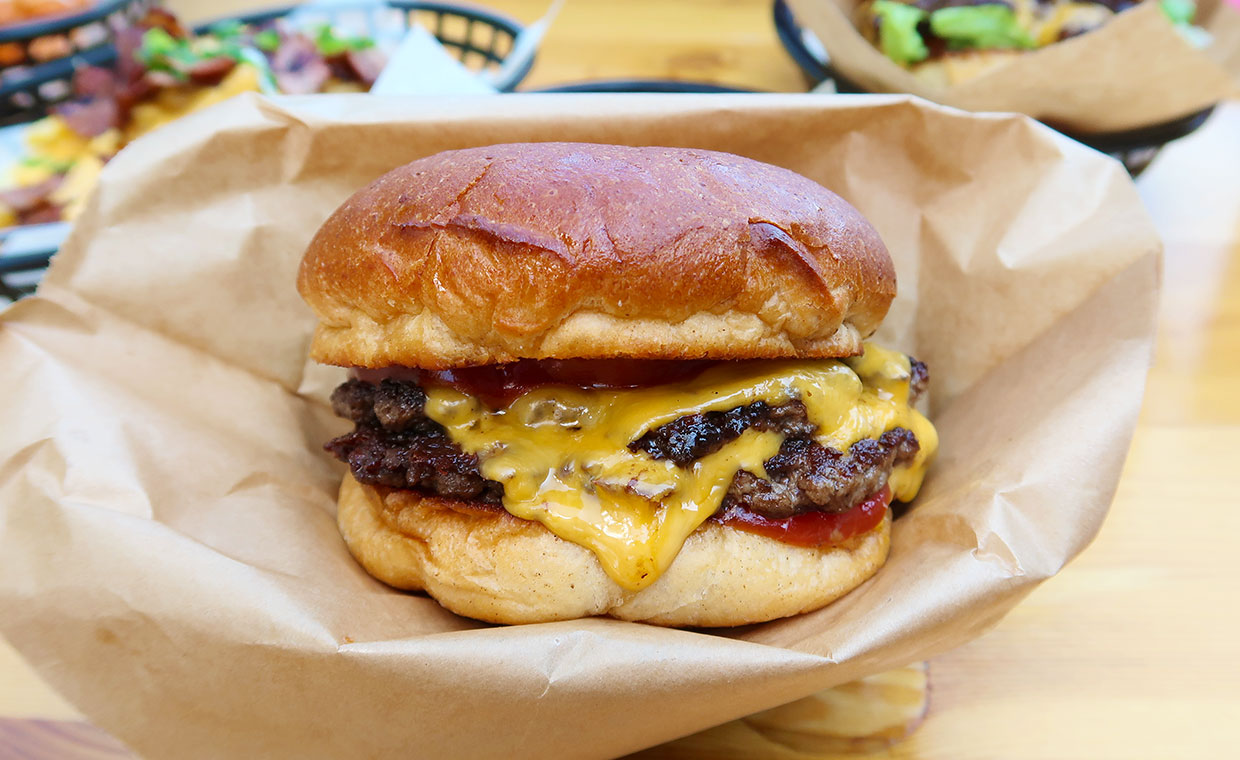 Between Buns började som en foodtruck under namnet PM Pires, där far och son lagade mat från hemlandet Portugal. Sedan dess har trucken bytt inriktning och namn till just Between Buns, och de har även öppnat en hamburgerrestaurang en kort promenad från Haninge Centrum där de har lunchöppet.
Vi besökte deras lilla restaurang som rymde en stor uteservering. Menyn var rätt kort, men ändå lyckades innehålla en bra variation av smaker, från enkla cheeseburgare till burgare med tryffel eller baconmarmelad. Priserna är låga, mellan 80 till 95 kronor för en 160-gramsburgare, och för 20 kronor extra så får du en meny med dryck och pommes frites.
Alla burgare kom med två smashade 80-gramsköttpuckar mellan ett fluffigt hantverksbröd. Vår cheeseburgare innehöll cheddarost, inlagd gurka, senap och ketchup som toppings. Den förde tankarna till en klassisk snabbmatscheeseburgare, fast där varje del förbättrats avsevärt. Köttet var rejält smashat med en lätt karamelliserad och krispig stekyta med gott om köttsmak och saftighet. Och osten hade fått chansen att smälta ordentligt och verkligen fästa i köttet. Den rikliga mängden senap och ketchup i både topp och botten tog dock emot. Sötman från ketchupen tog över, och såserna lyckades blöta upp brödet en hel del. Vi hade önskat lite bättre rostat bröd och lite mindre sås för att balansera ut smakerna.
Både pommes fritesen på vanlig potatis och på sötpotatis var klart godkänd. Vi kan glatt konstatera att Between Buns levererar en riktigt bra och prisvärd burgare i Haninge. Om du har möjlighet att ta dig ut till dem på lunchen så är de helt klart värda ett besök.
In English
Between Buns started out as a foodtruck under the name PM Pires, with a father and son duo cooking Portuguese cuisine. Now they have changed course and renamed their truck Between Buns, and they also have a burger restaurant a short walk from Haninge Centrum in the outskirts of Stockholm, where they are open during lunch hours.
We visited their small restaurant (with a large outdoor seating area). Their short menu contained a nice spread of flavours, from a simple cheeseburger to creations with bacon jam or truffle. Modestly priced, a 160 gram burger cost 80-95 SEK (8-10 USD), and you'll get a menu with fries and a soft drink for an additional 20 SEK (2 USD).
All burgers came with two smashed 80 gram patties each, served in a fluffy artisan bun. Our cheeseburger also contained cheddar cheese, pickles, mustard and ketchup, and really felt like a classic fast food burger – but with really great ingredients. The meat was properly smashed with a slightly caramelised and crispy char with a distinctly meaty and juicy flavour. And the cheese had melted nicely into the meat. But there was too much ketchup and mustard both in the top and bottom bun. The sweetness from the ketchup took over, and the bread got quite soggy. We would have preferred if the bun had been toasted for longer, and better ratios to balance out the flavours.
Both the regular and sweet potato fries were good as well, and we are really happy to say that Between Buns serve a very good and cheap burger in Haninge. And if you're able to get there while they're open for lunch you really owe it to yourself to pay them a visit.