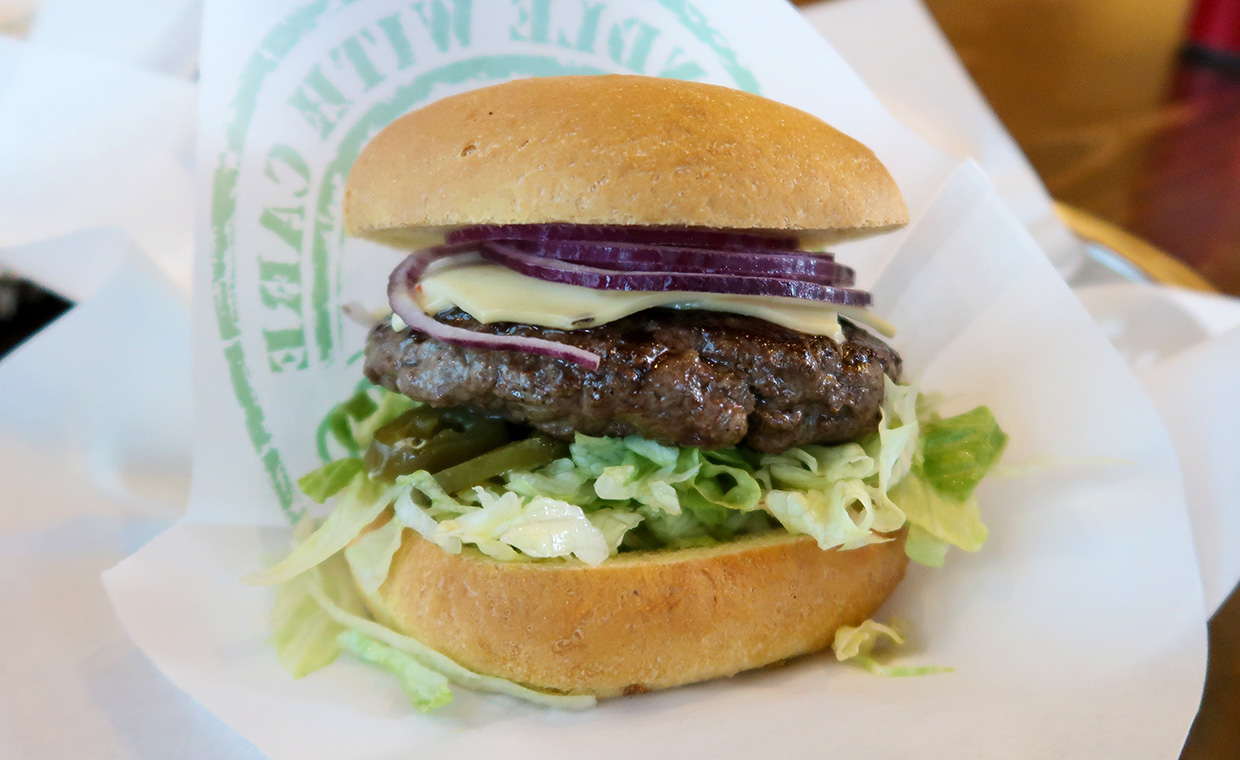 Big Mapple ligger i Solna, en kort promenad från Solna Station och Mall of Scandinavia. När vi recenserade dem för första gången i början av 2016 så var vi inte särskilt imponerade av deras burgare. Men vi har fått en del tips från läsare att de har blivit bättre, och mycket har hänt i området de senaste åren. Det var dags att se om de lyckats med en kvalitetshöjning.
Lokalen var i alla fall oförändrad, med ljusbruna träinteriörer i sann fjällstugeanda. Menyn bjöd på sedvanligt stora skapelser, med burgare på 200-400 gram och både stora och små köttpuckar gjorda på egenmald, färsk högrev. Valet föll denna gång på en Big Mapple med ost, grönsaker, dressing, "firecracker-sås", chipotlesenap, bostongurka samt en Jalla Cheeseburger med ost, sallad, jalapeños och lök. Burgarna kostade endast 85 kronor för en 200-gramspuck.
Båda burgarna såg inte särskilt roliga ut vid första anblick. Det här var rejäla skapelser med varsin 200-gramspuck, fyllda med ingredienser och ovarsamt hopbyggda. Brödet var onödigt torrt och frasigt, och hade problem att hålla ihop. Själva köttet var ett solklart steg uppåt jämfört med vårt första besök, med rejäla smaker trots att det kändes överarbetat. Den ena burgarens kött var ganska saftig och god, men den andra var överstekt och rätt tuggig. Men köttsmaken fanns i alla fall där denna gång, och osten hade dessutom smält ordentligt.
Det har öppnat många nya burgarställen i Solna på senare tid, och vi är glada att se att även Big Mapple har höjt kvaliteten ett snäpp över den ordinarie gatuköksnivån åtminstone. De har fortfarande en bra bit att gå, men detta är ändå en klar förbättring jämfört med tidigare.
In English
Big Mapple are located in the Stockholm suburb of Solna, a short walk from Solna Commuter Train Station and Mall of Scandinavia. When we reviewed them back in 2016 we were left unimpressed by their burger, but we've received a lot of feedback saying that they've improved. And seeing as the area has seen many new burger joints, we felt that it was time to revisit them to see if they'd stepped their game up.
The interiors were the same as before at least, and the restaurant still looks like a ski cabin. And the menu still consisted of really large creations, with 200-400 gram burgers made from 100 or 200 gram patties of home-ground, fresh brisket. This time we tried a Big Mapple with cheese, vegetables, sauce, "firecracker sauce", chipotle mustard and relish with pickled gherkins, and a Jalla Cheeseburger with cheese, lettuce, jalapeños and onions. The burgers cost just 85 SEK (9 USD) with a 200 gram patty.
Neither of our burgers looked that great to be honest. They were large with 200 gram patties, and had been unceremoniously crammed with loads of ingredients. The bun was irritatingly dry and crusty, and had problems not falling apart. But the patties were a definite step up from our previous visit, and had nice flavours despite being a bit overworked. One of our burgers had a juicy patty, but the other one was overcooked and quite chewy. But they both had a nice beef flavour, and we were happy to see that the cheese had melted properly this time around.
Solna has seen a lot of action over the last few years, and we are happy to see that Big Mapple have taken a step above the usual grill kiosk quality level. They still have quite a long way to go, but this is a definitive improvement.