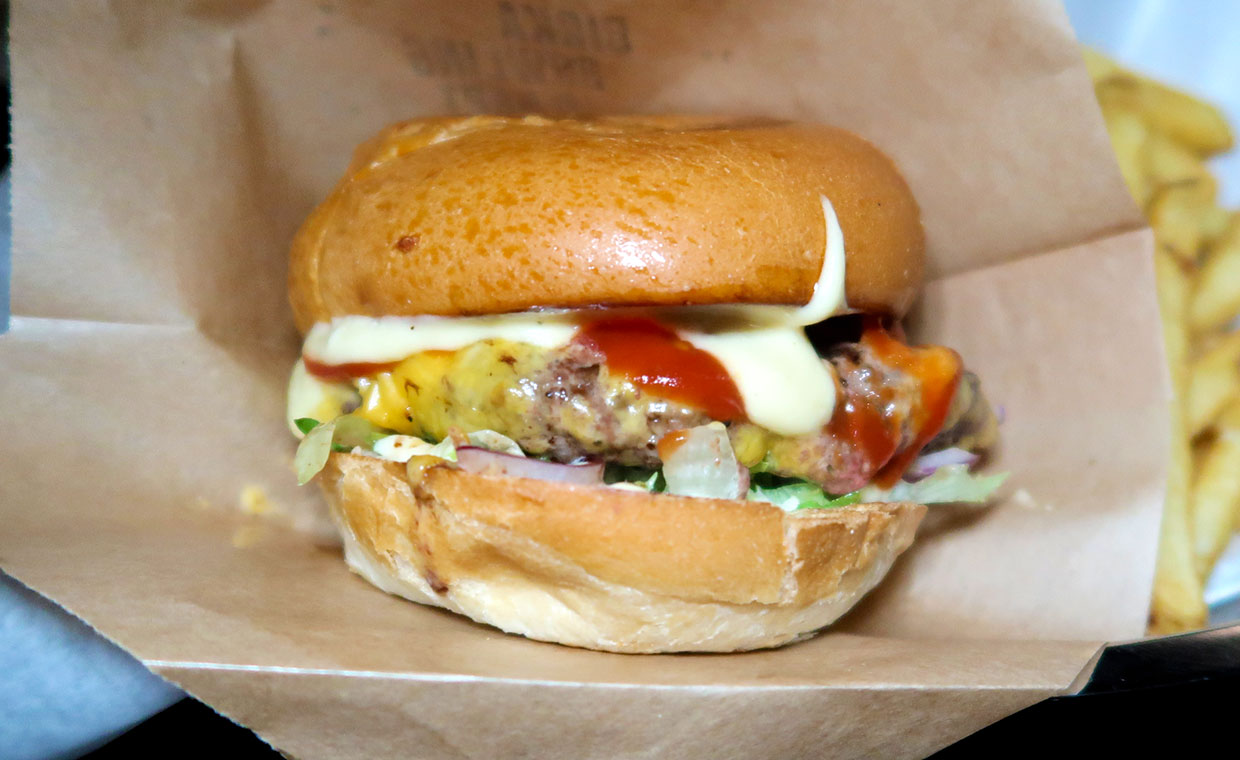 Birka Bowling erbjuder bowling, dart och burgare i närheten av S:t Eriksplan i Stockholm. Restaurangdelen av lokalen är enkel, lugn och avslappnad, och för den intresserade sitter det tv-skärmar lite överallt på väggarna som visar sport.
Vi testade deras Cheese Burger med cheddar, pepperjackost, sallad, rödlök, saltgurka, ketchup och majonnäs för 155 kronor, vilket inkluderade pommes frites samt en liten skål majonnäs som dipp. Vi testade även en Spicy Burger med hackade jalapeños samt en BBQ & Bacon Burger med bacon, barbecuesås och timjan som unika toppings. Burgarna såg lovande ut, och verkade tillagade med omsorg, men det var en handfull detaljer som gjorde helhetsintrycket splittrat.
Köttet var grovmalt och hade fått en snygg stekyta, men var väldigt kompakt och hade inte fått vila mellan stekbord och bröd, och bidrog därför till att köra burgaren rinnig och kladdig. Brödet var ganska hårt rostat på lite olika ställen. Ovansidan hade en rejäl skorpa, medan underdelen var knappt uppvärmt och hade ingen chans mot köttsafterna och reducerades till en kladdiga sörja halvvägs genom måltiden.
Osten gjorde oss aningen förvirrade. Både cheddar och pepperjack är numera vanligt förekommande burgarostar, men det här var mer som hyvlad hårdost. Det kändes hur vi bet igenom osten med varje tugga. Smakerna i sig var ändå rätt bra och balanserade, men det var lite för mycket som störde för att vi skulle vara nöjda. Deras pommes frites och den egna majonnäsen var i alla fall i toppklass.
Måltiden bjöd på högt och lågt alltså, och våra åsikter gick isär runt bordet. Efter en omgång bowling är nog burgaren pricken över i:et, men om du bara siktar på att käka utan att fälla några käglor så missar du inget om du rullar förbi.
In English
Birka Bowling offer bowling, dart and burgers by S:t Eriksplan in Stockholm. Their restaurant area is quite calm and relaxed, and there are a few sports screens on the walls if that tickles your fancy.
We ordered their Cheese Burger with cheddar, pepperjack, lettuce, red onion, pickle, ketchup and mayo for 155 SEK (16 USD), including fries and a small mayo dip. We also tried their Spicy Burger (with chopped jalapeños) and a BBQ & Bacon Burger (with bacon, bbq sauce and thyme). The burgers looked pretty promising, but we quickly noticed several problems with them.
The coarsly ground beef had a nice char, but was very compact and wasn't given time to rest before being placed in the bun. Since all the juices were released into the burger, it quickly became soaked. The bun itself had been toasted, but mainly on the top part (making it hard and chewy), while the bottom bun turned into a sloppy mess halfway through our meal.
The cheese was a bit confusing too, seeing as both cheddar and pepperjack are available in burger-friendly varieties that melt fairly well. These varieties reminded us more of sliced cheese, making them really hard and chewy. Thankfully, the flavours were all there, and we appreciated the well-balanced menu, but overall there were too many annoyances. Their fries and their mayo dip were at least really good – perhaps the best part of our meal.
We are a bit hesitant to recommend a visit to Birka Bowling for their burgers. It will probably hit the spot after a game of bowling, but if you're only after the actual hamburger it's perhaps not worth the extra effort.