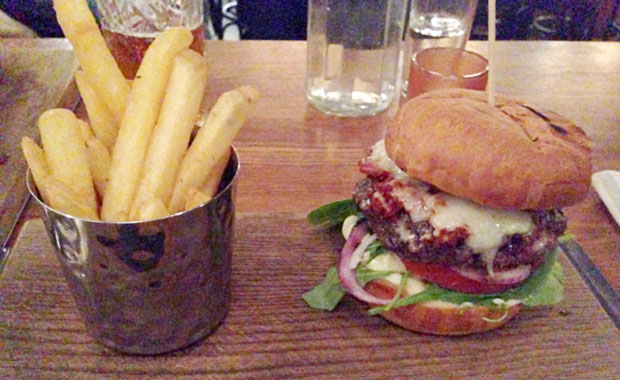 Ett stenkast nordöst om Nytorget ligger Bistro Bon inklämd mellan Södermalms alla grekiska och indiska restauranger. Vi har varit nyfikna på deras gruyère-gratinerade wagyu-burgare en tid nu och nu gjorde vi slag i saken och beställde en, medium rare såklart. Sedan satte vi oss ned med en Lagunitas och väntade ivrigt på resultatet.
Burgaren som serverades med bacon, chilipesto, rödlök och sallad såg och lät tyvärr bättre än vad den faktiskt smakade. Köttet var hårdare stekt än önskat men hade kvar en lätt rosa kärna. Kryddningen av köttet tog över smaksättningen totalt, och jag hade gärna sett mer av baconet och rödlöken för att jämna ut smakerna.
Brödet var lätt grillat vilket var positivt, men pommes fritesen var krispiga på utsidan med en mjölig insida. De borde med andra ord ha legat kvar i fritösen ytterligare en liten stund.
Priset för den här upplevelsen ligger på 215 kronor, vilket är på tok för mycket för vad man får.
In English
Bistro Bon's gruyère gratinated wagyu beef burger has been on our to-do list for quite some time now, and we were anticipating a true feast of the senses. First impressions were good, with a nice toasted bun surrounding a visually pleasing burger. However, the meat was more medium-well done than medium rare, and the flavours from the red onion and cheese were far too weak. This would have been acceptable if the price was lower, but at 215 SEK this was a somewhat disappointing dining experience.