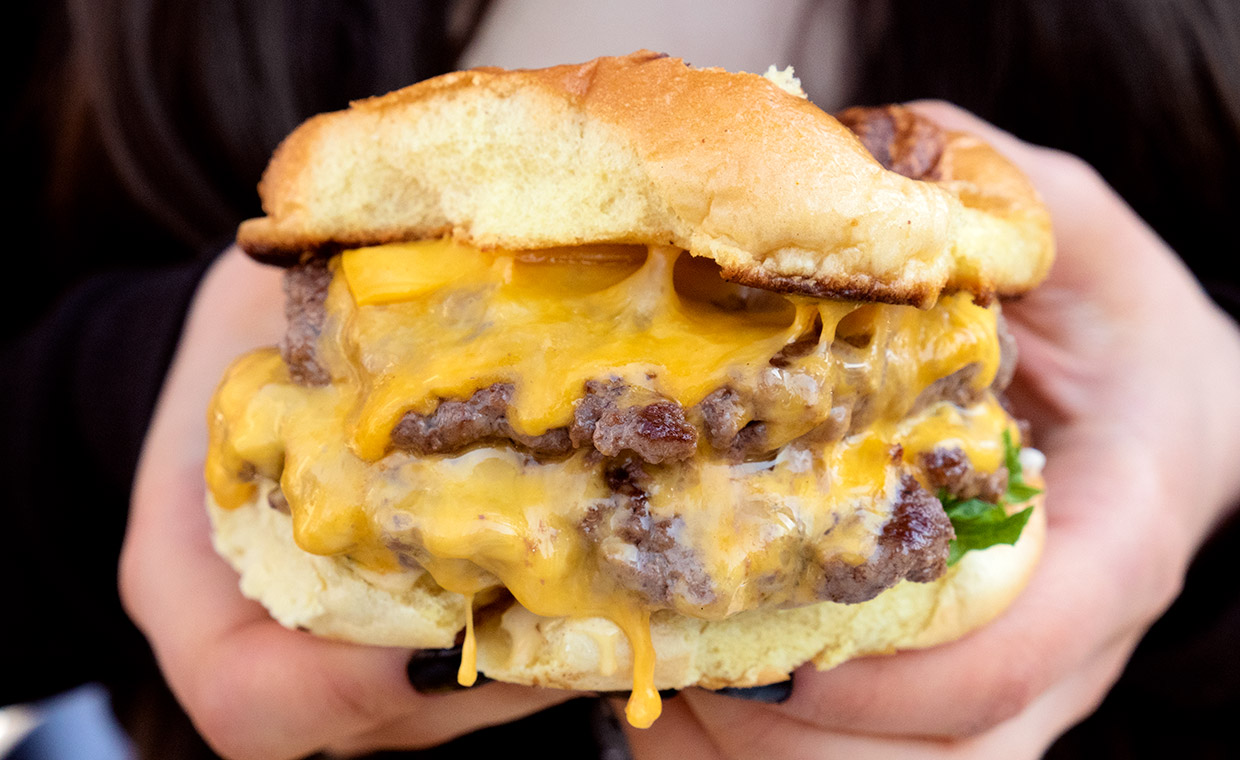 Bolinder Strand är ett relativt nybyggt stadsområde i Kallhäll, en kort resa västerut från Stockholm, och i början av 2020 flyttade Bolinder Strands Krog in i den gamla fabriksanläggningen. På menyn finns klassiska maträtter samt två köttburgare – en med vanlig ost och en med tryffelost. Vi beställde in deras The Skip Cheese Smashburger för 170 kronor, med två köttpuckar av högrev, bringa och flank som serverades i ett briochebröd med massor av ekologisk burgarcheddar, krispsallad, silverlök och aioli, samt en liten skål med pommes frites och en dippsås.
Hamburgaren var maffig men samtidigt rejält tillplattad. Bolinder Strands Krog hade nämligen bränt in sitt namn på det övre brödet, vilket resulterade i att det hade tryckts till ordentligt och var överdrivet platt. Köttpuckarna och den stora mängden ost gav ändå ett rejält intryck, men redan vid första tuggan märkte vi av flera problem. För det första så smakade inte köttet särskilt gott; det saknade stekyta och kändes inte nystekt, utan var ljummet och grått och trist. Aiolin var vattnig och smaklös, och varken salladen eller löken tillförde någon välbehövlig krispighet till måltiden. Lustigt nog så imponerade brödet en del, tack vare att det var ordentligt rostat och förvånansvärt mjukt och följsamt trots den ovarsamma hanteringen. Det bästa med hela måltiden var osten, och trots de något överdrivna mängderna så var den välsmakande och av hög kvalitet. Pommes fritesen var välfriterade och dippsåsen lite för lös i konsistensen, men annars var det inget speciellt anmärkningsvärt.
Vi uppskattar Bolinder Strands Krogs ambition att vilja servera en rejält såsig och ostig burgare, men vi hade gärna sett mer fokus på hur råvarorna hanterades. Vi hoppas att de förbättrar detta så att vi kan äta en stabil kroghamburgare hos dem i framtiden, men just nu rekommenderar vi att du väljer något annat från deras meny istället.
In English
Bolinder Strand is a newly built area in Kallhäll, a short trip to the west of Stockholm, and in early 2020 Bolinder Strands Krog moved into the old factory building. Their menu contains several classic dishes, plus two beef burgers – one with regular cheese and one with truffle cheese. We ordered their The Skip Cheese Smashburger for 170 SEK (20 USD), which contained two chuck, brisket and flank steak patties and came served in a brioche bun with loads of organic burger cheddar, frillice lettuce, white onions and aioli, plus a small bowl of French fries and a dip.
The burger looked both big and squashed at the same time, seeing as Bolinder Strands Krog had decided to brand their top bun with their name. The result was that it had been pressed flat, making it look quite unappealing. The patties had been drenched in cheese, which at least made the burger look pretty decadent, but we noticed several problems with our burgers after just one bite. The major issue was that the beef didn't taste very nice. the patties hardly had any crust and didn't feel freshly prepared, and were both lukewarm and grey. The aioli was watery and didn't taste of much either, and neither the lettuce or the onions added any crispy freshness, which was a pity seeing as we really could have done with some different textures. Interestingly enough we did enjoy the bread, seeing as it was nicely toasted on the inside and pretty soft and squishy, despite being manhandled. And the cheese was probably the highlight of our meal, and despite there being a bit too much of it we did like its flavour and consistency. The French fries had a nice crispy texture, but we found the dip to be a bit watery and it didn't really leave any lasting impression.
We appreciate that Bolinder Strands Krog's ambition to serve a cheesy and filling burger, but we really would have liked to have seen better handling of the ingredients. We hope that they make some improvements so that we can enjoy a nice restaurant burger there soon, but right now you'd do better choosing something else from their menu instead.