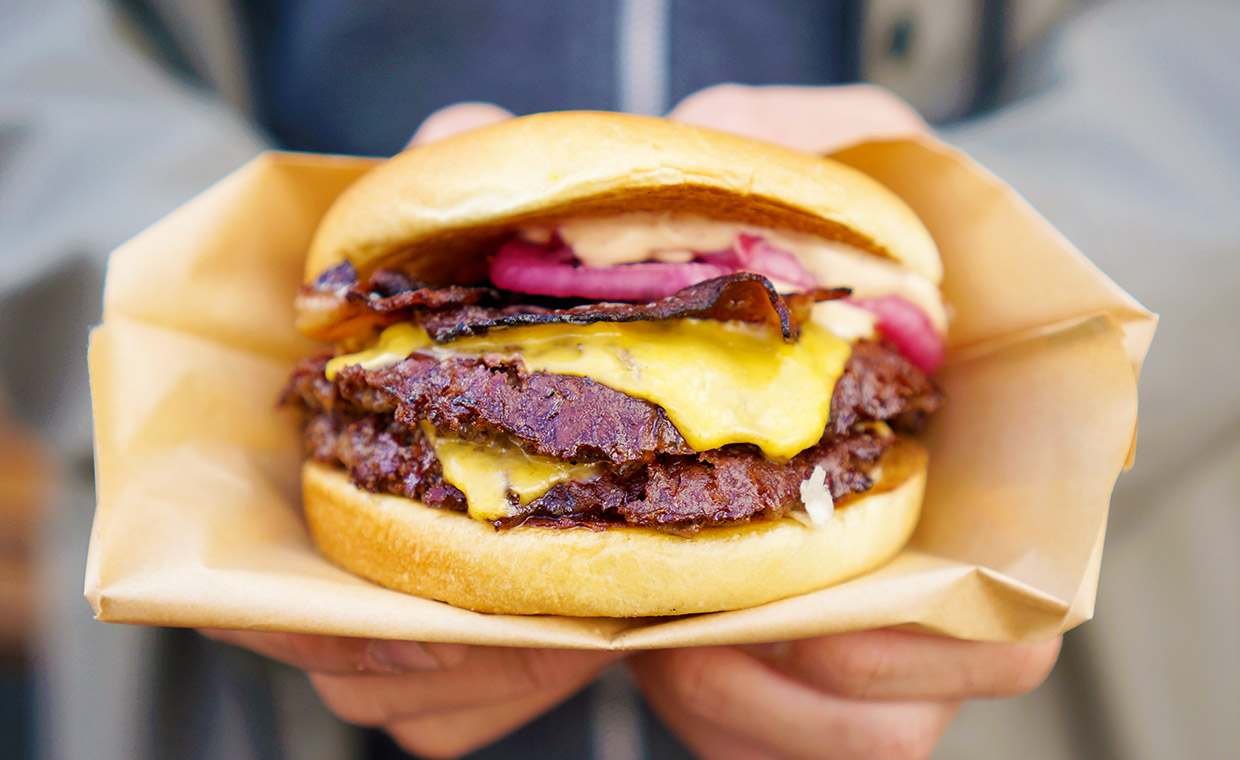 Bores gick ut hårt i vintras med sitt löfte om att återta gatuköket från de trötta aktörerna med sina frysta köttpuckar och tråkiga tillbehör, och har nyligen expanderat till Uppsala, Linköping och Norrköping. Vi besökte deras nyöppnade kiosk på Sveavägen i centrala Stockholm, där Franky's tidigare huserat. Här är öppettiderna generösa – långt in på natten under helgerna.
Den lilla lokalen är sparsamt inredd, och rymmer i princip endast köket, deras egentillverkade läsk och en kassadisk. Under våra besök har vi testat både cheeseburgaren och baconburgaren, samt deras ostpompa med ståt – en rejäl portion pommes frites täckt med ost, syrad lök, stark sås och burgardressing som smakade smått fantastiskt. Priset för en 100-gramsmeny ligger runt hundralappen, men priserna sticker såklart iväg något vid större burgare och andra tillbehör.
Den smashade burgaren serverades väldigt fort i det numera ganska klassiska briochebrödet från Garant, vilket skvallrade en del om Bores ambitionsnivåer. Enkel kvalitet utan överdådigheter, alltså. För det var tydligt att detta var en hamburgare av hög kvalitet som inte tog ut för mycket i svängarna i onödan. Det smakade riktigt gott, men det förekom ändå lite småmissar på vår baconburgare – bland annat att våra två 75-gramspuckar saknade stekyta och att baconet var ganska sladdrigt.
Vi förstår att det rör sig om modern snabbmat, men detta var under en lugn eftermiddag. Med lite tur så är det inte indikativt av hur det kommer att se ut under stökiga helgnätter, då Sverige är i akut behov av kvalitetsburgare utanför ordinarie öppettider. Det ser i alla fall lovande ut för gatuköksbranschen, och vi följer Bores utveckling med spänning.
In English
The new Swedish chain Bores is intent on changing the grill kiosk game with high quality burgers and sausages. We visited their newly opened burger shack in central Stockholm; with impressive opening hours well into the night on weekends. There were no queues during our recent afternoon visit, and the bacon burger was served within a few minutes. This had been great if it hadn't felt unnecessarily rushed. The two patties tasted really good but hardly had any sear at all, and the bacon could have done with some more time on the griddle as well. However, the other parts were excellent, including their deluxe cheese fries "ostpompa med ståt". We hope that they are able to up their game, especially during hectic weekend nights, as there's a rampant need of high quality fastfood outside the regular opening times. Things are really looking up for the Swedish grill kiosk scene, and we'll be following Bores' progress with great interest.