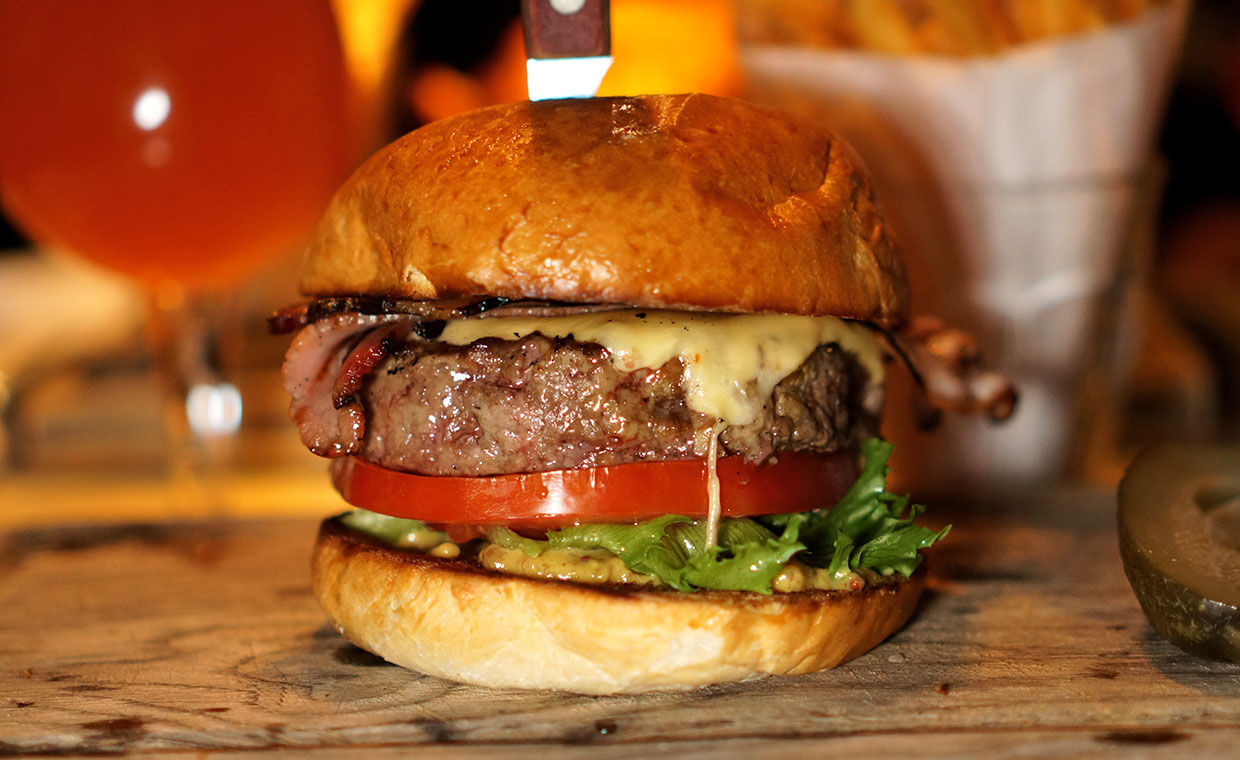 Brasserie Elverket, beläget på Östermalm i Stockholm, har funnits i lite mer än 20 år och har enligt egen utsago haft burgare på menyn sedan starten. De bjuder i övrigt på en avslappnad brasserie-miljö med mycket franskt i inredningen och på menyn.
Med endast burgare på menyn blev vårt val enkelt; vi testade deras El-burgare för saftiga 215 kronor, som utöver 180 gram högrev bestod av pepperjack-ost, skivad rökt grissida, ölkokt lök, senap, chilimajonnäs, saltgurka samt tomat och sallad. Tillsammans med pommes frites kostade måltiden 215 kronor. Burgarna serverades på en skärbräda, och med en kniv stucken igenom sig, som för att betona att det är vad vi kallar en "restaurangburgare".
Den för restaurangburgare typiskt tjocka köttpucken var varsamt tillagad och hade en jämn och vacker rosa färg, och smakade riktigt gott. Tyvärr blev en av oss serverad en burgare där köttet redan hade hunnit kallna, men personalen åtgärdade det genast så det var inte ett större problem. Grissidan, eller baconet, var också riktigt bra och lyfte köttet ypperligt. Resten av burgaren får dock inga hyllningar. Den ölkokta löken kändes mer som en besynnerlig lökmarmelad och senapsmaken trängde aggressivt igenom. Brödet hade dessutom blivit hårt uppvärmt och sedan fått svalna på ett sätt som skapat hårdare partier och ett ömtåligt bröd som inte höll ihop hela burgaren.
Grunden var bra, men i stort kändes burgaren som något av en axelryckning, både i utförande och som upplevelse. Tack vare köttet, baconet och den trevliga servicen blir slutbetyget ändå en trea, trots det höga priset och att burgarna inte slog oss med häpnad.
In English
Brasserie Elverket is located in Stockholm's Östermalm district and have had a burger on their menu since they opened 20+ years ago. Their "El-burgare" for 215 SEK had a 180 gram chuck patty, Pepper Jack cheese, bacon, beer braised onions, mustard, chili mayo, pickles, tomato and lettuce, and it was served pierced by a knife on a wooden cutting board. The meat was carefully cooked and had an even pink color throughout, and a nice flavour. The bacon was also really good, in texture and taste. The bun had however been heated and then allowed to cool in a way that made it brittle and sharp when it crumbled. The onions were too sweet and mushy, and the mustard pierced through aggressively. The fries were quite tasty thought. At that high price-point we expected better attention to details. The meat, the bacon and the attentive staff made the overall experience positive, but the burger didn't blow us away.