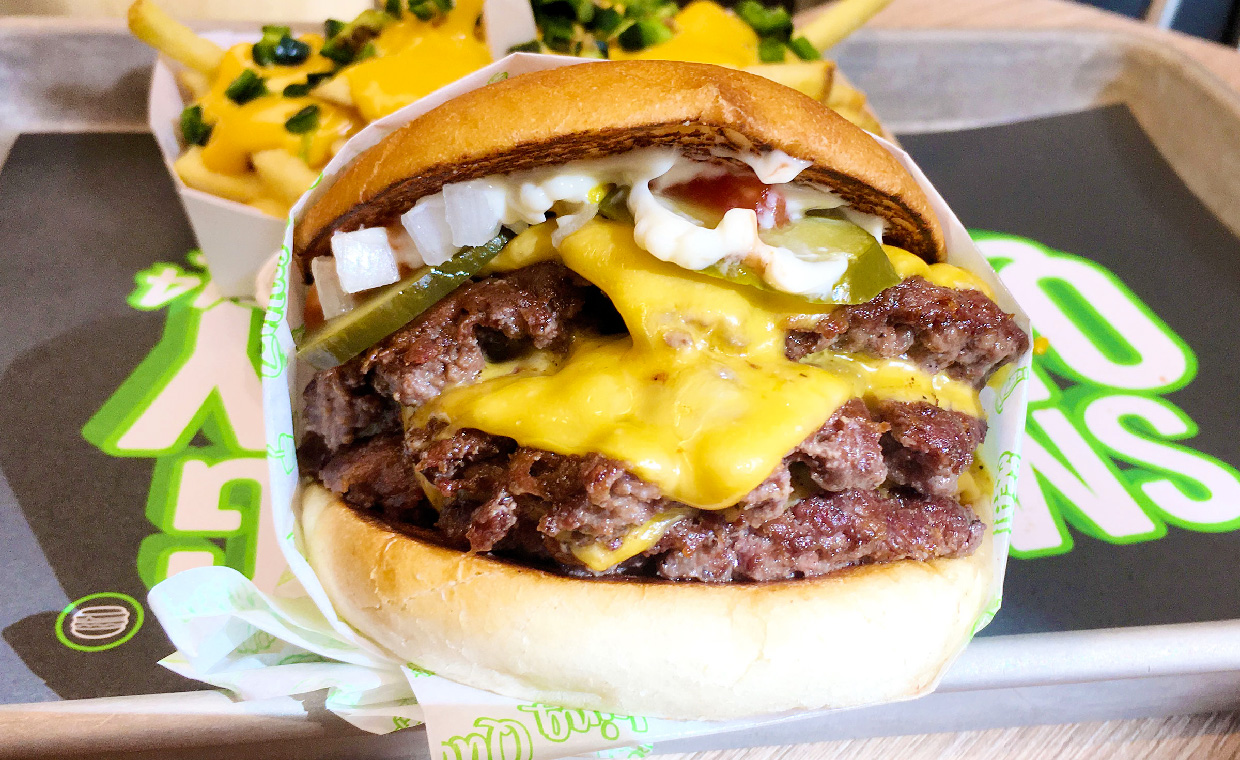 Bun Meat Bun finns nu på fyra platser i Stockholm. De öppnade sin första restaurang i Stockholmsförorten Farsta Strand redan 2014, och har sedan dess expanderat till Söderhallarna vid Medborgarplatsen och Mariehäll i närheten av Sundbyberg samt Jakobsberg. Inspirationen är tagen direkt från fastfood-mästarna Shake Shack, men tack vare den mindre skalan så kan de även lägga mer tid på detaljerna.
Här serveras smashade burgare, vilket betyder att de trycker till köttpucken med en vikt så att den får en rejäl stekyta. 100-gramspuckarna blir rätt tunna, men en standardburgare har två genomstekta puckar med rejält knaprig yta. Och om inte det skulle räcka kan du alltid köpa till extra kött för 25 kronor pucken, så det är bara anständigheten som sätter gränsen för hur många köttlager din burgare ska ha. Beställer du en trippel "Cheesus" från deras hemliga meny kommer du att få kött och ost så det räcker ett bra tag framöver i alla fall.
Potatisbrödet känns bra i handen, och är både luftigt och aningen sött. Här sugs alla köttsafter upp för en härlig helhetsupplevelse. Vi vill även tipsa om att du kan beställa din burgare "extra fin" för en femkrona extra och få mjukstekt lök och senapsstekt kött.
Pommes fritesen kostar 25 kronor extra, men uppgradera då hellre till varianten med smält ost och het chili för 35 kronor. Om detta känns för mastigt rekommenderar vi i stället att du istället unnar dig en smaskig milkshake, eller varför inte ytterligare en köttskiva?
In English
Bun Meat Bun have three locations in Stockholm, and can be found on Södermalm, in Farsta Strand, Jakobsberg and near Sundbyberg. They started out in 2014 as Sweden's answer to Shake Shack, but their dedication to smashburgers have taken them well beyond their international counterpart.
Smashed burgers are made by pressing the patties heavily on the griddle, for maximum crust and flavour. The 100 gram patties are quite thin, but a standard burger has two of them and a great crunch. Additional patties cost 25 SEK each. If you order a triple off-menu Cheesus you'll get enough meat and cheese to last you through the day, at least.
The soft potato bun is nice and airy, and can usually handle all the sauces and meat juices. We also definitely recommend ordering your burger "extra nice", which will get you fried onions and mustard fried patties for only 5 SEK extra.
Also, skip the regular fries for their excellent cheese sauce and green chili fries, or why not have a great milkshake instead?