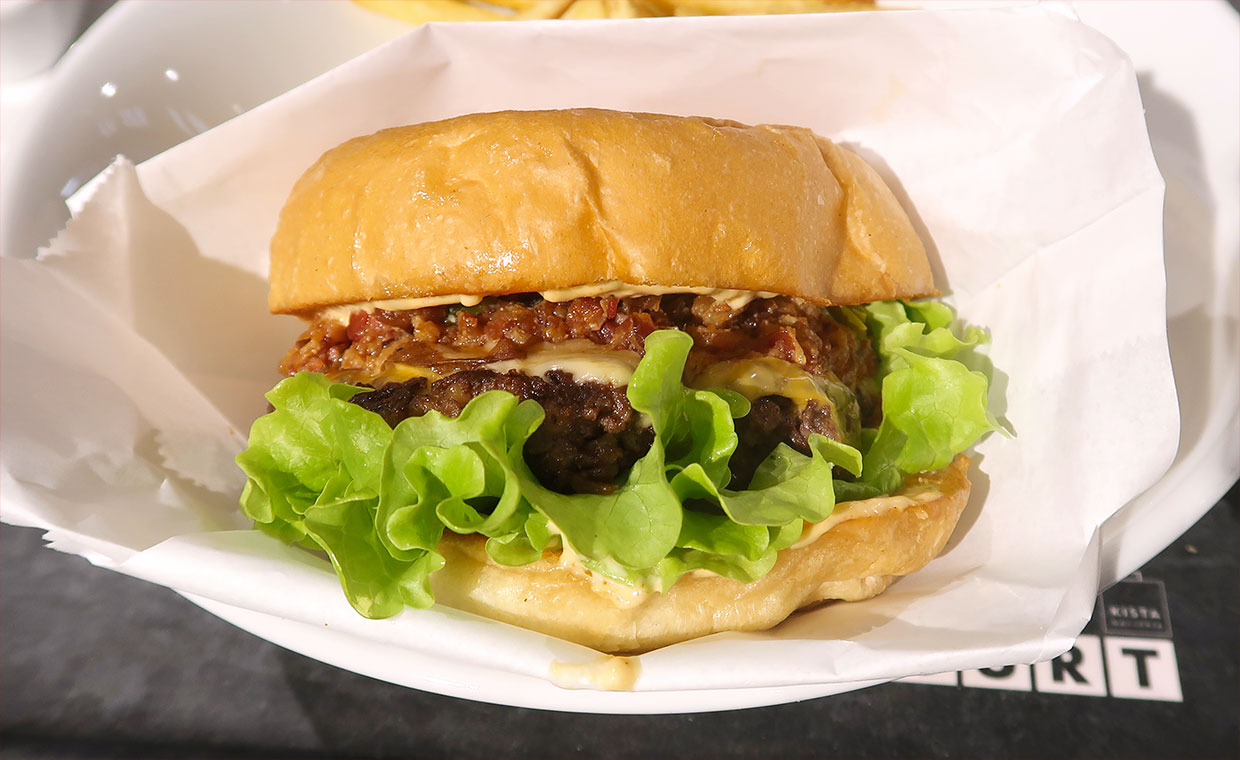 Burger Bistron har stängt.
Burger Bistron har haft en händelserik historia som började redan 2014 med en restaurang i Märsta och sedan en i Upplands Väsby. Båda dessa stängde dock, men efter ett kort uppehåll har de återigen öppnat, denna gång med en gedigen burgarmeny i Kista Gallerias foodcourt.
Vi valde deras baconburgare med pommes frites för 99 kronor. Burgaren serverades i en pappersficka och såg riktigt fin ut med sin smälta ost och sitt hackade bacon. Den låg riktigt bra i händerna, och allt kändes mjukt, varmt och väldigt trevligt.
Köttet var både saftigt och löst packat, men hade behövt lite mer stekyta för att få den där perfekta konsistensen. Vi gillade konceptet med hackat bacon, men tyvärr lämnade själva utförandet en hel del att önska. Det finhackade baconet var alldeles för fettigt och blött vilket medförde att det nästan kändes som en sylt, och gav hela burgaren en överdriven smak av fläsk. Den söta karamelliserade löken fungerade inte heller så bra ihop med den feta smaken.
Överlag var vi nöjda med burgaren från Burger Bistron. Köttet var stjärnan här, tillsammans med riktigt bra bröd och härligt smält ost. Pommes fritesen var också goda med fin krispighet och potatissmak. En solklar rekommendation nästa gång du är och shoppar i Kista.
In English
Burger Bistron has been though quite a journey, starting in 2014 with restaurants in Märsta and then Upplands Väsby, both on the outskirts of Stockholm. But after closing both of their restaurants, they recently opened up shop in Kista Galleria's foodcourt.
We ordered their bacon burger with fries for 99 SEK (about 10 USD). The soft and inviting burger was served in a paper pocket, and looked pretty nice with its melted cheese and chopped bacon.
The patty was loosely packed and really juicy, but could have had a bit more char from the griddle to get that perfect consistency. Chopped bacon is a great concept on paper, but we weren't impressed by the execution here. The finely chopped bacon was wet and super fatty, giving it a jam like consistency with a overpowering pork flavour. And sweet caramellised onions didn't really work well with the fatty flavours.
But overall we were happy with the burgers from Burger Bistron. The meat was the real MVP here, and worked well with the nice bun and the melted cheese. We liked the crispy and flavoursome fries as well, and definitely recommend a visit the next time your in Kista's shopping centre.