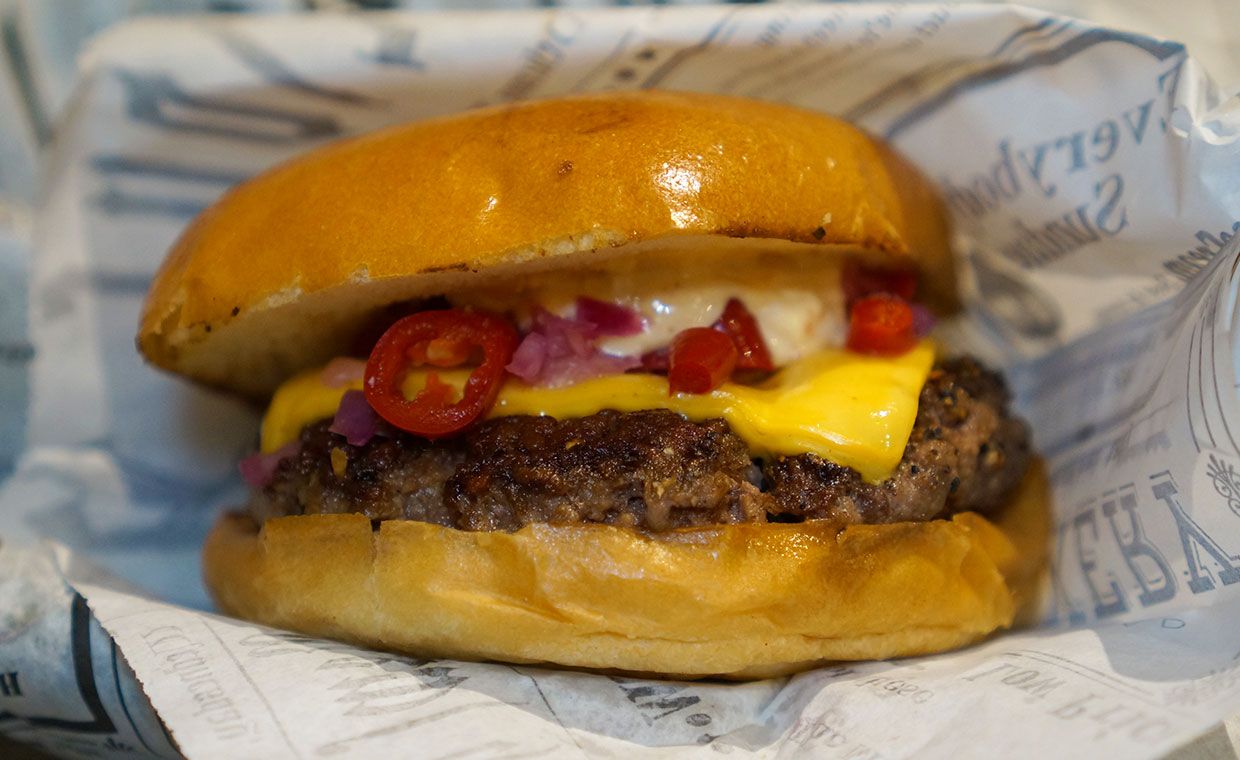 Burgers N' Shakes har stängt sin verksamhet.
Burgers N' Shakes ligger i Skärholmen Centrum, en kort tunnelbanetur från centrala Stockholm. I den avskalade lokalen serveras hamburgare till rätt hyggliga priser. Efter att ha tittat på menyn konstaterade vi att det var rätt svårt att hitta något vi var sugna på, då de flesta av deras burgare innehöll minst en ingrediens som inte föll oss i smaken.
Vi valde till slut en Montana (med tomat, sallad, stekt lök, majonnäs och barbecuesås) och en California (med American cheese, lök och inlagd chili), som kostade 79 respektive 89 kronor styck. Burgarna som serverades var långt ifrån snygga, och de hade komponerats utan någon större finess. Brödet var dessutom hårt och hade en tunn skorpa, vilket brukar ske när det får ligga ute för länge. Köttet var i alla fall fint stekt och lite rosa i mitten, men köttet hade malts lite för fint och var lite smuligt.
Den vanliga pommes fritesen var visserligen helt okej, medan sötpotatispommesen var sladdrig och underfriterad. Vi gillade milkshaken, men hade hoppats att den skulle vara snäppet bättre med tanke på att de ändå döpt sin restaurang efter den. Ärligt talat så var det inget som verkligen stack ut, men för det låga priset fick vi i alla fall en habil burgare. Och det räcker precis för att de ska få godkänt.
In English
Burgers N' Shakes are located in Skärholmen Centrum, a short subway ride into Stockholm's suburbs. The restaurant is sparsely decorated, and serves burgers at pretty low prices. However, most burgers contained an ingredient or two that didn't really fit the bill, and we struggled to find anything that really caught our fancy.
In the end, we opted for a Montana (with tomato, lettuce, fried onions, mayo and bbq sauce) and a California (with American cheese, onions and pickled chili) costing 79 and 89 SEK (appx. 8-9 USD). Our burgers weren't pretty in any way, and had been assembled without much care. Furthermore, the bun was dry and covered with a thin crust, probably due to being out for too long. Thankfully, the patty was nicely cooked and had a pink middle, even though it was a bit too finely ground making it a bit crumbly.
We enjoyed their regular fries as well, but were underwhelmed by their undercooked and sloppy sweet potato fries. The milkshake was alright as well, but far from amazing (making us question why they'd name their restaurant after it). To be honest, there wasn't anything that really wowed us, but the low price and the acceptable quality at least makes Burgers N' Shakes an alright option next time you're in Skärholmen.