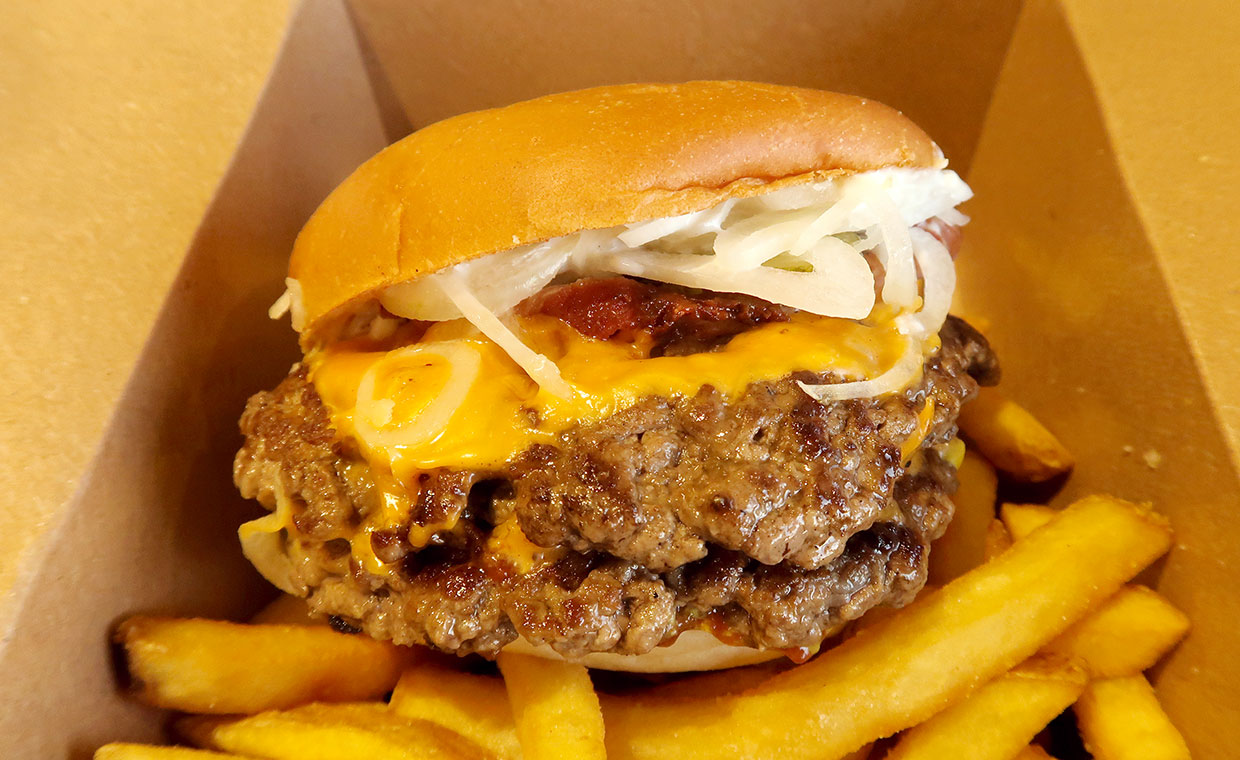 Burgers, Shakes 'n Stuff är ett burgarkoncept från ICA Maxi Stormarknad Värmdö som huserar i deras stora lokaler, precis vid entrén. Här kan du välja bland färdiga menyer eller bygga din egen burgare med hjälp av en checklista som sedan lämnas in i kassan.
Vi valde deras dubbla burgare med två 100-gramspuckar tillsammans med pommes frites för 119 kronor, samt bytte ut läsken mot en milkshake för 35 kronor extra. Vårt bygge följde en av deras färdiga burgarmallar som de kallar "Tony's Cheeseburger", en ganska klassisk cheeseburgare med ost, majonnäs, senap, ketchup, silverlök och saltgurka. Burgarna blev snabbt klara och de presenterades invirade i aluminiumfolie på klassiskt snabbmatsmanér, inte olikt stilen som används av Five Guys.
Själva burgarna såg riktigt aptitliga ut och var fint hopbyggda med bra storlek på både kött och bröd. Deras butiksbakade bröd var fint följsamt och höll ihop allt bra, även om det hade hållit ihop bättre om det hade rostats aningen mer. Den goda smashade högreven var fint kryddad, men vi hade gärna sett lite högre fetthalt och lite mer stekyta för att nå hela vägen hem.
Pommes fritesen var fint krispiga och hade en trevlig potatissmak. Milkshaken som gjordes på deras egen glass, som för övrigt tillverkas i butiken, var fantastisk god. Den uppnådde en perfekt balans mellan att vara gräddig och läskande, och vi blev faktiskt lite golvade av den höga kvaliteten.
Sammanfattningsvis blev vi riktigt positivt överraskade av Burgers, Shakes 'n Stuff. De har hög kvalitet på alla råvaror, en riktigt smarrig milkshake och en väldigt generös prissättning. Om köttet och rostningen på brödet finjusteras så kan detta bli ett riktigt guldkorn i Stockholm.
In English
Burgers, Shakes 'n Stuff is a burger concept from ICA Maxi Stormarknad Värmdö, in one of Stockholm's suburbs. They are located just by a large supermarket, where they also source all of their ingredients. Here you can choose between their own creations or build your own burger from a checklist that you hand in at the cashier.
We ordered a double burger with two 100 gram patties, with french fries for 119 SEK (about 13 USD), switching out our soft drink for a milkshake for an additional 35 SEK (4 USD). We chose one of their own burgers, called "Tony's Cheeseburger" with cheese, mayo, mustard, ketchup, white onions and pickles. We got them in no time, and they came wrapped in aluminium foil, just like in Five Guys.
The burgers looked really tasty, and had a nice size to the patties and the bun. Their homebaked bun nicely squishy and held everything together, but got a bit soggy towards the end of our meal and could have been toasted a bit more. The smashed chuck patty had been properly seasoned, but the low fat content stopped it from getting that amazing crust we were hoping for.
The fries were crispy and tasted great, and the milkshake – made from their own ice-cream – was really yummy. It was both thirst-quenching and creamy, and we were a bit blown away by its high quality.
We were pleasantly surprised by Burgers, Shakes 'n Stuff. High quality ingredients, great shakes and low prices go a long way. And if they fine-tune their meat and buns they could really become a shining burger beacon in the east suburbs of Stockholm.