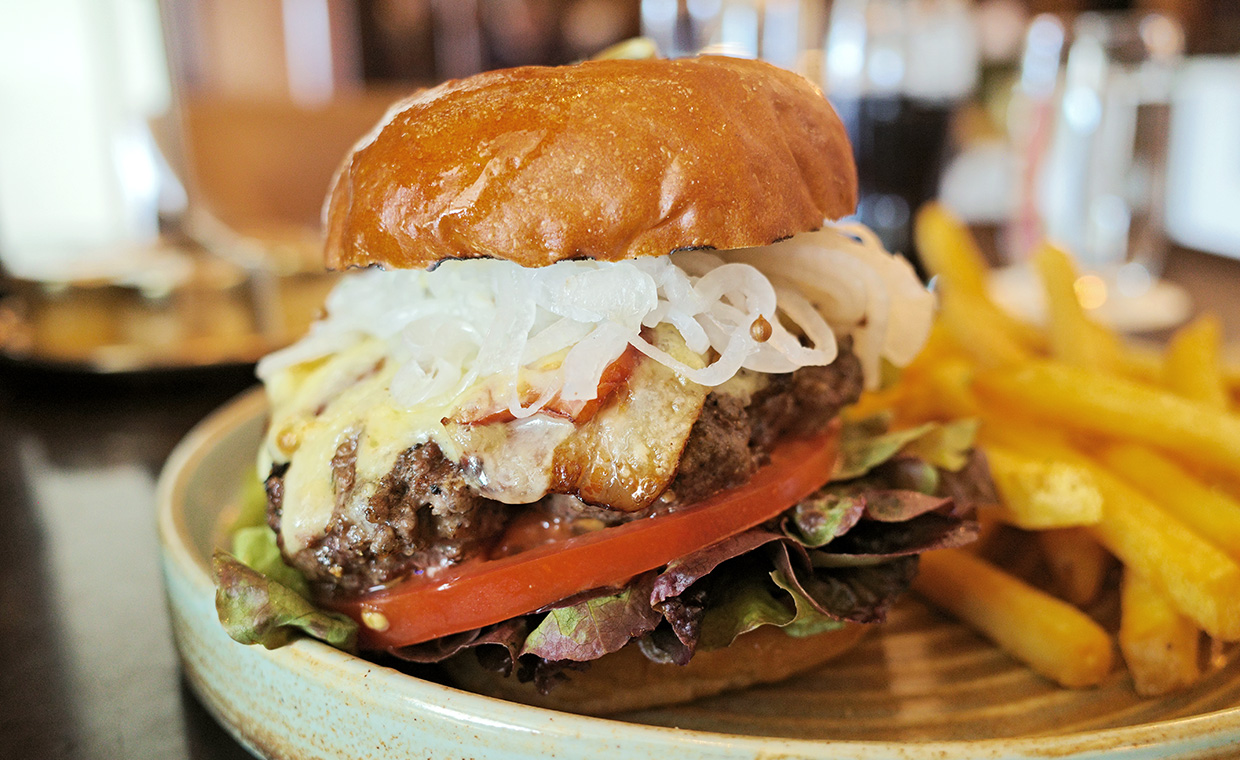 Det luxuösa och välrenommerade Grand Hôtel i Stockholm behöver knappast någon närmare introduktion. I den pampiga byggnaden huserar även den välkända Cadierbaren som enligt många serverar några av de bästa drinkarna som vårt avlånga land har att erbjuda. Men vi var som vanligt bara fokuserade på en sak, nämligen att testa burgarna. Den kompakta menyn innehåller en burgare, deras Cadier Burger med bacon, ost, sallad, jalapeñodressing, majonnäs, picklad silverlök och tomat. Den serveras med pommes frites och kostar rejält saftiga 285 kronor. När vi hade lagt vår beställning så serverades snabbt en liten tallrik med små slutna burkar med dippsås, vilket var en charmig liten detalj som vi uppskattade.
När burgaren väl kom ut från köket och placerades på vårt bord så såg vi direkt vad detta var för typ av burgare. Den var stor och gav ett otympligt intryck, och den lilla pinnen som hade penetrerat allting avslöjade att detta inte skulle bli enkelt att äta med händerna. Mycket riktigt fick vi kämpa oss igenom varje tugga av denna best. Smakmässigt så kändes måltiden lite förvirrande. Köttet var visserligen gott, men de extremt varierande texturerna från den blöta löken och det stenhårt stekta baconet var störande. Den picklade löken var på tok för syrlig och gav allt en stark vinägersmak. Det blöta underbrödet föll dessutom sönder en tredjedel in i måltiden, och vi fick ge upp och plocka fram besticken. Som burgarälskare är detta ett tecken på att saker och ting verkligen har gått snett. Pommes fritesen var åtminstone goda, men coleslawen var helt intetsägande och smakade knappt någonting.
Cadierbarens burgare är en föråldrad besvikelse, och de många misstagen är svåra att förlåta med tanke på att de serverar en av Sveriges i särklass dyraste hamburgare. Vi föreslår att du håller dig till drinkarna eller deras afternoon tea istället.
In English
The renowned and luxurious Grand Hôtel in Stockholm hardly needs any further introduction. And in this grand establishment you can also find the the well-known Cadierbaren, who serve some of the best cocktails in Sweden. But we stayed on target and focused on their burger, of course. The short menu has just one hamburger; the Cadier Burger with bacon, cheese, lettuce, jalapeño sauce, mayo, pickled white onions and tomato. It came served with fries and set us back a hefty 285 SEK (33 USD). After ordering we swiftly received a small plate with individual jars of dipping sauces, which was a nice tough.
When they served our burger we immediately knew what to expect. The hamburger was large and clunky, and the skewer that perforated the entire thing told us that this would be an ordeal to eat with our hands. And sure enough, every bite was a challenge. Tastewise, the Cadier Burger was all over the place. The patty itself tasted nice, but the many different textures from the wet onions and the hard bacon were annoying. The pickled onions were far too acidic and made the entire meal taste of vinegar. The soggy bottom bun fell apart when we had about two thirds of our burger left, and we had to capitulate and resort to a knife and fork. As a fellow burger lover, we're sure you understand how wrong everything had gone by now. The french fries were at least tasty, but the coleslaw was bland and didn't add anything at all.
Cadierbaren's burger is a dated disappointment, and their many mistakes are hard to forgive seeing as they serve one of the most expensive burgers in Sweden. Do yourself a favour and stick to their cocktails or afternoon tea instead.