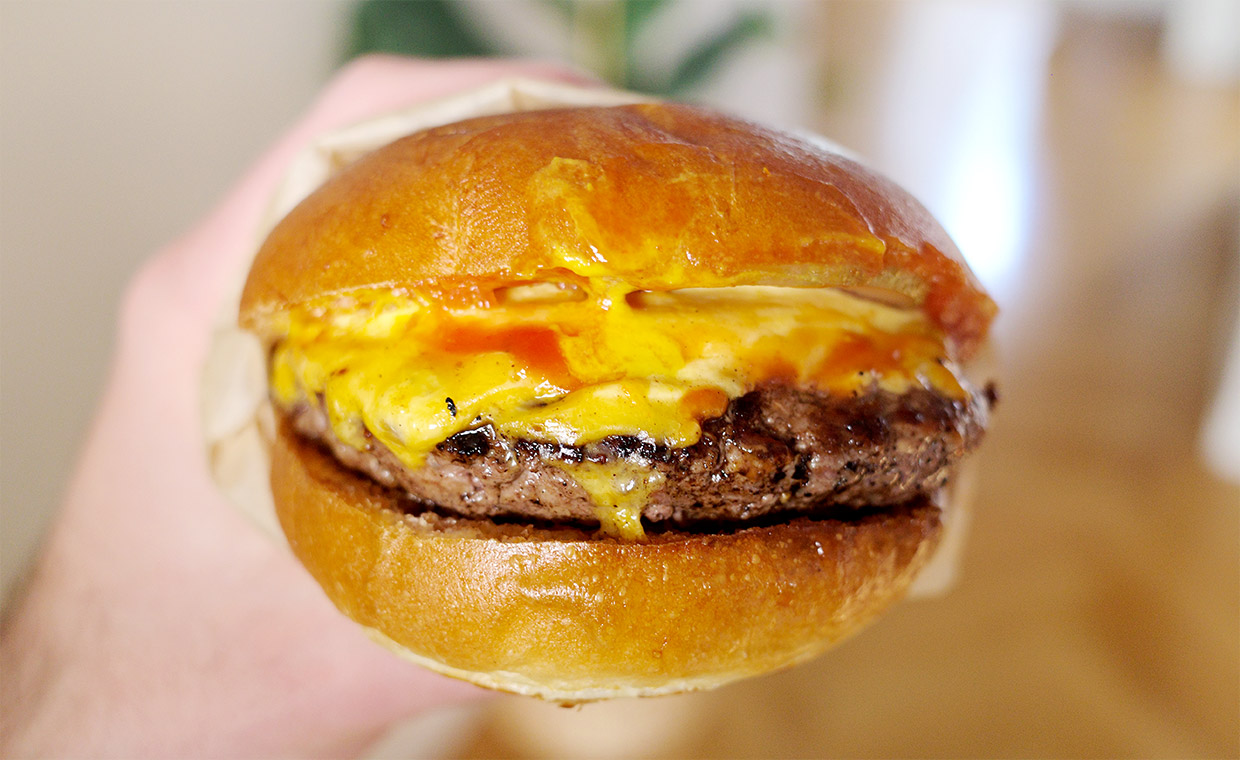 Curb är en virtuell restaurangkedja med så kallade ghost kitchens som lagar mat för leverans i Stockholm och i Köpenhamn. Deras meny rymmer flera olika sorters köks- och matkulturer, men föga överraskande fokuserade vi på deras burgare. Vi beställde deras The Classic Cheese med 150 gram kött samt ost, senap, ketchup och pickles för 109 kronor. Till detta beställde vi även pommes frites för ytterligare 39 kronor.
Burgaren levererades relativt snabbt av en vänlig kurir, och burgaren som låg välpaketerad i en papperskartong hade klarat sin resa utan några större skador. Det första vi reagerade på var att burgaren inte kändes som en smashburgare som utlovats i menyn, utan hade en tjockare variant av köttpuck. Brödet kändes dessutom lite stumt och när vi tog vår första tugga kände vi att brödet även hade torra kanter. Och kort efter det uppenbarades det största problemet med burgaren, nämligen det extremt översaltade köttet. Köttpucken var dessutom ganska rejält rosa i mitten, vilket kändes mer som ett misstag än ett medvetet val. Pommes fritesen var ganska tråkiga med intetsägande potatissmak, och de var dessutom rejält översaltade.
Överlag kändes burgaren från Curb riktigt trist och oinspirerad med flera större misstag. Att deras kaxiga marknadsföring lyder "Try us, love us, name a kid after us" gjorde inte måltiden någon tjänst alls. Virtuella restauranger är med allt säkerhet här för att stanna, men vi hoppas att de börjar prioritera hög kvalitet snart i stället för att bara fokusera på snabba leveranser.
In English
Curb is a virtual restaurant chain of so-called ghost kitchens that prepare food for delivery in Stockholm and Copenhagen. Their menu includes various styles of cooking, but we obviously opted for their burger menu. We ordered their The Classic Cheese with a 150-gram beef patty, cheese, ketchup, mustard and pickles for 109 SEK (13 USD), plus an order of French fries for 39 SEK (4.5 USD).
A friendly courier delivered our meal pretty quickly, and our burger came properly packed away in a paper box without and was in good shape. The first thing we noticed was that this didn't look like a smash burger, which their menu stated, seeing as the patty was relatively thick. The bun also felt a bit stale, and our first bite revealed that it had a hard crust all around it. And that's also when we noticed the biggest problem, which was the overly salted beef. The patty was also very pink in the centre, which felt more like a mistake than a deliberate choice. And the french fries were rather boring as well; the potato flavour was missing and they mainly tasted of salt.
Overall, Curb's burger felt really boring and uninspired, and was marred with several big mistakes. And their cocky marketing slogan "Try us, love us, name a kid after us" didn't really help things either. Virtual restaurants are most definitely here to stay, but we hope that they start focusing on high quality meals in the future, rather than just speedy deliveries.