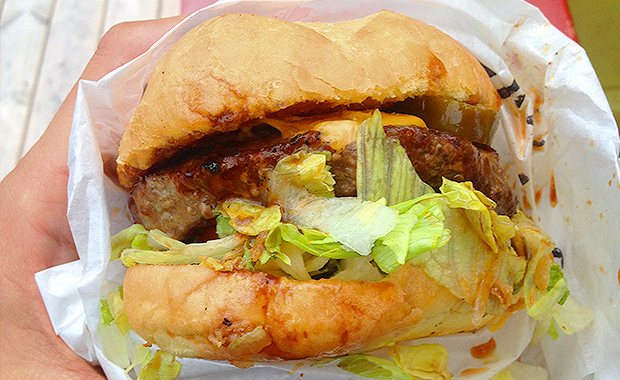 Foodtrucken Curbside STHLM bjuder på kladdigt saftiga burgare, med mycket smak och lite finess. Här samsas dressing, lök ost och grönsaker med 120 eller 180 gram svenskt kött – allt fastklämt mellan två brödbitar. Dessvärre hade brödet legat på stekhällen aningen för länge, vilket gjorde att det var lite för hårt och inte lyckades fånga upp alla köttsafter. Eftersom food trucks inte bjuder på vare sig handfat eller sittplatser kan det med andra ord bli rätt jobbigt i såna lägen.
Priset för deras 180-grammare ligger på dryga hundralappen. Ingen pommes frites serveras.
Har öppet för både lunch och middag, och schemat finns på deras webbplats.
In English
Curbside STHLM roams Stockholms streets during lunch and dinner, and serves up a tasty, sauce-dripping burger. The bread was a bit overdone, however, and wasn't able to mop up the juices. The result was a sloppy mess – not ideal for a food truck. They offer a vegetarian option and gluten free bread, but no fries.