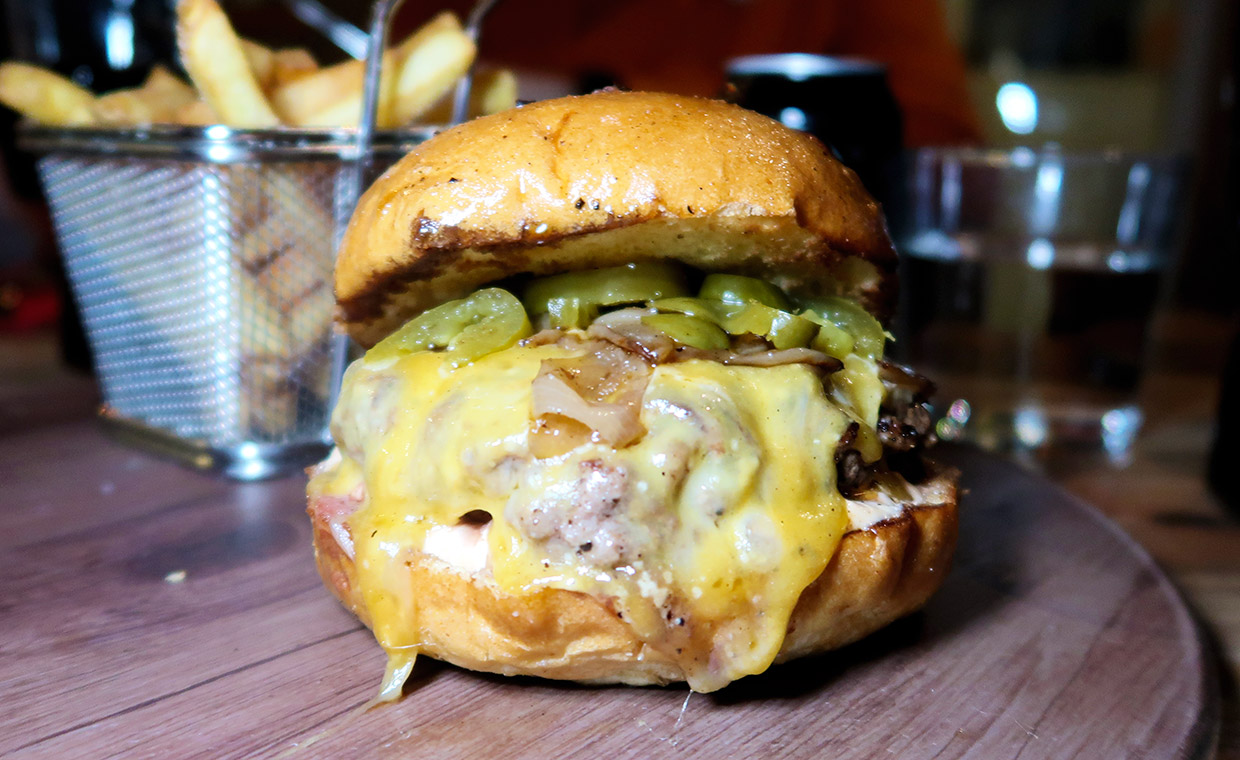 Vi recenserade foodtrucken Curbside Stockholm när vi startade Burgerdudes redan 2014, och de har med andra ord rullat på huvudstadens gator under mer än ett halvt decennium. I slutet av 2019 slog de upp portarna för sin första riktiga restaurang i det nybyggda Hagastaden-området vid Norra Stationsgatan. Den otroligt rymliga restaurangen känns som raka motsatsen till den minimalistiska trucken, och menyn har utökats till andra rätter än bara hamburgare. Själva burgarmenyn består av fem hamburgare, varav två är vegetariska.
Vi beställde in två olika burgare: Triple Cheese (med trippel ost och srirachamajonnäs) för 119 kronor och Curbside Original (med chipotledressing, picklad rödlök, cheddar och jalapeños) för 139 kronor – båda inklusive pommes frites. Det första vi slogs av var hur stora hamburgarna var. Det här var riktiga bjässar med en rejäl köttpuck och ett minst lika väl tilltaget bröd. Maffigheten förstärktes ytterligare av att hela burgaren dröp av fett – från både kött och bröd. Detta i kombination med den stora mängden dressing gjorde burgaren rätt svåräten, och den höll knappt ihop under måltiden.
Som tur var så höll köttet hög kvalitet, och köttpucken av högrev och bringa var både saftig och smakrik. Curbside Original bjöd på många trevliga smaker, men våra Triple Cheese var alldeles för salta. Deras egenlagade dressingar var båda väldigt goda, men den halvsmälta osten på Original-burgaren var rätt tuggig. Pommes fritesen var ganska torra och tråkiga de med, och räddades tyvärr inte av srirachamajonnäsen som kostade 20 kronor extra.
Det här var helt klart en mycket bättre burgare än den vi testade för fem år sedan, och du kommer definitivt inte att lämna restaurangen hungrig. Men kvalitetsmässigt så räcker det inte riktigt till ett högre betyg än tidigare.
In English
We reviewed the foodtruck Curbside Stockholm when we first launched Burgerdudes back in 2014, which means that they've been serving burgers in Stockholm for more than half a decade. At the end of 2019 they opened their first real restaurant in the new Hagastaden district by Norra Stationsgatan, and the huge restaurant felt like the polar opposite to the minimalistic truck. This also means a more varied menu that consists of more than just burgers. But burger-wise they have 5 on the menu, with 2 being vegetarian options.
This time we tried 2 different burgers: Triple Cheese (with three slices of cheese and a sriracha mayo) for 119 SEK (12 USD) and the Curbside Original (with chipotle sauce, pickled red onions, cheddar and jalapeños) for 139 SEK (14 USD) – both including fries. The first thing we noticed was how huge the burgers were. These impressive beasts had a huge patty and even larger buns. Both the bun and the patty were super greasy as well, and the burgers were also filled with sauce. The end result was a burger that proved to be a real struggle to eat, and it actually fell apart before we managed to finish it.
The best thing here was the quality of the meat, and the chuck and brisket patty tasted great. The Curbside Original had a lot of great flavour combinations, but our Triple Cheeses were too salty. We enjoyed the actual flavours of their homemade sauces, but the half melted cheese on the Original burger was pretty chewy. We didn't really enjoy our dry and boring french fries either, and they couldn't really be saved by their sriracha mayo dip for 20 SEK (2 USD).
Sure, this was a better burger than the one we had at Curbside Stockholm five years ago, and you'll definitely leave the restaurant full. But quality-wise we can't really give them a better grade than last time.