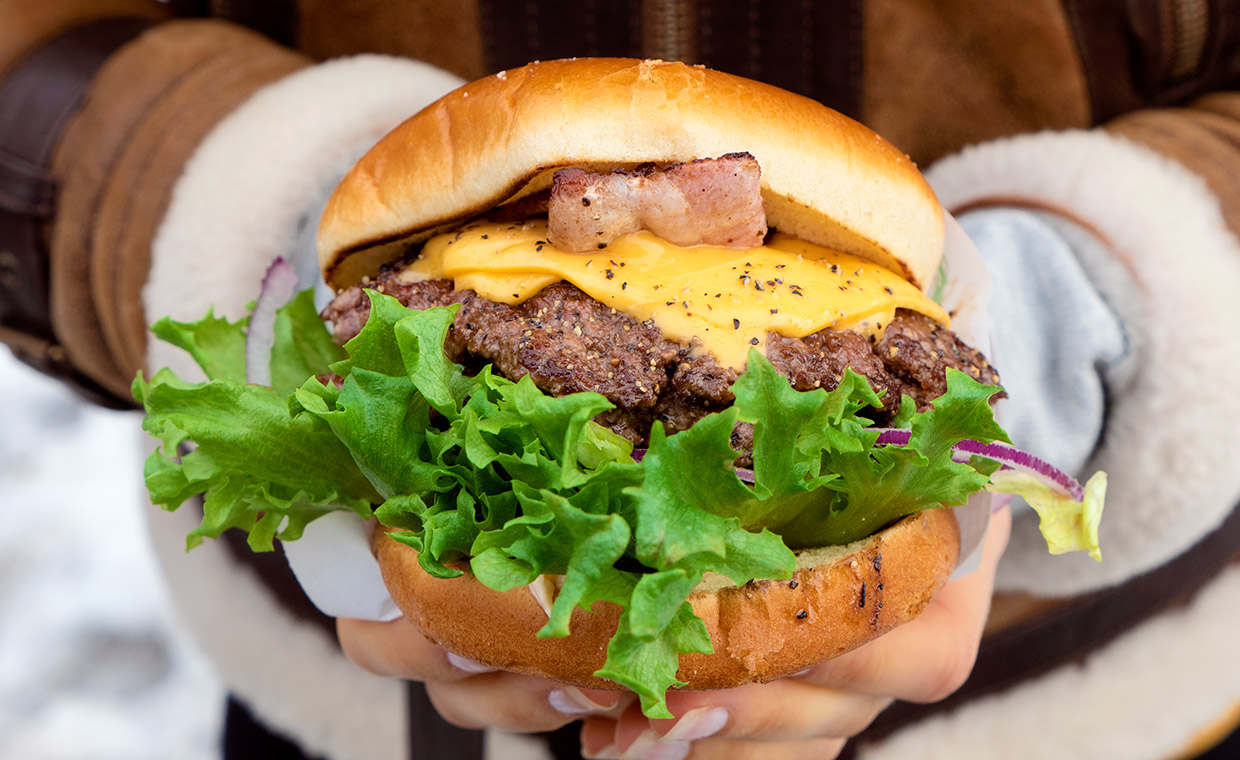 I närheten av Fredhällsklipporna i Stockholm ligger Daniels Burger & Grill; en liten kiosk med gatuköksklassiker som tunnbrödsrulle, kebabtallrik och stekt strömming. Och som namnet avslöjar har de även burgare på menyn. Vi besökte dem mitt i söndagslunchen och möttes av en mindre kö, vilket vi tog som ett gott tecken. På menyn fanns två burgare, och vi testade dem båda. Det blev en dubbel Fredhällsburgare som kostade 125 kronor (160 kronor med pommes frites och läsk). Den bestod av två köttpuckar à 120 gram, ost, bacon, chilimajonnäs, sallad, rödlök och tomat. Vi testade även en enkel Chipotleburgare för 95 kronor, med ost, bacon, chipotlesås, coleslaw, sallad, rödlök och tomat.
Kort efter beställningen fick vi varsin maffig burgare. Köttet hade fått en rejäl stekyta och var ordentligt kryddat med peppar. Salladsbladet var strategiskt placerat för att ge ett fint intryck, men var lite i vägen och fick burgaren att se ut som att den hade ett underbett. Vår dubbelburgare hade en bra ratio mellan bröd och kött, men mängden lök och sallad gjorde den svåräten. Brödet var dessutom mer rostat på utsidan än insidan, och började falla isär på grund av köttvätskorna och alla såser. Baconet var ordentligt stekt och chilimajonnäsen hade en trevlig smak, men hade kunnat vara starkare. Däremot tyckte vi inte att den kalla coleslawen tillförde något smakmässigt, och försvårade ätupplevelsen ytterligare.
Vi blev riktigt mätta efter vår måltid på Daniels Burger & Grill, och rekommenderar helt klart ett besök om du är i Fredhäll och är sugen på en rejäl burgare.
In English
Daniel's Burger & Grill is located close to the water in Stockholm's Fredhäll district. Thiss small grill kiosk serves classic dishes such as sausages, kebab and fried fish, but they also have two burgers on the menu. We paid them a visit during lunchtime on a Sunday, and there was a small queue outside. We ordered both of their burgers; a double Fredhällsburgare for 125 SEK (15 USD) or 160 SEK (19 USD) for a menu with French fries and a soft drink. It contained two 120-gram beef patties, cheese, bacon, chili mayo, lettuce, red onions and tomato. We also tried a single Chipotleburgare for 95 SEK (11 USD), with cheese, bacon, chipotle mayo, coleslaw, lettuce, red onion and tomato.
We received our burgers after a short wait, and they were huge. The beef had a really nice and crisp crust and had been seasoned with a lot of pepper. The lettuce leaf looked good, but was in the way and made it look like our burger had an underbite. Our double burger's meat to bun ratio was really good, but the large amounts of onion and lettuce made it hard to eat. The bun had also been grilled more on the outside than on the inside, which led to it falling apart when we ate it due to all the sauces and beef juices. The bacon was nice and crispy, and we liked how our chili mayo tasted, even if it could have been spicier. The cold coleslaw didn't add anything flavour-wise, and only made it more difficult for us to finish our burger.
We left Daniels Burger & Grill really full, and definitely recommend them if you're you're close to Fredhäll, hungry for a large burger.