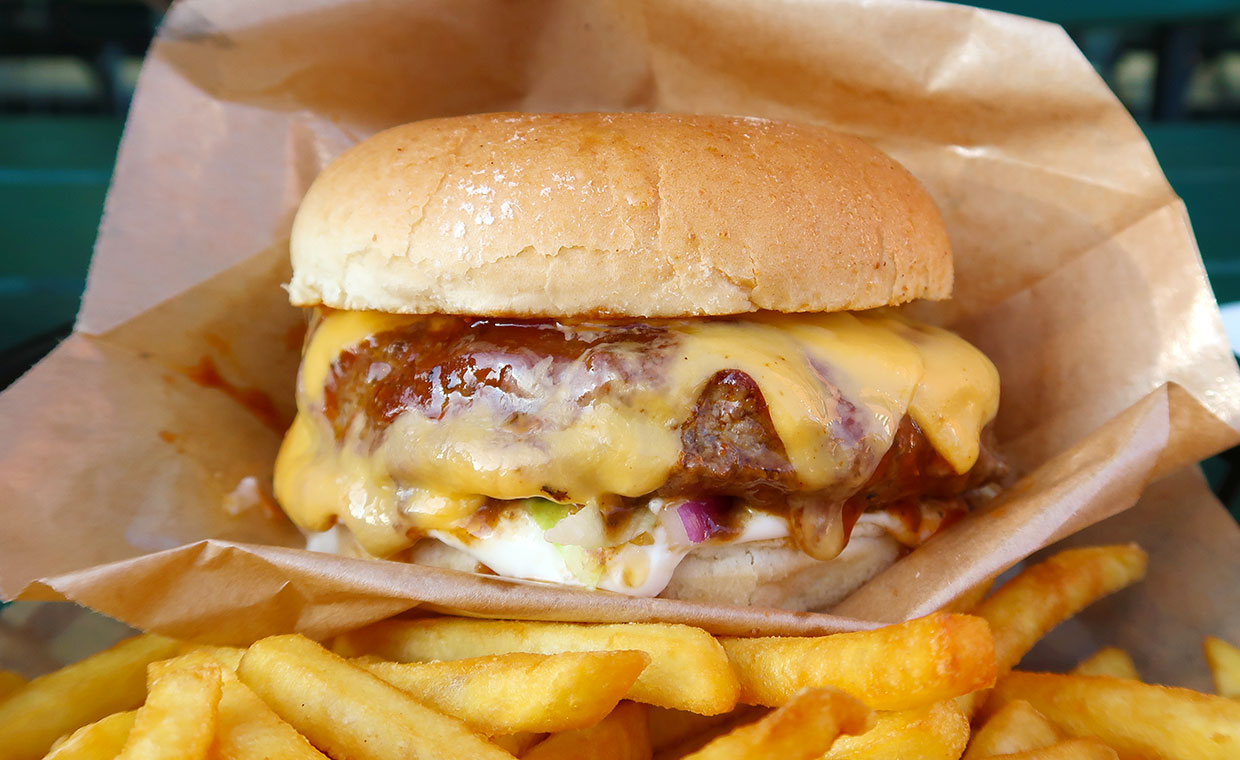 E4-baren är en riktig klassiker inom Stockholms burgarscen. De var väldigt tidiga med att servera burgare gjorda på färskmalen högrev, men sedan burgare blev stort under 2010-talet så har tiden gått ifrån dem. I vår recension från 2014 tyckte vi att de inte längre levde upp till hajpen, och vid vårt återbesök nu fem år senare kan vi tyvärr konstatera att de inte har blivit bättre.
Medan Stockholm har blivit en av världens bästa burgarstäder så har ytterst lite förändrats på E4-baren. Vi beställde en BBQ-burgare med ost, som bestod av en 150-gramsburgare på kryddad högrev, majonnäs, barbecuesås, sallad och lök. Priset låg på 85 kronor inklusive dryck och en jättelik portion pommes frites – samma som förra gången! Och ost på burgaren kostade fortfarande 10 kronor extra.
Den största förändringen jämfört med vårt förra besök var att de nu hade ett bättre bröd än det klassiska sesamprydda hamburgerbrödet som de drogs med tidigare. Nu var det lite saftigare och studsigare, vilket var trevligt. Men själva köttet var detsamma som tidigare, och kändes både trött och tråkigt. Smakmässigt så tog kryddblandningen från köttet över, medan konsistensen var riktigt tuggig. Den stora portionen pommes frites var av klassisk gatukökskvalitet, med sin nästan pappliknande konsistens, men var åtminstone harmlöst mättande.
E4-baren känns tyvärr mer som en relik från en svunnen tid än ett modernt gatukök, vilket är lite synd då de ändå var pionjärer en gång i tiden.
In English
E4-baren was almost an institution for Stockholm's burger scene back in the early 2010's, being one of the first places where you could get a burger made from freshly ground chuck. But a lot has happened over the last decade, and while the Swedish capital has turned into one of the best burger cities in the world, E4-baren hasn't been paying attention. We were left disappointed in our initial review from 2014, and now 5 years later we're just as underwhelmed.
We ordered a BBQ burger with extra cheese, made from a 150 gram patty from fresh (but heavily seasoned) chuck, plus mayo, barbecue sauce, lettuce and onions. The price was 85 SEK (under 9 USD) including a soft drink and a huge order of fries, which is the same as last time. And the cheese still cost 10 SEK (1 USD) extra, just like before.
The biggest change compared to last time was that they've upgraded their bread to a better bun. They used to have a dry bun with sesame seeds, but this one was a bit softer and bouncier. But the meat was still the same as last time, and was equally uninspiring. Flavour wise, the spices took over completely, and the consistency was really chewy. The large order of fries reminded us of burger kiosks of old, but was at least pretty filling.
E4-baren feel more like an old relic than a modern burger joint, which feels like a missed opportunity seeing as they actually were pioneers back in the day.