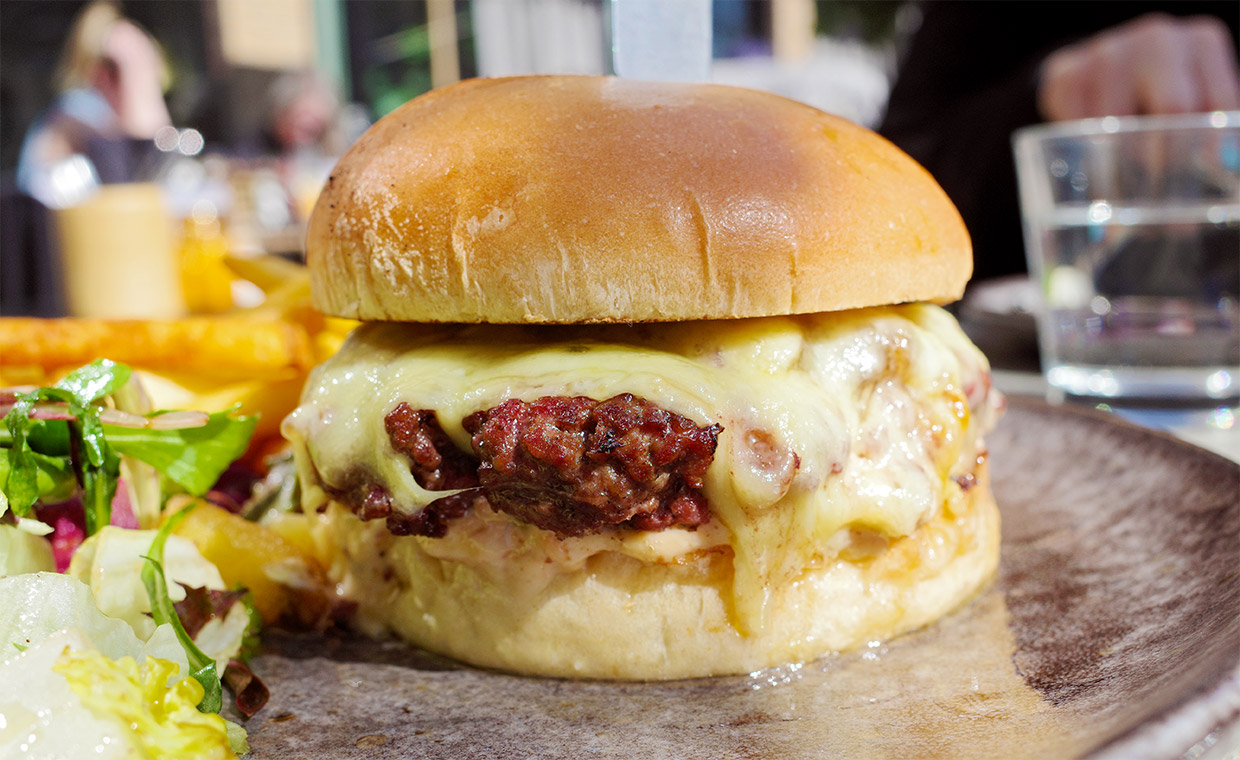 Eatery är en snabbt växande restaurangkedja som i skrivande stund har åtta enheter runt om i Stockholm. Vi besökte deras restaurant på Gärdet, och trots att inredningen först verkade ganska uppstyrd och affärsmässig så ingav ändå den mysiga uteserveringen en avslappnad känsla. På deras meny finns det något för de flesta, men vi hade i vanlig ordning laserfokus på burgarna. Vi beställde deras Classic Diner Burger med ost, karamelliserad lök och dressing tillsammans med trippelfriterade pommes frites för 150 kronor.
Burgaren serverades på ett mörkt porslinsfat och såg ut som en klassisk rustik restaurangburgare. Självklart hade de även tryckt en köttkniv helt omotiverat genom hela burgaren. När vi tagit ut kniven och tagit upp burgaren med händerna kändes det mycket bättre, även om brödet uppenbarligen var ganska torrt och stumt. Köttpucken på 150 gram gjord på högrev, bringa och bog hade en överraskande gedigen smak och kändes lös och fin i konsistensen. Den karamelliserade löken var även den smakrik, men blev alldeles för söt tillsammans med deras egenlagade dressing. Här saknade vi något som bröt av sötheten för att balansera upp smakerna. Deras trippelfriterade pommes frites kändes som helt vanliga pommes frites, och vi märkte inte av trippelfriteringen nämnvärt – något som verkligen gjorde oss besvikna då vi sällan hittar just trippelfriterade pommes frites i Stockholm.
Trots det goda köttet så gör missarna med både bröd och smakbalansen att Eatery inte riktigt når upp till ett godkänt betyg. Vi hoppas de förbättrar sina burgare i takt med att de växer, och att de dessutom vågar skippa den omotiverade köttkniven i framtiden.
In English
Eatery is a fast-growing chain of restaurants, who currently have 8 units throughout Stockholm. We visited their Gärdet establishment that felt quite cozy despite the strict and business oriented interiors, thanks to its relaxed outdoor seating area. Their extensive menu contains a bit of everything, but our sights were of course set on their burgers. We ordered their Classic Diner Burger with cheese, caramelised onions and burger sauce with triple fried fries for 150 SEK (18 USD).
Our burger came served on a dark plate, and looked like a classic rustic restaurant burger. So we weren't surprised to see that they'd also run a steak knife through the burger. After removing it and picking the burger up with our hands it felt better, even though this revealed that the bun was quite dry. The 150-gram patty made from chuck, brisket and blade steak was surprisingly tasty, with a nice and loose consistency. The caramelised onions tasted nice as well, but got a bit too sweet together with their home made burger sauce. We would have liked to see something acidic in order to balance out the sweetness better. Their triple fried French fries weren't anything outside the ordinary, which made us especially disappointed seeing as we seldom find triple fried fries in Stockholm.
Despite the flavoursome beef, Eatery's many mistakes with the bun and the flavour balance means that they just fall short of a passing grade. We hope that they improve their burgers over time, and that they dare put that unnecessary steak knife away once and for all.