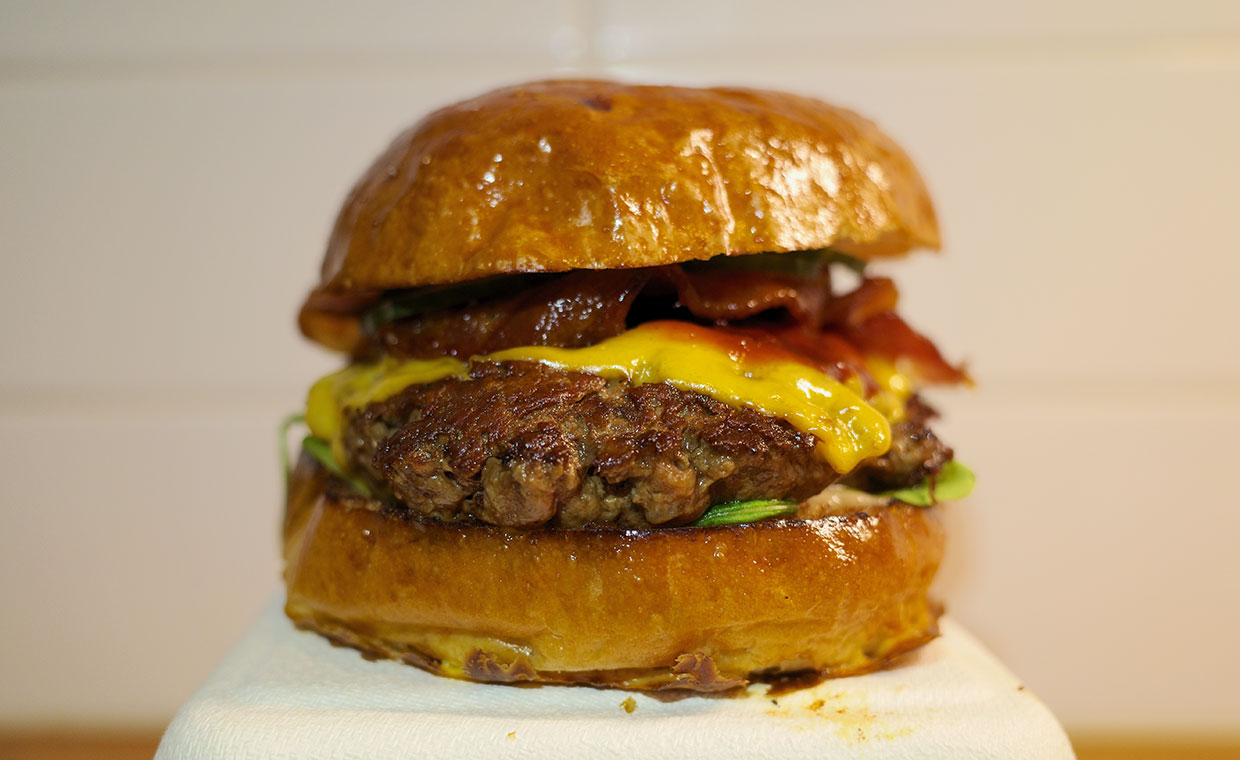 Favo är ett nytt restaurang- och matkoncept som idag finns i Borås och delar av Stockholm. De fungerar egentligen som många av dagens matappar som Foodora och Uber Eats, men med den stora väsentliga skillnaden att de faktiskt lagar sin egen mat. De har alltid fri leverans och har således ett stort fokus på hemleverans, även om det finns möjlighet att äta på deras restauranger.
Burgarmenyn har fem normalstora burgare som alla är prissatta runt hundralappen, vilket känns rimligt. Tillbehören kostar desto mer och ligger mot 40 kronor för vanliga pommes frites och 50 kronor för sötpotatispommes, vilket är lite väl saftigt. Det hör inte till vanligheterna att vi recenserar takeaway-burgare, så vi gjorde faktiskt flera beställningar vid olika tidpunkter. Till vår stora glädje så var kvaliteten väldigt konsekvent.
Det märktes att konceptet är genomtänkt. Leveransen gick smidigt, burgarna låg i skyddande takeaway-lådor och hade byggts ihop för att klara transporten utan att bli mosiga eller kladdiga. Brödet hade en fin stuns, samtidigt som det var tillräckligt stadigt för att stå emot såserna. Köttet hade en fin stekyta och en härlig textur. Det var saftigt och gott, men kunde ha kryddats lite mer för att framhäva smakerna bättre.
Överlag kändes alla burgare välkomponerade, och vår favorit var deras Cheese Smash som med dubbla skivor cheddarost, karamelliserad lök, silverlök, majonnäs, senap och ketchup gav en klassisk smakbild som förde tankarna till en lyxig cheeseburgare på McDonald's. Även deras burgare Chef's Favo med lönnsirapsbacon var riktigt smarrig, med väl avvägda ingredienser.
Det enda riktigt negativa var de dyra och underfriterade pommes fritesen. Men själva burgaren smakade riktigt gott, och vi applåderar detta nya matkoncept från FAVO som faktiskt fungerar förvånansvärt bra och smidigt.
In English
Favo is a new food and restaurant concept in Sweden that currently operates in Borås and parts of Stockholm. They work like most other food apps on the market, such as Foodora and Uber Eats, but the main difference is that they cook their own food. Delivery is free, which makes the home delivery option popular, but you can also eat at their physical restaurants.
They have 5 different burgers on their menu costing approximately 100 SEK (10 USD) each, which is reasonable. The sides are quite a bit more expensive though, with 40 SEK (4 USD) for regular fries and 50 SEK (5 USD) for sweet potato fries. We don't review take away burger that often, so we made sure to place several orders at different times in order to check the quality. And we are happy to say that the quality was consistently good every time.
The entire concept feels very through. The delivery went smoothly and the burgers came in sturdy take away boxes that stopped them from turning into  mush. The bun was nice and bouncy, but still sturdy enough to handle the sauces and meat juices. And the patty itself had a great crust and texture. It was juicy and had a nice beefy flavour, but could have done with some more seasoning.
Overall, their burgers were nicely put together. Our favourite was the Cheese Smash with two slices of cheddar, caramelised onions, white onions, mayo, mustard and ketchup, like a luxurious cheeseburger from McDonald's. We also enjoyed their Chef's Favo with maple bacon.
The only downers were the expensive and undercooked fries, but the burger itself tasted really good. We're really happy to see that FAVO's concept really works and is easy to use.