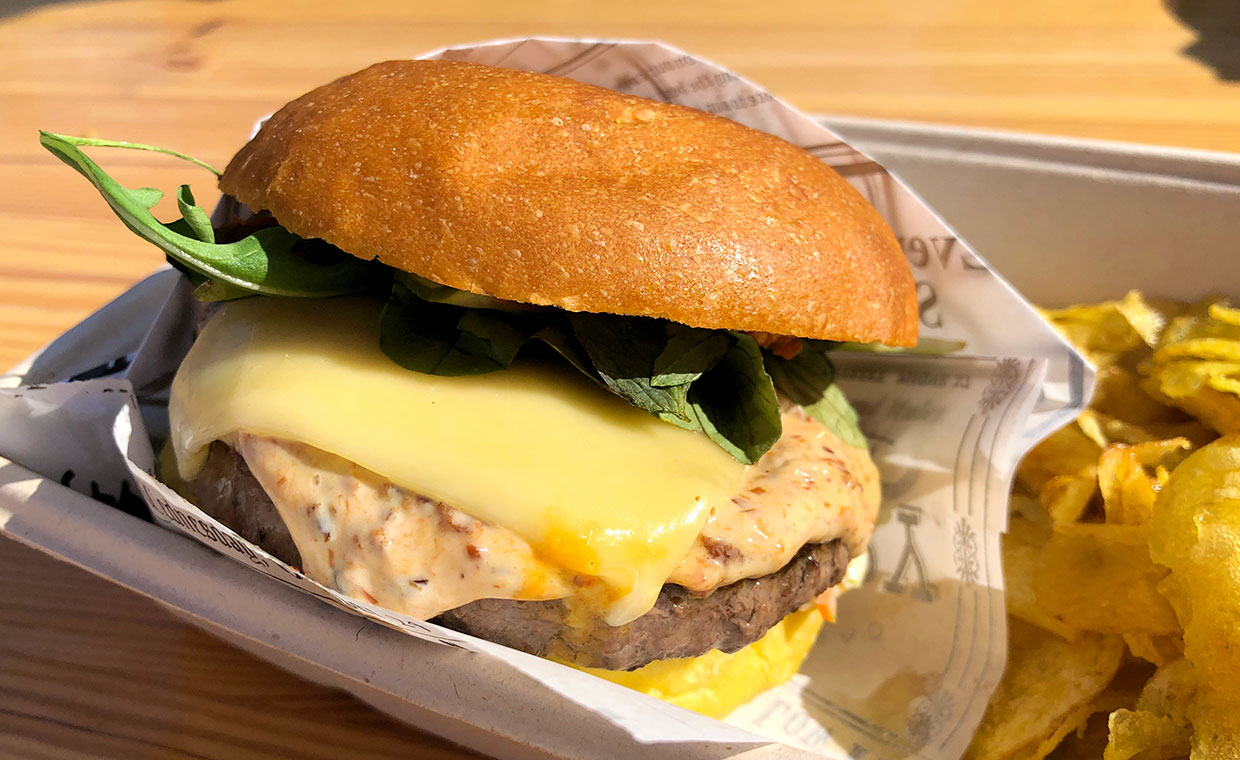 Gurras Goda Kök är en foodtruck som har rullat på Stockholms gator under i flera år. Utöver burgarna så brukar de även ha korvar och annan streetfood på menyn. Vi fick tillfälle att testa deras burgare som de hade komponerat under Food Truck-SM 2019 i Kungsträdgården, där vi även satt i juryn. Men detta test gjordes såklart anonymt som alltid, och besöket skedde utanför tävlingen.
Burgaren innehöll ost, coleslaw, picklad gurka, pimento-ost och baconmajonnäs och serverades med en portion lantchips för 115 kronor. Måltiden serverades prydligt på en pappbricka medan själva burgaren låg i en pappersficka intill chipsen.
Utseendet på burgaren var tyvärr inte alls inbjudande, och det nästintill gråa köttet skar sig verkligen mot den skära baconmajonnäsen. Detta var bara en förvarning om vad som skulle bli en av de sämsta burgarna vi hade ätit på väldigt länge. Brödet var stenhårt, och var i stort sett en enda stor skorpa. Baconmajonnäsen smakade bara korv utan några nyanser och osten var inte ordentligt smält. Men köttet var utan tvekan det mest oaptitliga. Det var väldigt kompakt och kändes som att det hade varit fryst tidigare. Köttet hade även en lustig eftersmak, och konsistensen efter ett par tuggor kan enklast beskrivas som en blöt sörja.
Lantchipsen hade i princip dränkts i tryffelolja, och var så gott som oätliga. Kombinationen av en katastrofal burgare och oljiga chips resulterade i att detta är en av de få hamburgarna vi inte har ätit upp. Gurras Goda Kök hade kanske en extremt dålig dag, för vi vet att de är omtyckta, men det här var katastrofalt från början till slut.
In English
The food truck Gurras Goda Kök has served burgers, hot dogs and other street food in Stockholm for a few years now. We visited them at the Swedish Food Truck Championships 2019 in Kungsträdgården (where we also were jury members). This review is based on an anonymous test, and we purchased the burger independently of the competition.
Our burger contained cheese, coleslaw, pickles, pimento cheese and bacon mayo, and had a side of potato chips. It cost 115 SEK (12 USD) and came nicely served on a paper tray with the burger in some wrapping paper.
The burger didn't look appetising at all, and the almost grey meat stood out against the pink bacon mayo. It turned out that this was a portent of what was to come, since this turned out to be one of the worst burgers we've reviewed in a while. The bun was super-stale and crusty all over, the bacon mayo tasted more of sausage than anything and the cheese hadn't melted properly. But the meat was the worst part of our meal, with a compact patty that looked and felt like it had been frozen previously. It had a strange aftertaste, and the consistency was really soggy after just a few bites.
The potato chips had been drenched in truffle oil, rendering them practically inedible. All in all, the combination of an awful burger and a terrible sideorder resulted in one of the few burgers we actually haven't been able to finish. Gurras Goda Kök might have had an extremely bad day (people have recommended them, after all) but our experience was a catastrophe from start to finish.