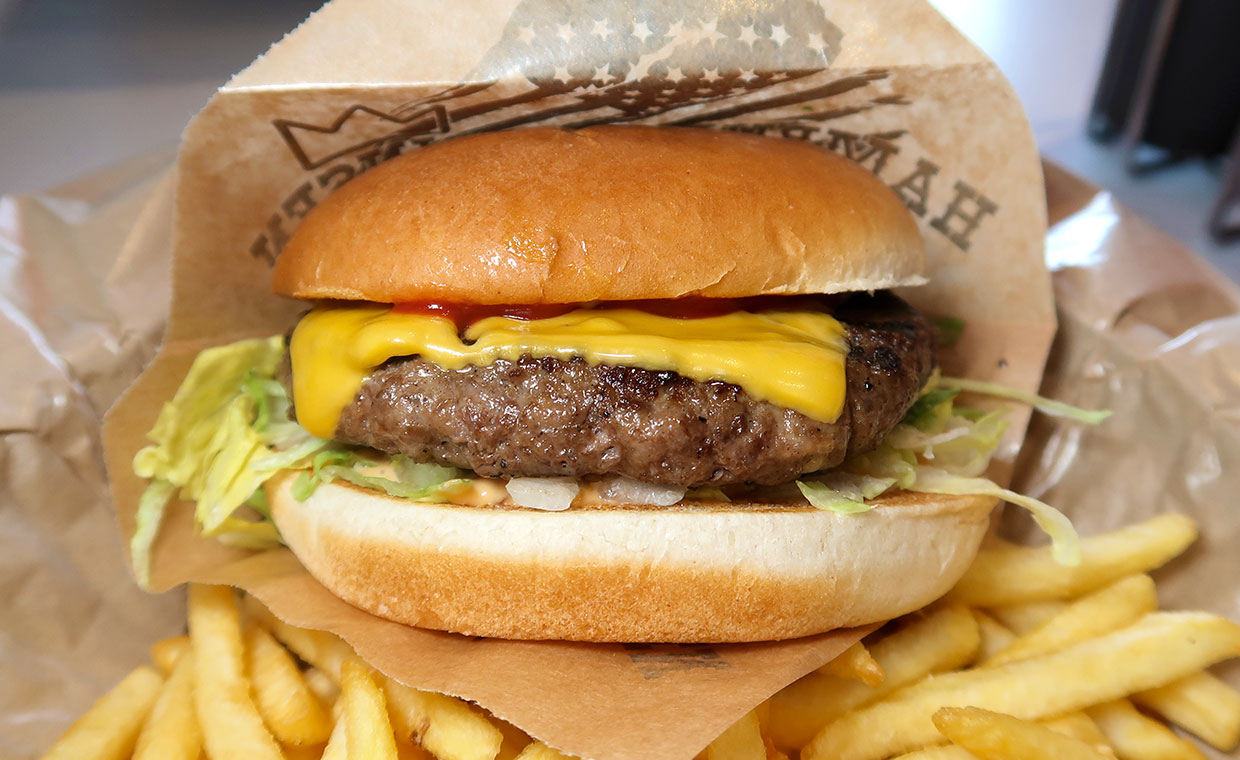 Hamburgarprinsen öppnade redan under 2006, och de har en handfull restauranger i Stockholm. Vi besökte deras restaurang i Västberga, där de serverade klassiska gatuköksburgare gjorda på högrev och bringa i enkel och trevlig 50-talsinspirerad dinermiljö. Under vårt lunchbesök kostade 95 kronor för burgaren och en rejäl portion pommes frites samt både läsk och kaffe (övriga tider är det en tia eller två dyrare). Vi höll oss till klassikerna och beställde en cheeseburgare som innehöll 150 gram kött, burgarost, dressing, sallad, lök, senap och ketchup.
Brödet var snyggt rostat, men som väntat så var köttet den svagaste punkten. Köttpucken var kompakt och ganska tuggig och smakade inte så mycket i sig, utan burgaren fick mest smak från och övriga ingredienser – främst den söta hamburgerdressingen. Hamburgaren smakade precis som burgare gjorde på gatuköken när vi växte upp, fast med ett uppdaterat bröd och kött. Det var gott för vad det var och prisvärt för vad vi fick, men såklart inte fantastiskt. Den stora portionen pommes frites var klassiskt grillkiosktråkig, men åtminstone mättande.
Det är köttet som hindrar oss från att ge Hamburgarprinsen en trea i betyg, men med det sagt så är de ett godtagbart alternativ om du bara är ute efter en upphottad gatuköksburgare.
In English
Hamburgarprinsen opened their first restaurant back in 2006, and now have a handful of locations in Stockholm. We visited their Västberga joint, where they served classic grill kiosk burgers made from chuck and brisket in a cozy 50's diner environment. Our lunch-time meal cost 95 SEK (10 USD) for a burger, a large order of fries, a soda and a cup of coffee (it'll cost you a bit more during regular hours). We stuck to the classics and ordered a cheeseburger with a 150 gram (5 oz) patty, burger cheese, sauce, lettuce, onions, ketchup and mustard.
Our bun was nicely toasted, but the meat was the weakest link here. It was compact and chewy, and didn't really taste of much. Instead, the other ingredients took over, especially the sweet burger sauce. Flavourwise, this was reminiscent of childhood burgers from any old grill kiosk here in Sweden, but with an upgraded patty and bun. It was alright for what it was, and gave us quite a lot of bang for our buck – but it wasn't fantastic in any way. The large order of fries tasted just as we expected them to do, i.e. not very much at all, but they were pretty filling.
The meat is what's stopping us from giving Hamburgarprinsen a 3/5 rating, but if you just want an upgraded grill kiosk burger then you could do a lot worse.