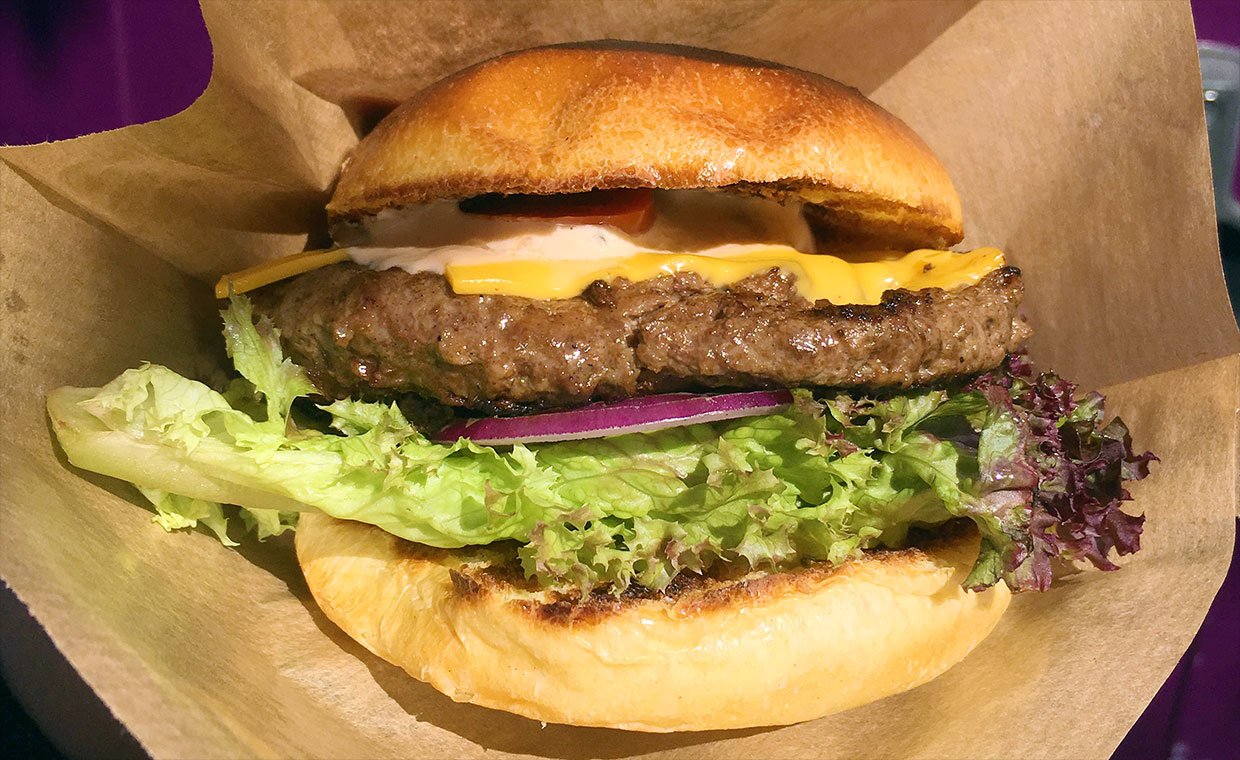 HK's Lila Food Truck har rullat på Stockholms gator i tre år nu, och när vi testade dem på Smaka på Stockholm-festivalen hade de två burgare på menyn; en klassisk burgare med 200 gram högrev, lök, ost, jalapeños och sallad i ett briochebröd för 100 kronor samt en Kobe-burgare med 100 gram wagyu-biff, körsbärsmajonnäs, alfalfagroddar och ett svart bröd för hela 175 kronor. Personalen, precis som deras sociala medier, bedyrade att de sålde Stockholms bästa burgare. Stora ord alltså.
Högrevsburgaren serverades i ett gott men lite bränt bröd. Köttet såg formpressat ut och hade en något lustig form. Det var dessutom torrt och rätt smaklöst, trots att det var rosa i mitten. Tur då att osten var kladdig och god, samt att jalapeñon gav härlig hetta. Dressingen smakade däremot precis som en tråkig amerikansk hamburgerdressing som säljs på tub. Överlag var det en godkänd hamburgare, men den var långt ifrån den bästa i Stockholm.
Värre var det då med den dyra Kobe-burgaren. Vi har överlag lite svårt för Kobe-burgare, då den höga fetthalten gör köttet mindre lämpat för denna maträtt. Så var även fallet här. Köttet var visserligen gott, men det serverades i ett tråkigt bröd med endast en klick körsbärsmajonnäs (!) och alfalfagroddar. Vi avråder bestämt från ett köp.
Om du stöter på HK's Lila Food Truck kan du testa högrevsburgaren som är ganska god, men skippa eventuella gimmickburgare om du är mån om plånboken och smaklökarna.
In English
The food truck HK's Lila Food Truck has been selling burgers in Stockholm for three years now, and when we tried them they sold a regular 200 gram chuck burger for 100 SEK and a 100 gram kobe beef burger for 175 SEK. The chuck burger was a bit flat and was served in a slightly burnt bun, but tasted nice and had some nice heat from the jalapeños. However, the burger dressing was a letdown. The kobe burger, on the other hand, was a disaster. Sure, the meat was tasty (but too fatty to suit a burger, if you ask us), but it was served in a plain (black) bun, with just bean sprouts and a small dollop of cherry mayonnaise. Buyer beware! If you find HK's Lila Food Truck we reckon the chuck burger is worth a shot though, but it's far from the best burgers in Stockholm.