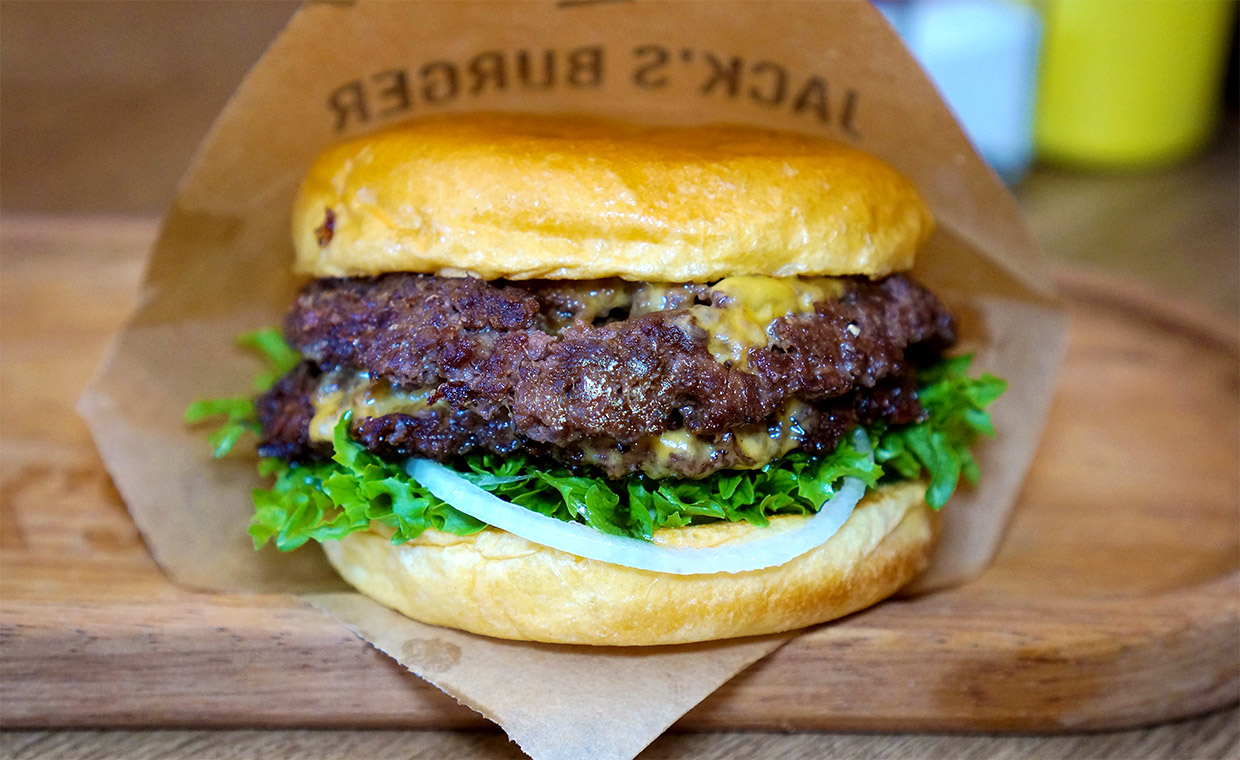 Jack's Burger öppnade i Vasastan i Stockholm i maj 2021. Lokalen är rymlig och avslappnad, med mörka neutrala färger och trädetaljer. Allt är tydligt brandat med loggan och namnet, och det är tydligt att de tänkt koncept och kedja direkt från start. Deras andra restaurang i Stockholm har nu öppnat på Södermalm.
Menyn innehåller cirka tio burgare – inklusive ett par veganska – och vi testade flera av dem, däribland deras Original Cheese med cheddarost, silverlök, tomat, salladsblad och Jack's sås, för 139 kronor inklusive pommes frites. På lunchen ingick även läsk i priset. Burgarna serverades på en träplanka, och såg lovande ut vid första anblick (förutom en, som av någon anledning var styvmoderligt hopbyggd). Ett par tuggor in kunde vi konstatera att det var ganska gott, men inte utan sina problem. De två 100-gramsköttpuckarna hade en tydlig stekyta, men den var mer knaprig än karamelligt krispig. Köttet var dessutom väldigt salt – till och med saltare än baconet på BBQ Style-burgaren. Varje köttpuck hade en ostskiva, vilket var i underkant då både texturen och smakbilden hade behövt lite mer krämighet. Deras signaturdressing hade försiktiga toner av senap och majonnäs, men höll sig i bakgrunden. Brödet var en populär briochevariant som fungerade bra ihop med övriga ingredienser, men det hade mått bra av lite mer stekyta på insidan. Pommes fritesen hade en härlig färg, men var inte helt nyfriterade då de var ljumna och aningen sega i konsistensen.
Det är tydligt att Jack's Burger har studerat sina konkurrenter och att de har höga ambitioner, men även om de gör en del saker rätt så faller de på detaljerna och når ännu inte hela vägen fram till målet.
In English
Jack's Burger opened in Stockholm's Vasastan district in May 2021. The restaurant is spacious and relaxed, with dark colours and wood interiors. Everything has been branded with their logo and name, and it's clear that their goal is to be a chain straight off the bat. We currently know that they're planning on opening another Stockholm restaurant soon in Södermalm.
Their menu contains about 10 different burger – including a couple of vegan varieties – and we ordered several of them, including their Original Cheese with cheddar, white onions, tomato, lettuce and Jack's dressing. It cost 139 SEK (17 USD), including an order of fries (and a soft drink during lunch hours). Our burgers came served on a wood plank, and they all looked pretty good (except for one, which inexplicably looked much worse than the others). A couple of bites was all it took for us to see that everything tasted pretty nice, but that there were a few mistakes. The double 100-gram patties had a deep crust, but felt more crunchy than crispy. They were too salty as well, even saltier than the bacon on the BBQ Style burger. Each patty had one slice of cheese, which felt like a bit too little seeing as both the texture and flavour would have benefited from being creamier. Their house sauce tasted slightly of mayo and mustard, but was very anonymous. The bun was a popular brioche variety and worked well with the other ingredients, but should have been toasted more on the inside. And our fries looked great, but had probably been left waiting for the rest of the food since they were luke-warm and a bit chewy.
It's plain to see that Jack's Burger have been studying the competition and that they're ambitious, but even though they're doing a lot of things right they haven't really nailed the details yet.