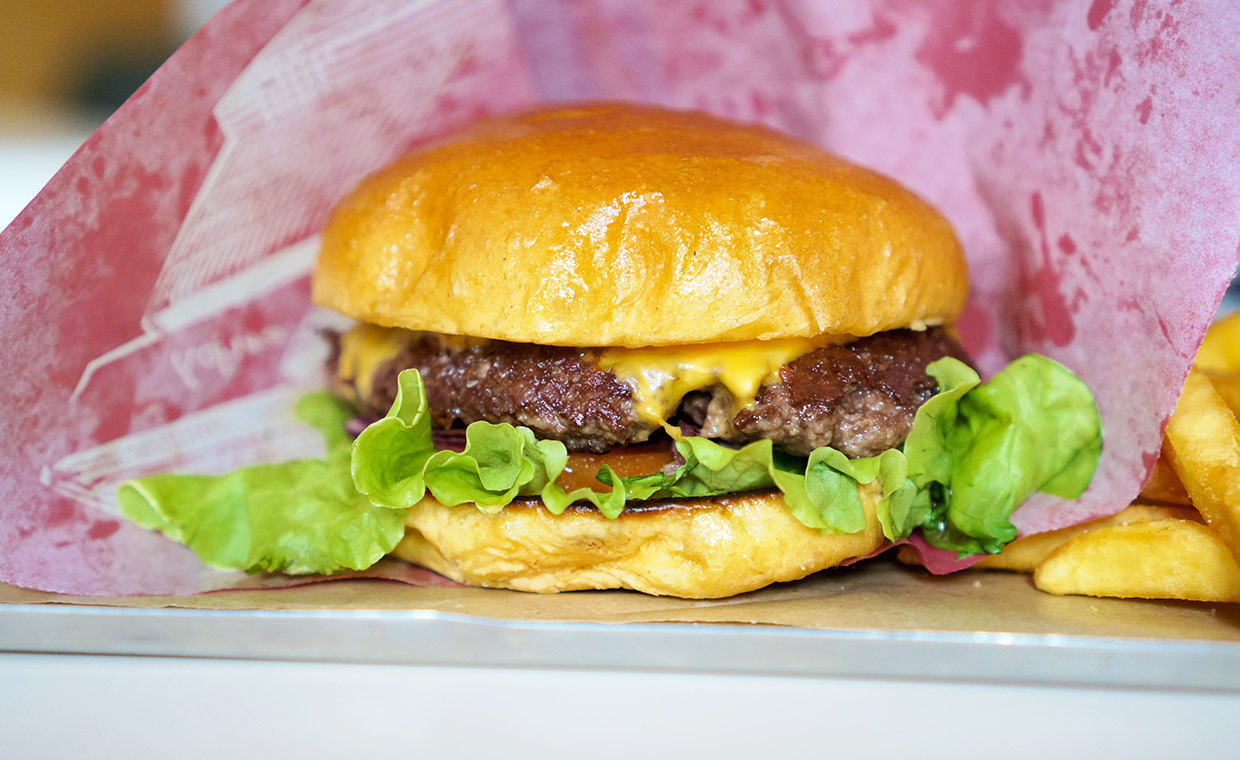 Kar Kar Burger ligger precis utanför gallerian i Stockholmsförorten Tumba Centrum, och ser ut som en typisk snabbmatsrestaurang både på insidan och sett utifrån. Det kändes precis som ett sånt ställe som lokalborna rekommenderar, men som sällan levererar hög kvalitet. Utöver en handfull olika burgare så består menyn även av olika grillrätter, och det fanns en salladsbar med strimlad isbergssallad och rivna morötter som vi uppmanades att ta del av.
Vi beställde deras deras signaturburgare, döpt efter restaurangen, med burgarost, dressing, picklad gurka, tomat, strimlad rödlök och sallad. Vår lunchburgare kostade 95 kronor för en 160-gramsburgare, pommes frites, tryffelmajonnäs och dryck. Övriga tider kostar burgare 105 kronor och då ingår pommes frites.
När maten kom in så sken vi upp, för allt såg snyggt och fräscht ut. Briochebrödet var varmt och fluffigt, och hade en frasig stekyta på insidan. Grönsakerna var tunt skivade och i lagom mängd, och osten hade smält snyggt ovanpå köttet som hade godkänd stekyta på ena sidan – men inte så mycket på den andra. Bra och tydliga smaker, både på toppings och på kött. Det enda vi inte var så imponerade av var själva köttet som kändes rätt kompakt, med några tuggiga partier. Det var inte dåligt, men det kändes klart underlägset de andra komponenterna i burgaren. Våra pommes frites var lite för hårt friterade, men hade utmärkt sälta och en krispighet som hintade om eventuell dubbelfritering. Till och med tryffeldippen vid sidan om var väl balanserad.
Men även om köttet hindrade burgaren från att lyfta till nästa nivå, så blev vi imponerade av Kar Kar Burgers känsla för detaljer. De gör mycket rätt, och är värda ett besök om du befinner dig i Tumba och är sugen på en god burgare.
In English
Kar Kar Burger are located just outside the shopping precinct in Tumba Centrum, just outside of Stockholm, and the restaurant looks like your typical grill kiosk from the outside – and even from the inside. When we arrived it felt like one of those places that the locals recommend, but that seldom live up to the hype. Apart from their short burger menu, they also sell various grill dishes, and they also had a complementary salad bar with shredded lettuce and carrots.
We ordered a KarKar Burger with burger cheese, sauce, pickles, tomato, shredded red onions and lettuce. Our lunch burger with a 160-gram patty cost 95 SEK (11 USD), and also included fries, a truffle mayo and a soft drink. Outside of lunch hours, a burger with fries costs 105 SEK (12 USD).
Our faces lit up when the food arrived, and everything looked really promising. The brioche bun was warm and fluffy, and had been toasted nicely on the inside. The vegetables were thinly sliced and in just the right quantities, and the cheese had melted excellently on the patty – which had a great sear on one side, but not too much on the other. The only thing we weren't impressed with was the beef patty, which was compact and quite chewy. It wasn't terrible, but a definite step below all the other burger components. Our fries were a bit too dark for our liking, but nicely salted and crispy. Even the truffle dip on the side felt balanced.
But despite the meat holding the burger back, we were still impressed by Kar Kar Burger's attention to detail. They're doing a lot of things right, and are well worth a visit the next time you're in Tumba, hungry for a burger.