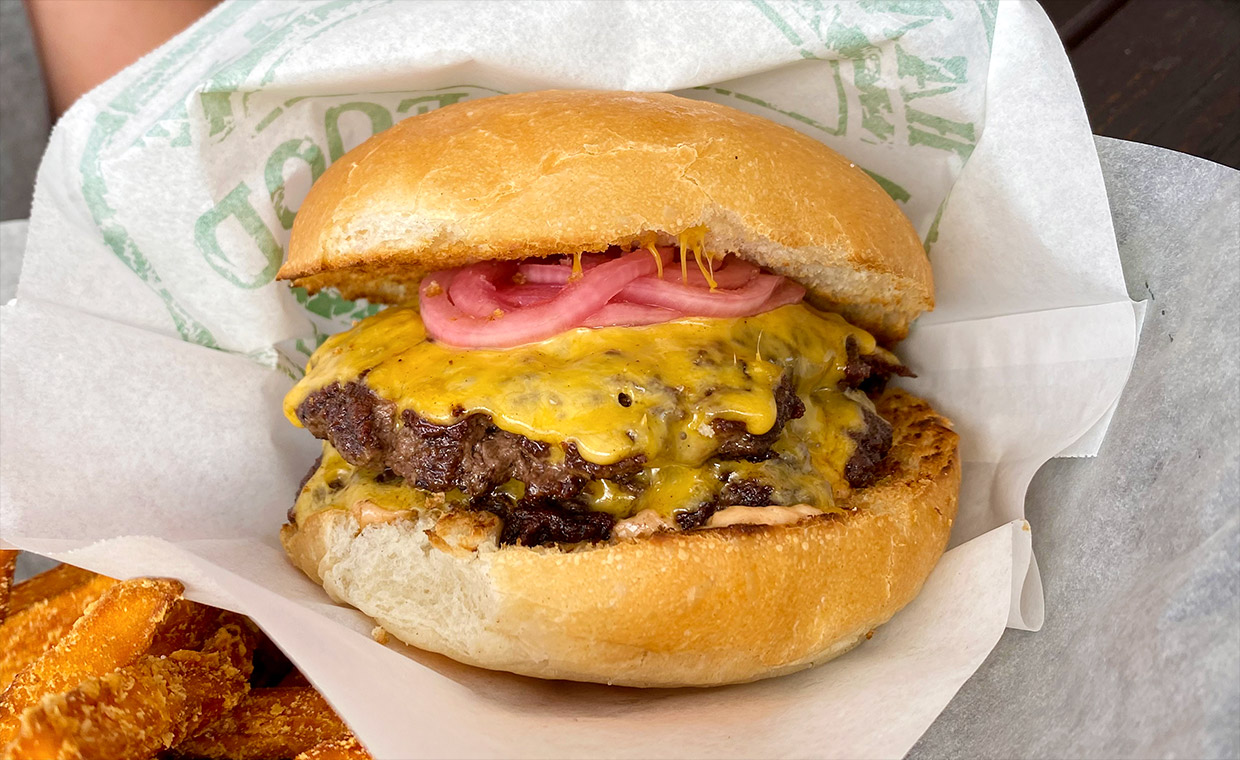 La Serra är en oansenlig pizzeria i Stockholmsförorten Tullinge, en kort promenad från pendeltågsstationen längs med en hårt trafikerad väg. Sett utifrån finns det egentligen ingen anledning att tro att de ska servera en god hamburgare, men efter många läsartips kände vi att det var dags att testa dem. Det blev två burgare; en dubbel Texas BBQ Burger med cheddar, bacon, srirachamajonnäs, barbecuesås, tomat, isbergssallad, picklad gurka och picklad rödlök för 125 kronor samt en dubbel KPs Jalapeño Burger utan sallad eller tomat (alltså cheddar, srirachamajonnäs, jalapeños och picklad rödlök) för 120 kronor. Till detta beställde vi även in pommes frites för 25 kronor och sötpotatispommesfrites för 45 kronor.
Burgarna imponerade direkt med en fint karamelliserad stekyta på de dubbla 115-gramsköttpuckarna, och utmärkt smält cheddarost. Köttet var saftigt och fint kryddat, med en härlig smak. Brödet imponerade inte rent visuellt, då det var ett vanligt vetebröd, men det var ändå mjukt och höll ihop förvånansvärt väl. Däremot var det lite väl stort och rubbade ration mellan kött och bröd. På Texas-burgaren var baconet lite mjukt och sladdrigt, och barbecuesåsen var lite för söt. Men vi gillade den superkrispiga och syrliga picklade rödlöken samt de knapriga och starka jalapeñosarna på KPs-burgaren. På tillbehörsfronten så var de vanliga pommes fritesen riktigt tråkiga, medan de på sötpotatis var väldigt goda – fast kanske inte särskilt prisvärda.
Men själva burgarna på La Serra var med andra ord oväntat goda, och vi rekommenderar helt klart ett besök om du befinner dig i Tullinge och är sugen på en hamburgare.
In English
La Serra is an anonymous pizza joint in Tullinge, a suburb in the south of Stockholm – a short walk along a busy road from the commuter train station. On the outside, there's no real reason to believe that they serve a good burger, but after several tips from our readers we felt that we had to give them a chance. So we ordered two burgers; a double Texas BBQ Burger with cheddar, bacon, sriracha mayo, barbecue sauce, tomato, iceberg lettuce, pickles and pickled red onions for 125 SEK (14 USD) and a double KPs Jalapeño Burger without lettuce or tomato (i.e. cheddar, sriracha mayo, jalapeños and pickled red onions) for 120 SEK (13 USD). We also added some regular fries for 25 SEK (3 USD) and some sweet potato fries for 45 SEK (5 USD).
We immediately saw that the burgers were good, thanks to the excellent crust on the double 115-gram patties and the super melty cheese. The beef was juicy, well-seasoned and tasted great. The bun was a regular dinner roll and didn't look that great, but it was soft and held together surprisingly well. However, it was far too big and ruined the patty/bun ratio somewhat. The Texas burger's bacon was a bit too soft for our tastes and the bbq sauce was a tad too sweet, but we liked the super crispy red onions and the crunchy and hot jalapeños on the KPs burger. The regular fries were really boring, but the sweet potato fries tasted really good.
The actual burgers at La Serra turned out to be surprisingly good, and we definitely recommend a burger if you find yourself in the Tullinge area, hungry for a tasty hamburger.