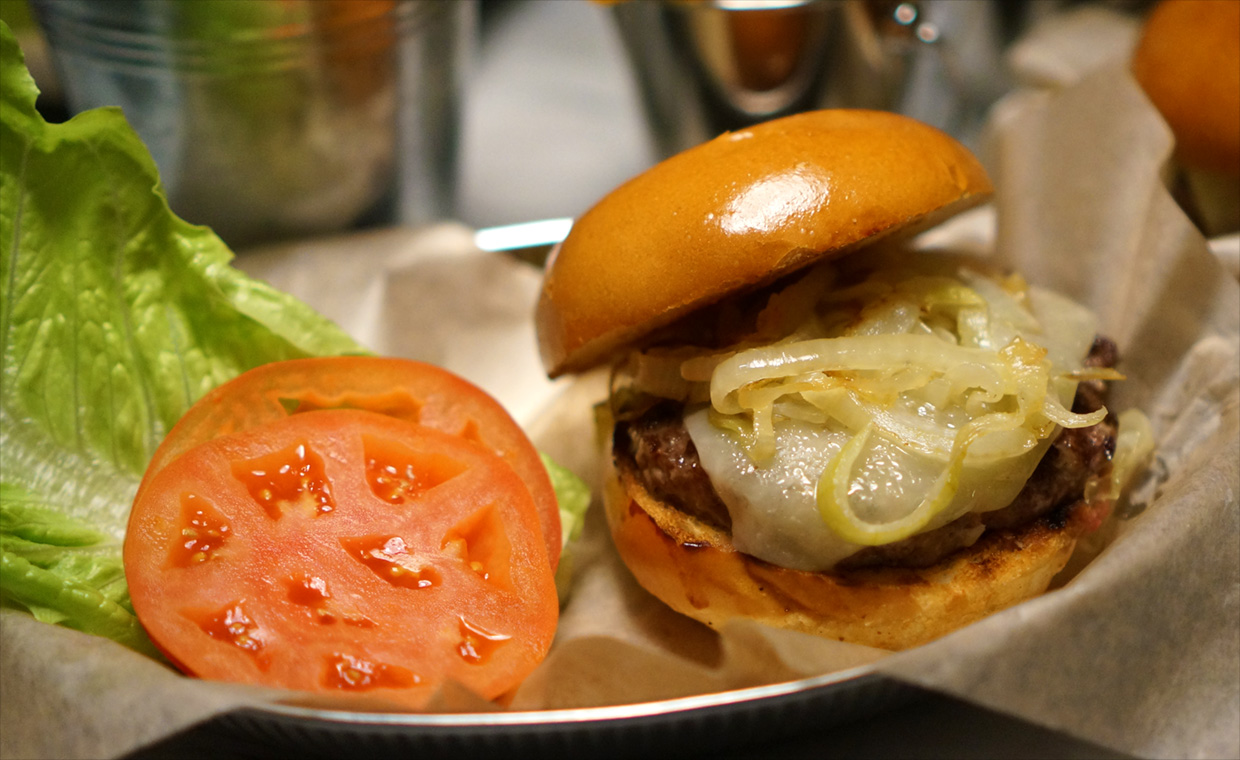 Lennart & Bror är ett charkuteri, eller köttbutik om du föredrar det. De kan sitt kött, men kan de burgare också?
Vid sidan av färskvarorna fanns det en liten meny som bland annat erbjuder cheeseburgare för 99 kronor, så vårt val var enkelt. Köttet var perfekt medium rare och hade en riktigt bra smak. Brödet var snyggt, fluffigt och bra rostat, men en aning stort.
På burgaren fanns ost, lök och ketchup, och det var där det gick lite snett. Manchego-ost är gjord på fårmjölk och har en lätt viltsmak. Den är även rätt hård och tenderar att svettas snarare än smälta om man inte värmer den rätt. Vår ost var svettig. Löken var lättstek och riklig, vilket låter bättre än det var. Rå lök ger en skarp smakbrytning och en krispighet, välstekt/karamelliserad lök ger en mjuk sötma och ett umamidjup, medan lättstekt lök mest är lite seg och smaklös. Och ketchup gör sig bäst vid sidan om, men det är såklart en personlig preferens.
Det finns tydlig potential, bra ambitioner och bra råvaror, men det snubblar på detaljerna. Vägen från bra kött till en bra burgare är inte så kort och enkel som man skulle kunna tro.
In English
Lennart & Bror is a delicatessen located in Vasastan, Stockholm. At the heart of their business is meat, so it's not a big surprise that their menu includes a cheeseburger. We were served a picturesque burger with a fluffy, shiny bun, a prefectly medium rare patty plus Manchego cheese, lightly fried onions and ketchup. The patty was spot on and the bun was good, but a bit too big. The toppings however didn't really hold up. Manchego cheese doesn't melt so easily and it gets more sweaty than soft and creamy. If you fry onions 15-20 minutes you end up with something sweet and full of umami, but lightly fried onions tends to be just chewy and bland. And we think ketchup and similar condiments should be served on the side. The price is mid-range at 99 SEK for the burger, and the meat alone makes it worth a try, but there's some work left to be done if they want to go from good to great.