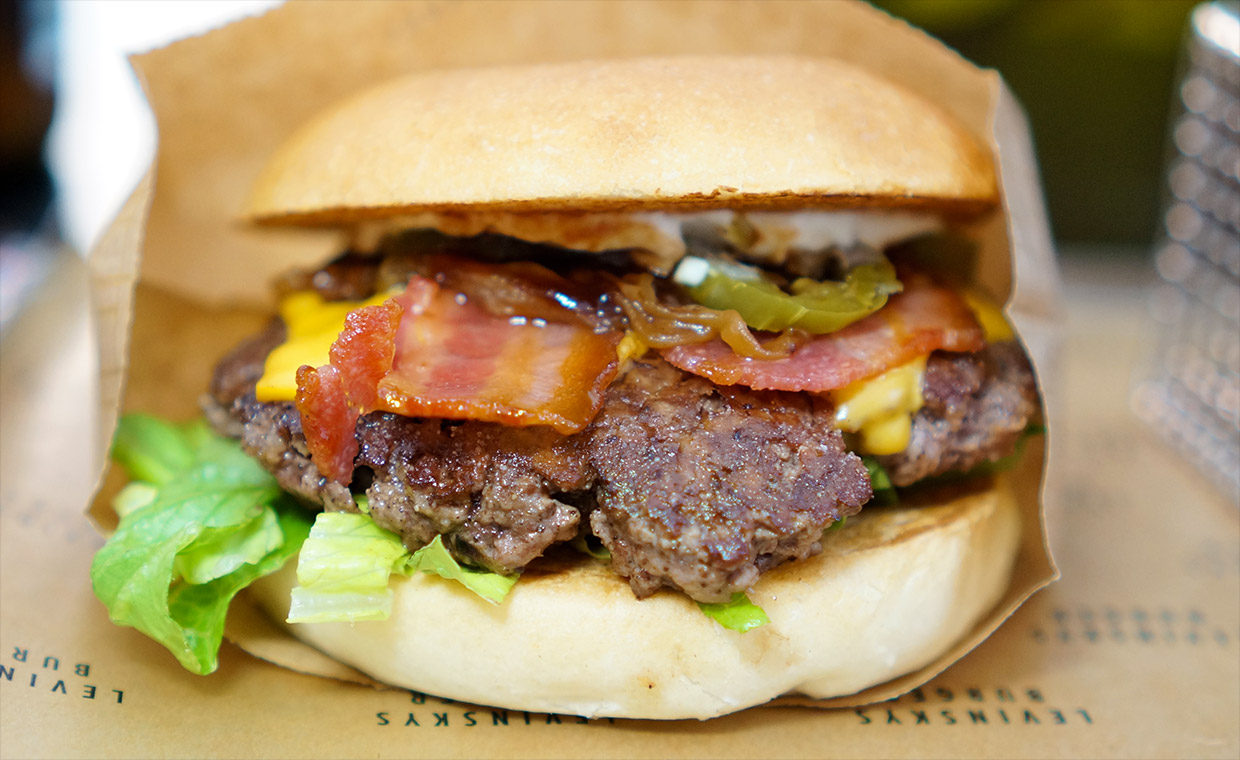 Vi recenserade Levinskys Burger för första gången i början av 2017. Då hade de nyligen renoverat lokalen på Rörstrandsgatan i Stockholm, men trots den lovande menyn så uppfylldes tyvärr inte våra förväntningar och betyget landade på 2/5 på grund av ett väldigt märkligt brödval och flera detaljmissar. Nu, mer än tre år senare, kan vi glatt konstatera att kvaliteten på deras burgare har höjts rejält, och att det hårda surdegsbrödet har bytts ut mot en tidsenlig följsam potato bun.
Deras meny innehåller åtta burgare, varav en månadsburgare tillsammans med vegetariska och veganska alternativ, prissatta runt 120 kronor utan tillbehör. Vi testade flera av deras burgare inklusive originalburgaren Levinskys, samt deras barbeque- och jalapeño cheddar-burgare. Samtliga hamburgare serverades prydligt i en pappersficka och var lätta att hålla i handen.
Köttpucken på 150 gram var smashad, men saknade den där riktigt fina stekytan som vi är vana vid från burgarhaken på vår topplista. Men smaken på köttet var gott och av hög kvalitet, även om vi hade föredragit lite mer salt och peppar. Det bleka brödet var mjukt – en rejäl skillnad mot deras tidigare brödval – och hade en fin rostning på insidan som gjorde att det nästan höll sig helt intakt till slutet av måltiden.
Övriga ingredienser led av mindre detaljmissar, bland annat ration och att de fördelats lite ojämnt, men det fanns inget riktigt som förstörde upplevelsen och överlag var vi alla nöjda med våra burgare. Däremot regerade vi på det höga priset på tillbehören, 45 kronor för ganska bleka sötpotatispommesfrites var lite saftigt (särskilt med tanke på att de vanliga pommes fritesen var billigare och godare), och att de kryddats med persilja såg kanske trevligt ut men tillförde inget särskilt.
Överlag har Levinskys Burger verkligen steppat upp sina burgare och förnyat sitt koncept i rätt riktning. Vi lyfter på hatten och hoppas att de fortsätter sin resa med samma passion för att göra bra burgare.
In English
We first reviewed Levinskys Burger in the beginning of 2017. Back then, they'd recently renovated their restaurant on Rörstrandsgatan in Stockholm, but despite the promising new menu we were left disappointed. We gave them a 2/5 rating, mainly due to their choice of bread and lack of attention to details. Now, more than three years later, we are happy to see that they've improved their quality a lot, and that the chewy sourdough bun has been replaced with a more modern potato bun.
Their menu consists of 8 burgers (including one burger of the month) and vegan and vegetarian options, costing around 120 SEK (13 USD) without any sides. We ordered several different burgers, including their classic Levinskys and their barbeque och jalapeño cheddar burgers. They all came neatly served in a paper pocket and were easy to hold.
The 150 gram beef patties were smashed, but lacked that great crust that we're used to at our favourite burger joints. But the beef quality was high and it tasted great, despite being a bit underseasoned. The pale bun was soft – world's apart from their previous offering – and was nicely toasted which helped it hold everything together until our meal almost was over.
Other ingredients suffered from minor flaws, such as bad ratios or distribution, but nothing ruined our meal or anything. However, we felt that 45 SEK (5 USD) for a portion of pale sweet potato fries was a bit hefty, especially since the regular ones tasted better and were cheaper. Seasoning them with parsley might look nice, but the added herb didn't really add anything of value.
Overall, Levinskys Burger have really stepped up their game and their burger concept, and we look forward to following their improvements.