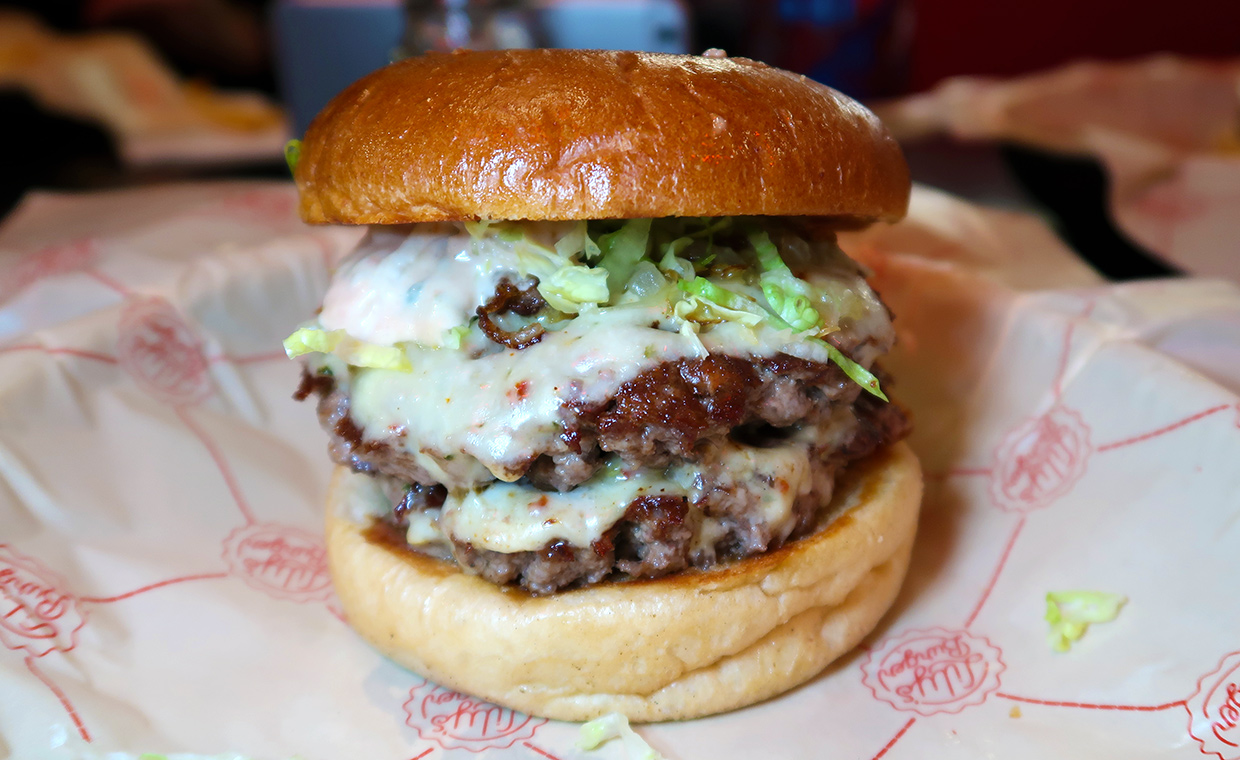 Lily's Burger finns i Stockholm och Örebro. De öppnade sin första restaurang redan 2013, och vår första recension av dem publicerades kort efter att vi lanserade Burgerdudes.se i slutet av 2014. De senaste månaderna har vi därför gjort flera återbesök, och även om lokalens diner-estetik förblivit densamma så har de gjort en hel del förbättringar på matfronten.
Till att börja med så maler de sitt kött själva på alla restauranger, och de har kvalitetsbröd och ekologisk burgarost från lokala aktörer. Det har blivit ett brett kvalitetslyft, från bra till ännu bättre. Under våra besök har vi testat allt från Cheeseburgaren och Den Onde, till Johnny 2 Times och en vild kampanjburgare som serverades i en croissant. En 150-gramsburgare kostar 105-125 kronor, medan en 200-grammare med två 100-gramspuckar kostar 25 kronor extra.
Resultaten av våra besök har varit något blandade. Vid något tillfälle var köttet knappt saltat och saknade stekyta, medan det vid andra tillfällen har varit härligt saftigt och smakrikt. Vi uppskattar de nya ostsorterna de själva varit med och tagit fram, men ibland har brödet varit aningen för sött och mjukt för vår smak. Vår Johnny 2 Times hade även rejält med supervarm nystekt lök, vilket gjorde både brödet och köttet svampigt. Vi köpte till bacon och stekta jalapeños för 12 kronor extra till en av våra burgare, och kan egentligen endast rekommendera baconet. Hittills har vi faktiskt varit mest imponerade av deras klassiska Cheeseburgare och den lite hetare Den Onde. Vi ger även två tummar upp till deras krispiga pommes frites och smakrika milkshakes, som båda är väl värda pengarna.
Vi är väldigt glada över att Lily's Burger har höjt kvaliteten. Om du inte har besökt dem på länge så förtjänar de helt klart en ny chans!
In English
Lily's Burger have two restaurants in Stockholm and one in Örebro. They first opened back in 2013, and we published our review shortly after launching Burgerdudes in 2014. So it was about time that we revisited them. And even though their restaurants look the same, we noticed several improvements when it came to the burgers.
They now grind all of their meat in each restaurant, and they also use premium buns and organic burger cheese from local companies. These changes have raised the bar immensly. During our latest visits we've tried several different burgers, from the classic Cheeseburger, their signature burgers Den Onde and Johnny 2 Times and even a campaign burger served in a croissant! A burger with a 150 gram patty costs 105-125 SEK (11-13 USD) and a burger with two 100 gram patties costs 25 SEK (3 USD) extra.
The results have actually been a bit different each time. On one occasion the patties were hardly seasoned and lacked any char whatsoever, but otherwise the meat has been super-juicy and tasty. We enjoyed their new cheeses that they've helped develop as well, but the buns have sometimes been a bit too soft and sweet for our tastes. And our Johnny 2 Times came with loads of super-hot and newly fried onions, which made both the patty and the bun really spongy. We added bacon and fries jalapeños for 12 SEK extra (1.5 USD) each, but can only really recommend the bacon. We've actually been most impressed by their Cheeseburger and the spicier Den Onde, and we'd also like to give a two thumbs up to their crispy french fries and their yummy shakes!
We are really happy to see that Lily's Burger have gotten better, and if you haven't visited them for a while we suggest that you give them another try!