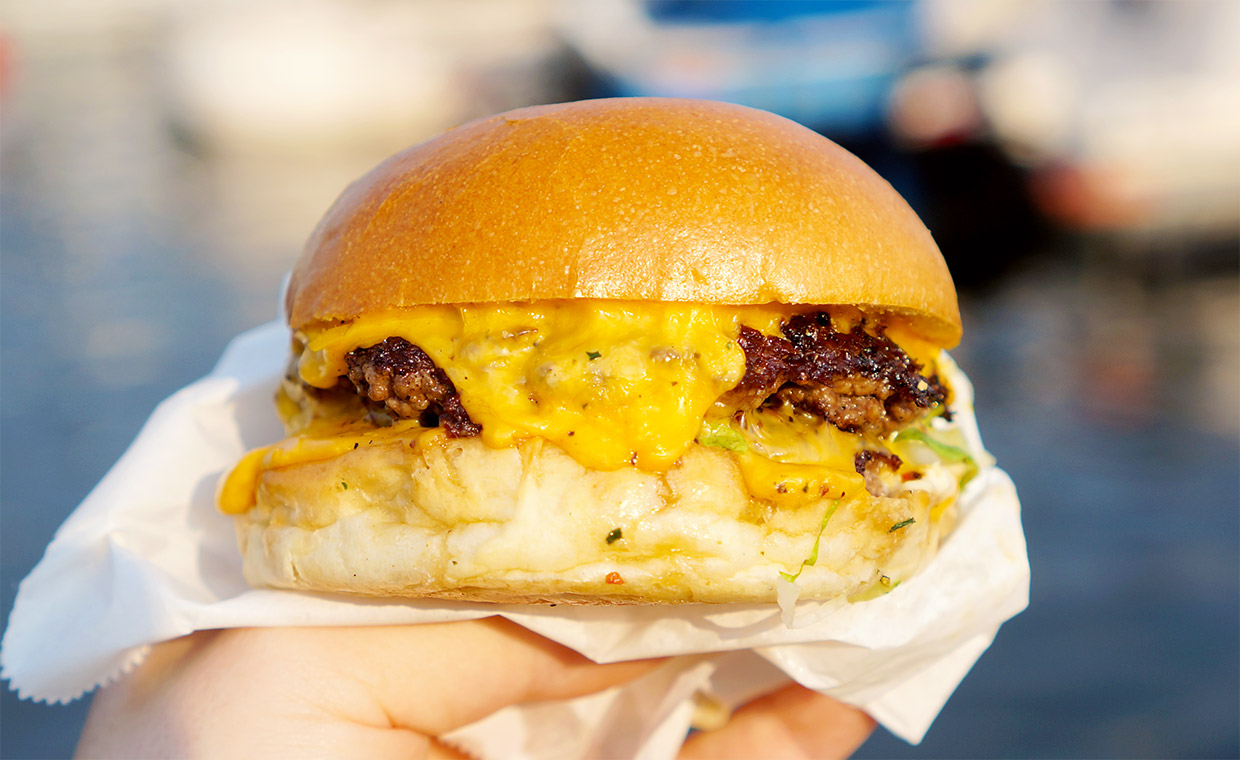 Lux Dag för Dag är beläget på Lilla Essingen i Stockholm, i Electrolux gamla fabrikslokal från tidigt 1900-tal. Här serveras säsongsbetonad mat med stort fokus på bra lokala råvaror och mathantverk, och på torsdagar säljer de hamburgare via en take away-lucka på restaurangens baksida. Våra tidigare erfarenheter av restauranger med "fine dining"-fokus är att de sällan lyckas förstå vad som gör en burgare bra, och istället levererar vackert beskrivna besvikelser mellan två trötta bröd. Men Lux är lyckligtvis ett undantag!
Torsdagsburgaren byts ut varje vecka, och vid vårt besök serverades en cheeseburgare med cheddarost, gurkrelish, rödlök, majonnäs och romansallad för 130 kronor, inklusive pommes frites. Både beställningen och upphämtningen sker ju via ett fönster vid köket, vilket gav oss lite foodtruck-feeling – på ett bra sätt. Och även själva burgaren kändes mer som att den kom från en foodtruck än en finrestaurang. Den hade ett enkelt men fluffigt och varmt bröd samt smashat kött med en rejäl stekyta och en riktigt tydlig köttsmak. Dessutom bjöds det på generösa mängder välsmält ost samt lagom mängder toppings som både förstärkte smakbilden och gav texturnyanser utan att ta över på något sätt. Kort sagt så smakade detta som en hamburgare gjord av kockar som själva gärna och ofta äter burgare. Pommes fritesen kändes också högkvalitativa; välfriterade och med en tydlig sälta plus lite intressanta örter ovanpå.
Lux Dag för Dag serverar en vällagad burgare som känns skönt opretentiös. Priset är dessutom fullt rimligt med tanke på kvaliteten. Eftersom de i skrivande stund endast serverar sina burgare en gång i veckan så kan det dock ta slut, så vi rekommenderar att du planerar in ett besök ordentligt – särskilt under sommarsäsongen.
In English
Lux Dag för Dag are located on the island of Lilla Essingen in Stockholm, in an old Electrolux factory from the early 20th century. Here they serve upscale, seasonal dishes made from high-quality and locally sourced ingredients, and on Thursdays they also sell burgers from a small take-away window behind the restaurant. Our previous run-ins with burgers from fine dining restaurants is that they rarely have an understanding of what makes a burger good, and the result is often a beautifully described disappointment in a sad bun. But thankfully Lux seems to be an exception to the rule!
Their Thursday burger is replaced every week, and our visit saw a cheeseburger with cheddar, pickle relish, red onions, mayo and romano lettuce for 130 SEK (15.5 USD), including an order of fries. We both ordered and picked up our food from the back window by the kitchen, which gave the whole process a food-truck feel – in a good way. And even the burger itself felt like more of a food-truck burger than a fine dining creation. It had a simple but soft and fluffy bun, plus a smashed patty with a proper crust and a distinctly beefy flavour. We were also treated to a generous amount of melted cheese and well-proportioned toppings that fit in nicely and added some nice texture without taking over. Simply put, this tasted like a hamburger made by chefs who often enjoy eating burgers. Their French fries were really good as well, thoroughly deep-fried with a distinct saltiness and an interesting herb topping.
Lux Dag för Dag serve a well-prepared burger that feels refreshingly unpretentious, at a price-point that feels totally reasonable. Seeing as they currently only serve burgers once a week they always run the risk of running out, so make sure you plan your visit beforehand – especially during the summer.