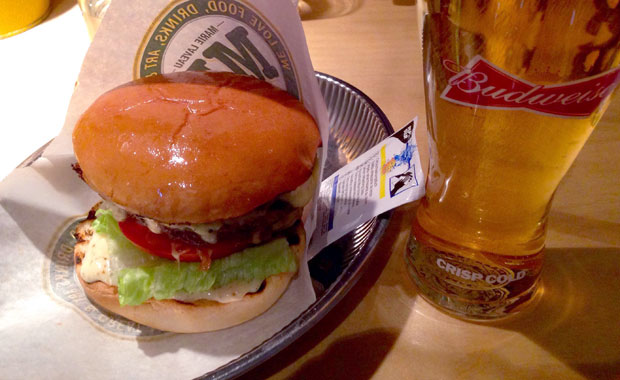 Uppdatering: Marie Laveau har nu stängt för gott!
Man vill verkligen gilla Marie Laveau och deras koncept på Södermalm. Den dinerinspirerade lokalen känns nämligen helt rätt, och samma sak gäller för dess trevliga personal och inbjudande brunchmeny.
Deras dubbla cheeseburgare, som vanligtvis endast serveras i bardelen, är en av paradrätterna, och innehåller allt man kan tänkas begära av en riktigt bra burgare. Två 140-gramsköttpuckar gjorda på högrev får sällskap av krispig sallad, dressing, cheddarost och karamelliserad lök. En elegant detalj är att brödet är penslat med baconfett, vilket gör att det glänser fint och bidrar positivt till smakupplevelsen.
Burgaren är bra, men saknar tyvärr det lilla extra som vi brukar kalla kärlek och som är väldigt svårtdefinierat. Burgaren kunde ha smakat mer, och pommes fritesen var rent ut sagt tråkiga.
Med detta i åtanke och ett med ett pris på 190 kronor så landar betyget på en trea, även om det är en stark sådan.
In English
The ever-so-trendy Marie Laveau is easy to like, and their bar menu boasts a filling cheeseburger, made from two 140 gram chuck steak patties served in a bacon-brushed bun. The flavours are tasty, but that certain je n'est c'est quoi is missing. Add to this a hefty price tag and boring fries, and you have a good – but not great – burger experience in the south parts of Stockholm City.