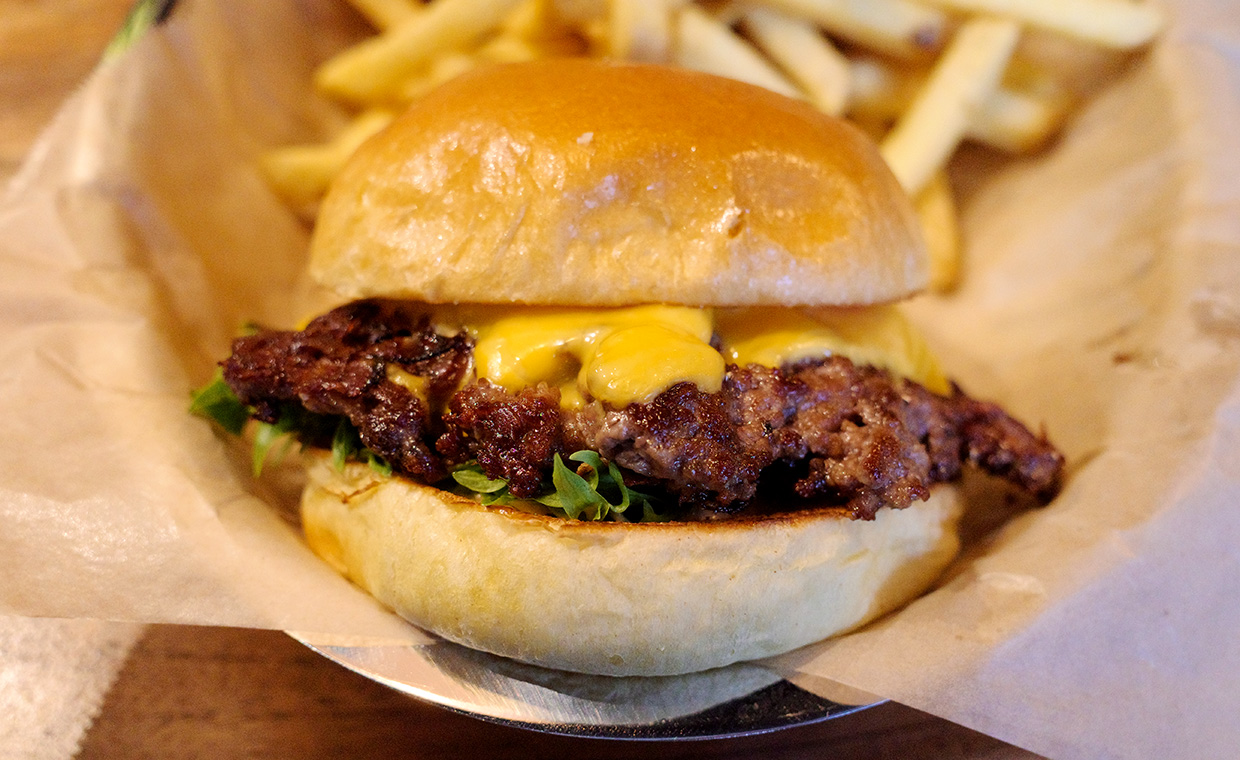 Mums Burgers öppnade i början av 2022, och ligger i Aspudden – precis utanför Stockholms innerstad. I den lilla men gemytliga lokalen serveras en handfull olika köttburgare, samt ett par vegetariska alternativ. Vi besökte dem på lunchen och beställde en Cheese med en enkel 120-grams högrevspuck, smält ost, sallad, lök, tomat, burgardressing, senap och ketchup. På lunchen kostade den 109 kronor, och då ingick dessutom pommes frites och kaffe.
Vår burgare såg faktiskt riktigt fin ut när den serverades, och redan vid första tuggan kunde vi konstatera att köttet verkligen stack ut. Det hade en rejäl stekyta och gott om smak. Det stod att den skulle vara täckt med smält ost, men det såg ut som en helt vanlig ostskiva ovanpå. Oavsett vilket så tillförde osten lite god och krämig textur och smak. Tomatskivan var tunt skivad och tillförde lite krispighet till burgaren, men den var något kall. Och vi tyckte att burgardressingen var för söt, och ett ganska onödigt inslag i och med att burgaren redan hade en ganska söt ketchup. Men överlag så var vi ändå nöjda med hamburgaren. Pommes fritesen var täckta med ett tunt lager av någon örtig krydda som vi antog var persilja, men i ärlighetens namn kändes den överflödig då den inte tillförde någon smak. De var goda i alla fall, även om de var något för mjuka på insidan och hade mått bra av att vara aningen krispigare.
Det märks att Mums Burgers fortfarande håller på att testa sig fram och bli varma i kläderna, och de har redan hunnit byta bröd under sin första månad. Men vi kan glatt konstatera att de redan hunnit göra väldigt mycket rätt, och vi ser fram emot att komma tillbaka till Aspudden och testa resten av deras sparsamt komponerade burgarmeny.
In English
Mums Burgers opened in the beginning of 2022, and are located in Aspudden – just outside central Stockholm. The small but cozy restaurant serves a handful of different meat burgers, plus two vegetarian options. We visited them during lunch hours and ordered a Cheese burger with a single 120-gram beef, plus melted cheese, lettuce, onion, tomato, burger sauce, ketchup and mustard. The lunch price was 109 SEK (12 USD), and included french fries and coffee.
Our burger looked really nice, and it took just one bite for us to see that the beef patty stood out. It had a great crust and plenty of flavours. The menu said that it would be covered with melted cheese, but it looked like just a regular cheese slice to us. But it still added some tasty and creamy texture. The thinly sliced tomato was a bit crispy, but slightly cold as well. And the burger sauce was too sweet, and a bit superfluous seeing as the ketchup was pretty sweet as well. But overall we were happy with our hamburger. The french fries were covered in a sparse layer of herbs that we assume was parsley, but to be honest we couldn't really taste it. They tasted nice at least, even though they were a bit too soft on the inside and could have been a bit crispier.
It's clear that Mums Burgers are trying to fine-tune their concept, and we've seen that they've changed their buns once since opening already. But we're happy to say that they're on the right path, and we're looking forward to returning to Aspudden to try out the rest of their short but sweet burger menu.