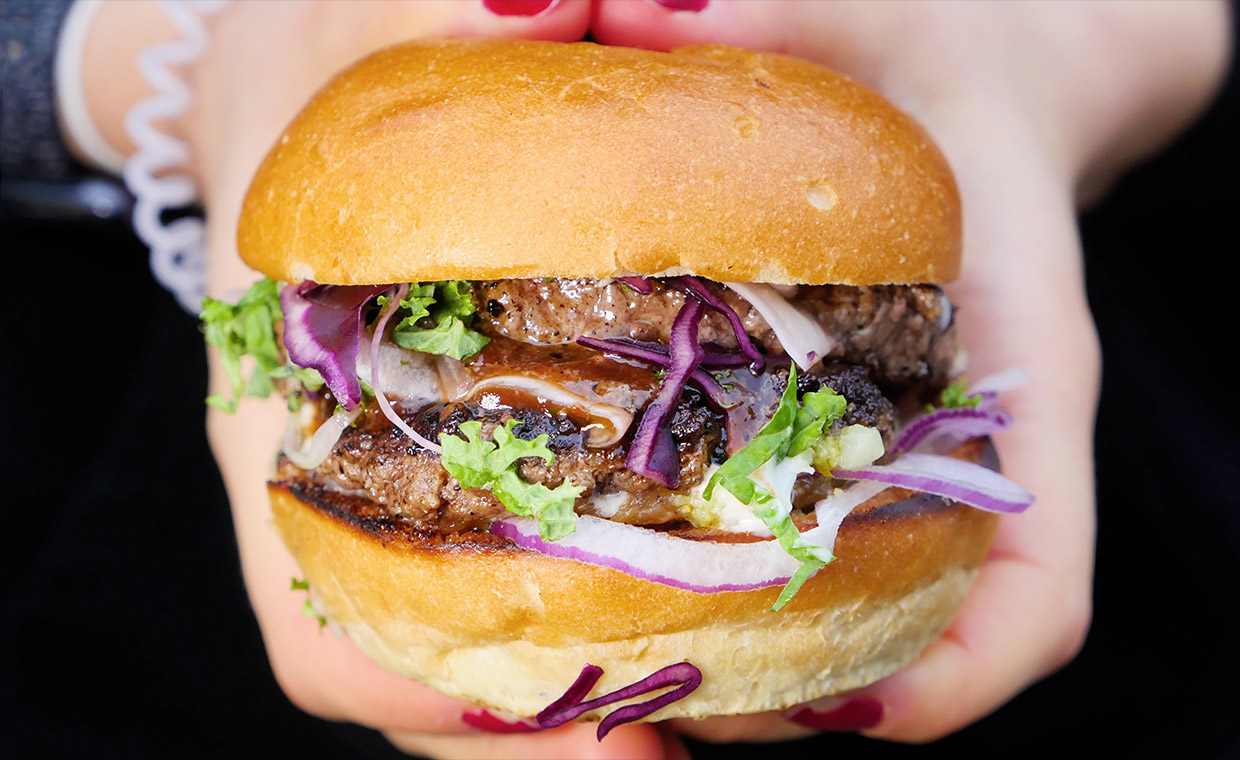 Stjärnkocken Sayan Isaksson har slagit upp sin popup-restaurang Nour Burger i en liten kiosk som ligger i Humlegården i Stockholm. Här serveras nordisk japansk fusion, och skapelsen vi har testat är en burgare som har tillagats "katsu sando style", vilket visar på en ganska klar och tydlig smakbild. En Katsu Sando är en trendig japansk lyxmacka med kött (traditionellt sett panerat fläsk), riven kål, tonkatsu-sås och senap mellan skivat bröd. Och det är alltså denna macka som agerar förebild för deras hamburgare.
Menyn var simpel med en enda burgare för 120 kronor. Den bestod av två köttpuckar av svensk hängmörad bringa och högrev som serverades i ett potatisbröd från Tössebageriet. Dessutom innehöll den japansk senap, jalapeño-koshu, rå och karamelliserad lök, tonkatsu-sås, grillad majonnäs samt strimlad kål. För ytterligare 30 kronor fick vi även en portion Funky Fries (gjorda på fermenterad potatis).
Vid första anblick såg vår stora burgare torr ut. Det överdimensionerade brödet gjorde att de dubbla köttpuckarna kändes små, och det var dessutom segt med en hård skorpa. Fördelen med detta var visserligen att det stod emot alla såserna i burgaren ända till sista tuggan. Köttet var ganska kompakt och samtidigt lite grynigt, och de två köttpuckarna hade helt olika stekgrad, vilket bidrog till den något förvirrade munkänslan. Det var helt enkelt många smaker och ingredienser som konkurrerade med varandra, och intrycket blev därför obalanserat. Den tydligaste smaken kom från senapen, som var märkbar i varje tugga. Deras Funky Fries var goda, om än något i varierande frityrgrad från ganska mjuka till otroligt krispiga. Den fermenterade smaken framträdde dock inte särskilt mycket, och vi hade gärna märkt av den mer.
Nour Burger missar tyvärr målet för vad som krävs av en god burgare. Vi har till och med svårt att känna den direkta influensen av katsu sando, utan detta kändes helt enkelt mer som en hamburgare med asiatiska influenser än något annat. Om du helt enkelt vill avnjuta lite mat i bröd så får du en trevlig upplevelse, men rent burgarmässigt så var inte detta särskilt spännande alls.
In English
The star chef Sayan Isaksson has opened a pop-up restaurant called Nour Burger in a small kiosk in Stockholm's Humlegården park. Here they serve Nordic Japanese fusion, and the creation we've tested is a burger that's been prepared "katsu sando style", which gave us a pretty clear picture of what to expect. A Katsu Sando is a trendy and fancy Japanese sandwich with meat (traditionally a breaded pork cutlet) with shredded cabbage, mustard and tonkatsu sauce between sliced bread. And it's this sandwich that they've turned into a burger.
The menu was simple with just one burger, costing 120 SEK (14.5 USD), with two patties made with Swedish dry-aged brisket and chuck, served in a potato bun from the local bakery Tössebageriet. It also included Japanese mustard, jalapeño koshu, raw and caramelised onions, tonkatsu sauce, grilled mayo and shredded cabbage. We also paid an additional 30 SEK (3.5 USD) for an order of Funky Fries (made from fermented potatoes).
Our large burger looked pretty dry from the start. The oversized bun made the double patties look really small, and it was also chewy with a hard crust. The redeeming thing about that was that it could handle all the sauces, and didn't fall apart until the very end. The beef patties were compact and had a grainy consistency. They hadn't been cooked to the same degree either, which added to the strange mouth-feel. There were just too many flavours and ingredients that competed with each other to take centre stage, and the entire meal felt unbalanced. The most distinct flavours came from the mustard, which was present in every bite. We liked their Funky Fries as well, even though they too were unevenly cooked and ranged from quite soft to super crispy. The fermentation was hardly noticeable though, which felt like a missed opportunity for them to stand out.
We're afraid that Nour Burger have missed the mark for what's needed of a great burger, and to be honest the katsu sando influence feels very unclear as well. This felt more like a burger with Asian influences than anything else. It's a nice meal if you just fancy food served in a bun, but as an actual burger this wasn't very impressive.