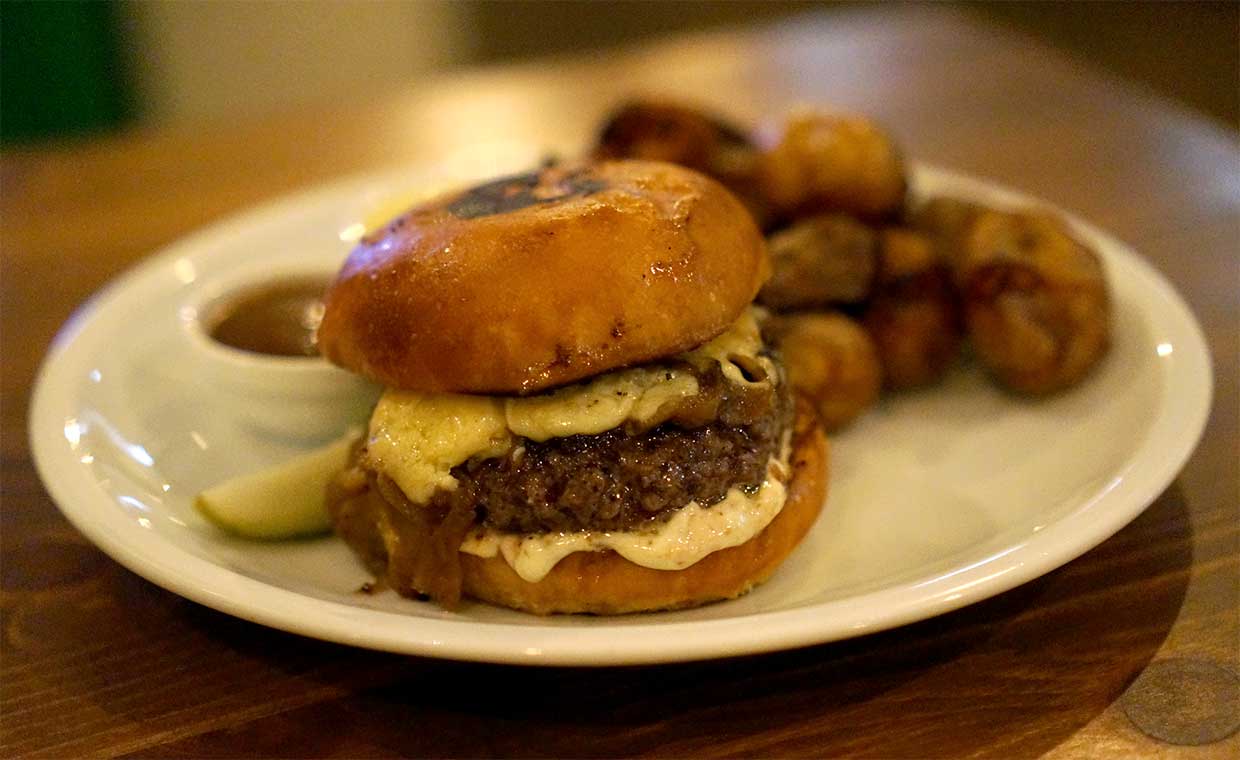 Foodtrucken Nya Carnegiebryggeriet's Mobile Gastropub var en av finalisterna på Stockholm Burger Fest 2016!
Nya Carnegiebryggeriet är ölbryggeriet i Stockholm som försöker släcka stadens törst av Brooklyn Lager och sina egna ölsorter. Då det är beläget mitt i Hammarby Sjöstad så passar det även bra att de har en bar med restaurang – där de såklart serverar sin burgare.
Själva hamburgaren finns endast på barmenyn, men eftersom det inte var fullsatt i lokalen gick personalen med på att servera den i restaurangen. Burgaren består av en 150-gramspuck gjord på bringa, hängmörad högrev och benmärg. På denna läggs karamelliserad lök, kaprismajonnäs och irländsk cheddarost. Till burgaren får du stekt potatis istället för pommes frites, och för allt detta får du betala 165 kronor.
Vårt första intryck är att burgaren är väldigt saftig. Den är på gränsen till för blöt, men det fina brödet från det närliggande Magnus Johanssons Bageri lyckas hålla emot safterna om du äter fort. Köttet visar sig vara genomstekt trots löfte om mediumstekning, men är ändå saftigt och väldigt gott trots att det faller isär lite för lätt. Osten, löken och majonnäsen är goda komponenter som inte tar över för mycket, men även de späder på blötheten. Vi hade gärna sett lite mer struktur överlag, men resultatet är ändå en god burgare som kan rekommenderas trots att du inte riktigt kan släppa taget om den när du väl tagit första tuggan.
In English
The brewery Nya Carnegiebryggeriet, which normally tries to quench Stockholm's thirst for Brooklyn Lager, houses a bar and restaurant that serves a burger that looked so good that we had to try it. The burger is a 150g patty made from brisket, chuck steak and bone marrow topped with caramelized onions, caper mayonnaise and Montgomery Irish Cheddar with buns from a local bakery. The result is a very juicy burger where the different flavors mix well without any one taking over. The biggest problem is that the bread and the meat is too loose, and the very juicy meat makes for a messy eating experience.