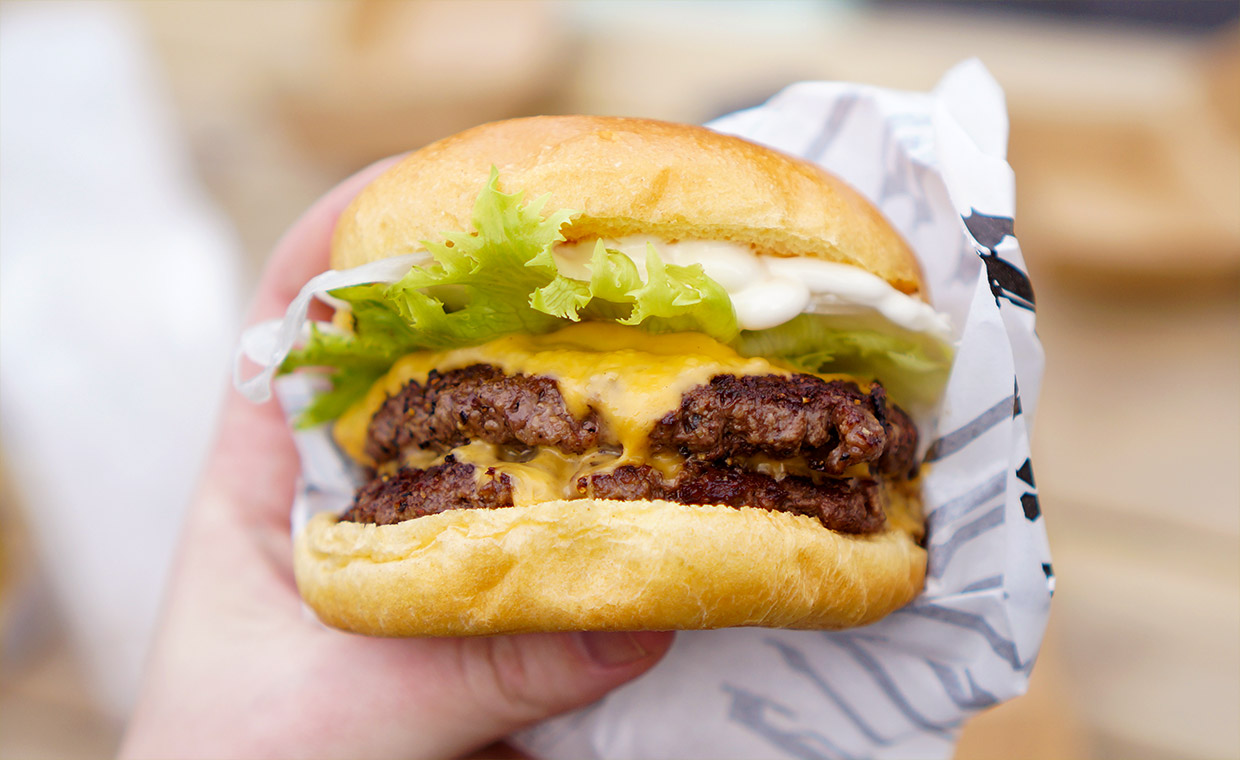 NYC Burger har två fasta restauranger; en i Saltsjö-Boo, Värmdö (öster om Stockholm) och en större i Östhammar. De har även en foodtruck. Vi besökte Tollare-restaurangen i Saltsjö-Boo, som kanske bättre kan beskrivas som en grillkiosk med sittplatser utomhus. Menyn rymde en handfull olika hamburgare, inklusive en månadsburgare, plus tillbehör. Vi testade flera olika varianter, däribland Manhattan med ost, majonnäs, tomat, silverlök och sallad. De flesta av deras burgare kostade 80 kronor med en 100-gramsköttpuck, och extra kött kostade 25 kronor. Vi beställde även in pommes frites för 25 kronor och sötpotatispommesfrites för 35 kronor. Värt att notera är att de har lunchpriser på vardagar, där en enkel burgare med pommes frites och dricka kostar 95 kronor.
Burgarna serverades inslagna i papper, redo att tas med. Köttpuckarna formades omsorgsfullt innan de stektes, vilket gav burgarna en lite gammaldags känsla i en tid där de flesta snarare väljer att smasha bollar på stekbordet. Köttet hade en bra textur med viss stekyta, men tyvärr var de så pass hårt saltade att sältan tog över. De dubbla, hela salladsbladen som lagts direkt på burgaren störde oss lite; dels för att de hamnade mitt i bettet och gjorde burgaren lite svåräten, och dels för att alla såserna ovanpå dem klämdes ut vid varje tugga. Potatisbrödet hade stekts lite för kort tid, och hade mått bra av lite mer textur och värme.
Båda varianterna av pommes frites var i alla fall klart godkända, även om de också saltats för hårt. Burgarna kändes med andra ord lite gammaldags och moderna på samma gång, men förutom sältan så satt de andra smakerna fint. NYC Burger bjuder på kontraster, och även om vi inte blev helt betagna så smakade det mesta gott och hantverket var tydligt. De är helt klart värda ett besök om du befinner dig i närheten.
In English
NYC Burger have two restaurants; one in Saltsjö-Boo, to the east of Stockholm, and a larger one in Östhammar, north of Uppsala. We visited their Tollare location in Saltsjö-Boo, which perhaps better can be described as a grill kiosk with outdoor seating. Their menu consisted of a handful different burgers, including a monthly creation, plus various sides. We ordered several of their burgers, including a Manhattan with cheese, mayo, tomato, white onions and lettuce. Most of their burgers cost 80 SEK (9 USD) for a 100-gram patty, with an extra patty costing 25 SEK (3 USD). We also ordered their French fries for 25 SEK (3 USD) and their sweet potato fries for 35 SEK (4 USD). It's worth noting that they have a lunch deal during weekdays where a single burger with fries and a soft drink costs 95 SEK (11 USD).
Our burgers came wrapped in paper, ready for takeout. They carefully formed the patties before frying them, which gave them a somewhat old fashioned feeling in a time where most places smash beef balls directly on the griddle. The beef had a nice texture and an acceptable crust,  but had been salted so much that the patties didn't taste of anything else. The two large lettuce leaves on top of the patties were also a bit confounding, as they made the burger difficult to eat, and also because all the sauces on top of them went everywhere with each bite. The potato bun should have been a bit more toasted and warm as well. could have done with a bit more time on the griddle.
Both of our side order fries had a nice texture, even though they also were a bit too salty. And despite the burgers feeling a bit old fashioned and modern at the same time, they did manage to get the flavours right (sans the salt). NYC Burger were a bit wobbly, but even though we weren't blown away, we did like our meal and it was obvious that they took pride in their work. We'll definitely pay them a visit again next time we're nearby.