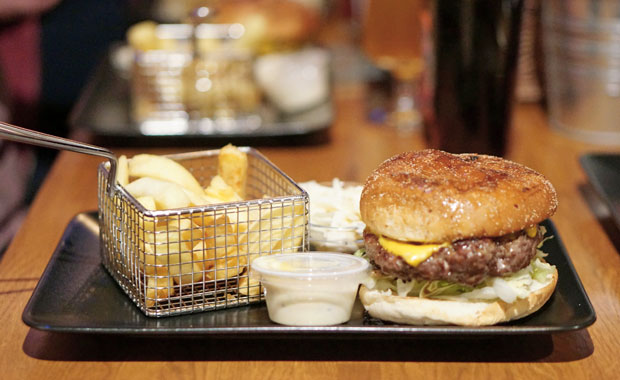 Med raska steg gick vi mot Öleriet, som ligger beläget bara ett kvarter från Flippin' Burgers. Det kan vara viktigt i sammanhanget att påpeka att det här i första hand är en bar och i andra hand en restaurang, så vi beställde deras cheeseburgare med bacon och satte oss ner för att avnjuta en öl från deras stora sortiment.
Burgaren i sig serverades i ett lättstekt Frisco-liknande bröd. Köttpucken var bastant men förhållandevis smaklös, och tyvärr var den även helt genomstekt. Tillbehören på burgaren var väldigt varierande, med gott (fast kallt) bacon och kylskåpskalla grönsaker. Osten var däremot riktigt god och tillsammans med dressingen blev det den som till viss del räddade burgaren.
När det kommer till tillbehören så skulle pommes fritesen ha behövt friteras lite mer för att få den krispighet vi eftersträvar. Dippsåsen var riktig god men den tappade lite av att serveras i en plastbehållare.
Öleriet har många goda öl att välja bland, men det finns inga skäl att besöka dem för deras burgarens skull när Flippin' Burgers ligger så nära.
In English
Öleriet's prime location just a block from Flippin' Burgers makes them a target for burger-hungry visitors who can't handle hour-long queues, but it should be noted that this is a bar first an foremost. Unfortunately, their burger is sub-par, with a flavourless and well-done patty and cold vegetables and bacon. Enjoy the beer, but don't get your dinner-hopes up.