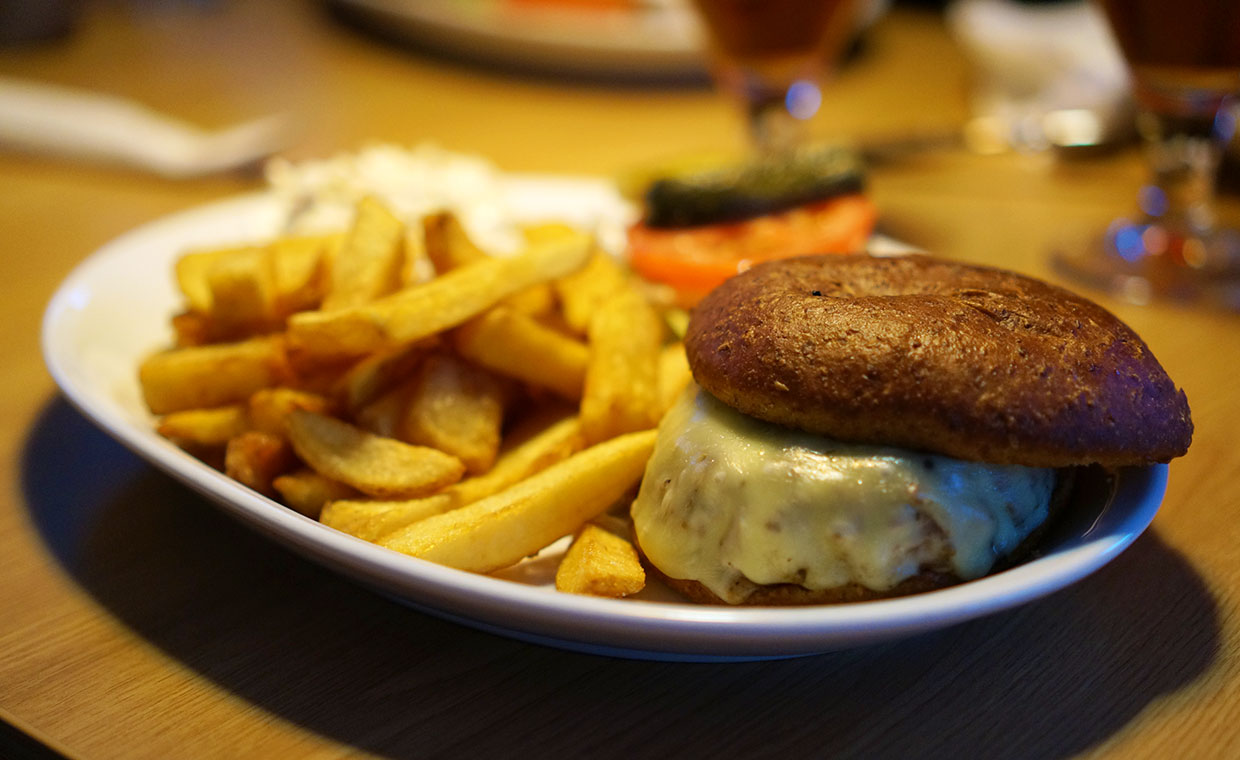 Ømerick's ligger i en fräsch men ganska anonym lokal i Årstadal, precis söder om pendeltågsbron mot Södermalm. Med fyra olika burgare på menyn plus en fiskburgare samt en vegetarisk burgare, väntade vi oss en klassisk och traditionell burgarupplevelse, men vi fick en rejäl överraskning.
Vi valde deras cheeseburgare, med kött från en gård i Närke, garnerad med fransk lantost. Den 180 gram tunga burgaren var saftig med en rosa kärna och osten var riklig och vackert smält. Så vad var överraskningen? Två saker; brödet var ett mörkare, ganska sött bröd som påminde mest om en rågbulle, och deras dressing hade en väldigt tydlig syra. Ett annorlunda och kanske modigt val, men också ett polariserande sådant. Och det var tyvärr inget som föll oss i smaken.
För 120 kronor (105 kronor på lunchen) inklusive pommes frites får du en generös måltid, gjord på bra råvaror, men tyvärr föll den inte oss i smaken. Med ett annat bröd och en lite annan smakprofil hade betyget kanske kunnat se annorlunda ut, men med det sagt är det kul med ställen som går sin egen väg.
In English
Ømerick's are located in Årstadal, just south of Södermalm. The menu consists of four different burgers, plus one with fish and one vegetarian. Everything gave us the impression that we were in for a classic burger experience, but we were in for quite the surprise. We went for the cheese burger, with 180 grams of meat from a farm in Närke with french rustic cheese beautifully melted on top. The patty was served medium rare with a pink core, and had a nice flavour. The mentioned surprise was the bun and the dressing; the bun was some kind of dark rye bun, and the dressing had a sharp, sour flavour. A bold choice, but also a polarising one that we didn't really care for. Everything was well prepared, but be aware that this one is not for everybody.