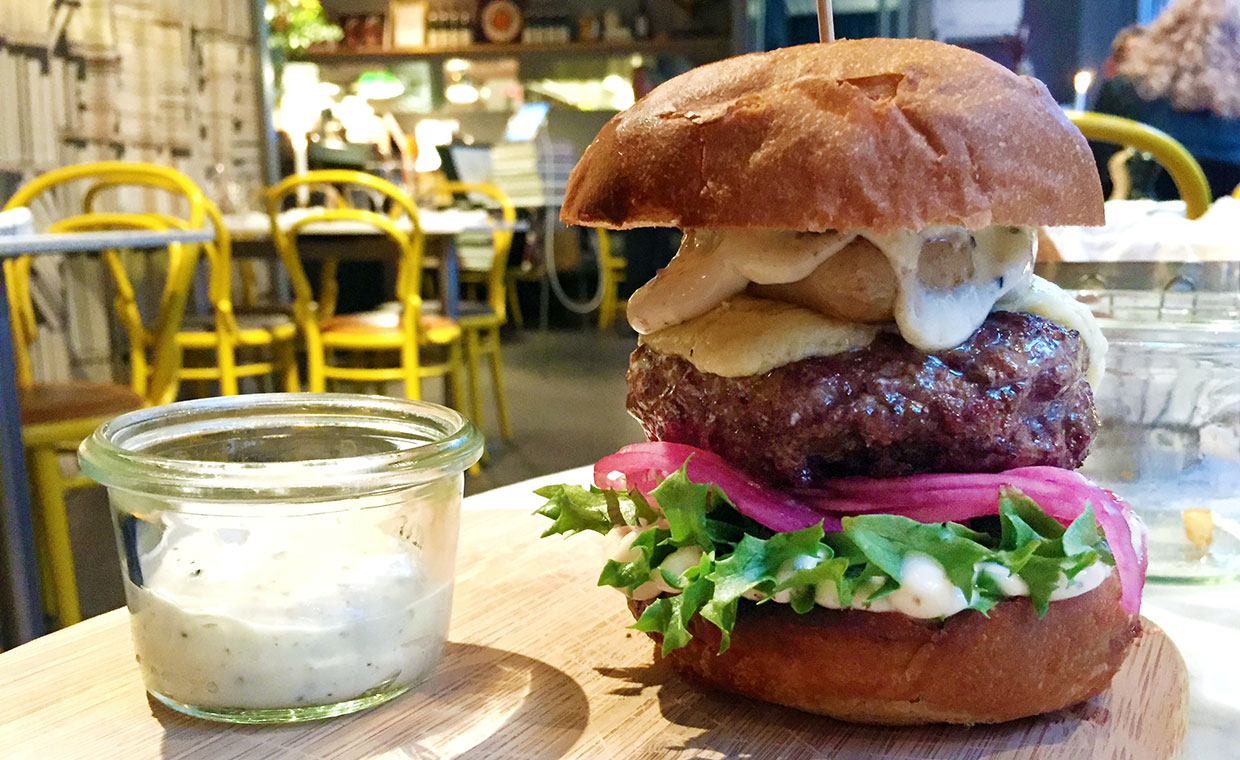 Uppdatering: Pocket City stängde för gott i juni 2017.
Pocket City drivs av krögaren Pontus Frithiof (som även driver vår Arlandafavorit Pontus in the Air), och ligger vägg i vägg med hans franchiserestaurang Burger & Lobster på Norrlandsgatan. Den fransk-svenska bistron serverar husmanskost i en sober miljö, och nu har de även en hamburgare på menyn. Tanken är att de ska ha olika kampanjburgare som byts ut då och då, men grundpremissen är att den ska serveras medium och i regel kosta 225 kronor med pommes frites – vilket alltså gör dem till ett av de dyrare alternativen i Stockholm.
Burgaren vi testade kostade faktiskt 20 kronor mer än vanligt, men då var den också toppad med ett par rejäla skivor foie gras, samt tryffelmajonnäs och lagrad cheddarost. Synd då att problemen blev märkbara redan vid första tuggan, då brödet var så hårt att en person i sällskapet skar sig i munnen på det. Köttpucken gjord på svensk högrev var dessutom helt genomstekt och stenhård, och vi fick faktiskt skicka tillbaka burgaren till köket.
Den andra burgaren som kom in hade mycket bättre kött, men brödet led av exakt samma problem som tidigare med en hård, vass skorpa. Lustigt nog var brödets insida inte uppvärmd, så det sög åt sig köttsafterna och tryffelmajonnäsen tills det föll sönder helt. Det räcker inte med dyra ingredienser som gåslever och tryffel om man inte har full koll, och vi blev riktigt besvikna av vår upplevelse.
In English
Pocket City is centrally located next door to Burger & Lobster in Stockholm, and since they're both run by the Swedish restaurateur Pontus Frithiof it kind of makes sense that they also serve a burger there. Paying over 200 SEK for a burger is pretty steep, so we were expecting something special. Unfortunately, the bun was so hard that one of us hurt their mouth from the first bite, and the patty was rock solid and very, very well done. We had to send the order back to the kitchen, and even though the second try had better meat, the bun was still hard on the outside and soft on the inside – resulting in it crumbling into a soggy mess. Who cares if they use high quality ingredients if they can't cook a proper burger – despite getting a second chance?