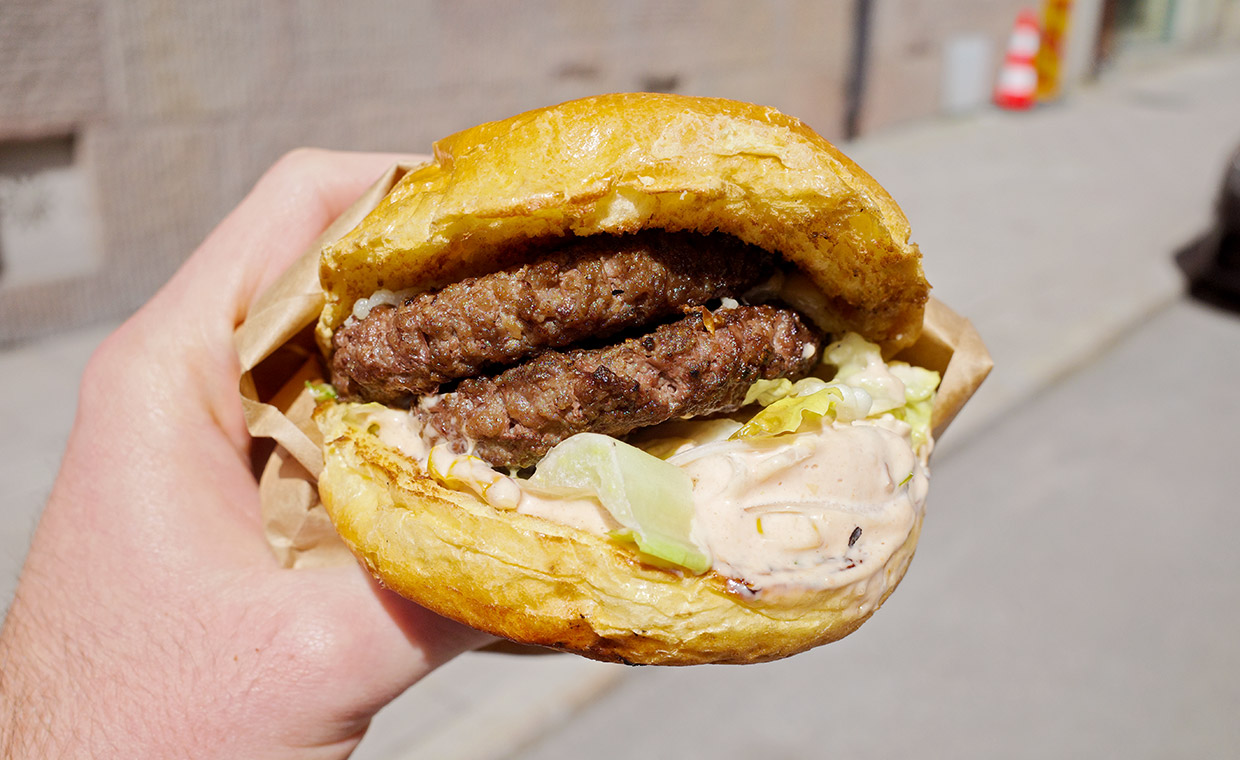 Restaurang Loén öppnade upp sina dörrar i februari 2019 på Östermalm i Stockholm, och har sedan dess prisats för sina unika och fantasifulla maträtter. Men i samband med pandemin har de sadlat om till en delikatessbutik som även tar fram grillen när vädret tillåter. Det är lätt att uppskatta den härliga stämningen som uppstår av en grill på trottoaren, särskilt när den hanteras av talangfulla och erfarna kockar. Under vårt besök fanns det en burgare på menyn: en dubbel cheeseburgare för 145 kronor som innehöll rökt cheddarost, sallad, tomat, silverlök, hemmagjord ketchup samt en burgardressing gjord på chilisås, hackad chili, majonnäs, koriander och rostad majs.
Efter beställningen såg vi att de två puckarna på 80 gram vardera hade förgrillats innan de placerades på grillen på nytt, vilket såklart inte kändes så lovande. Burgaren serverades dessutom i en pappersficka som var alldeles för styv, vilket tryckte ihop det mjuka brödet onödigt mycket innan vi ens hade börjat äta. Men vår första tugga av burgaren var ändå en trevlig sådan. Köttet var såklart lite torrt på grund av hur den hanterats, men den hade en gedigen grillad smak och kvaliteten på köttdetaljerna kändes hög. Burgardressingen var showens stjärna och vi blev positivt överraskade över hur väl smaken av den rostade majsen kompletterande såväl köttet som den rökta cheddarosten. Grönsakerna var tyvärr lite för kalla och innehöll salladsstjälkar, vilket såklart drog ner helhetsintrycket något.
Restaurang Loéns burgare har en del intressanta detaljer, men lider av flera tråkiga och onödiga misstag och genvägar. Burgaren var överlag god, men vi kan inte blunda för de förgrillade köttpuckarna – och för det priset hade vi faktiskt hoppats på lite mer.
In English
Restaurang Loén opened their doors back in February of 2019 in Stockholm's Östermalm district, and have received a lot of praise for their unique and imaginative dishes. But in conjunction with the pandemic they've reinvented themselves as a modern deli, that also brings out the grill when the weather is good. It's easy to appreciate the atmosphere that arises when they move out their grill to the pavement outside, especially seeing as its handled by such talented and experienced chefs. During our visit they had one burger on the menu – a double cheeseburger for 145 SEK (17 USD) with smoked cheddar, lettuce, tomato, white onions, home-made ketchup and a burger sauce made from chili sauce, chopped chilis, mayo, koriander and toasted corn.
After ordering our burger we noticed that the two 80-gram patties were pre-cooked and that they placed them back on the grill again, which felt like a real letdown. The burger was also served in a stiff paper pocket that squashed the soft bun before we'd even started our meal. But the first bite was still pretty pleasant. The beef was a bit dry due to being reheated, but it had a deep, grilled flavour and the beef quality was good. Their homemade burger sauce was the best part of our meal, and we were surprised to see how well the toasted corn complemented both the  beef and the smoked cheddar. Unfortunately the vegetables were a bit too cold, and the lettuce had their stems remaining which detracted from our eating experience somewhat.
Restaurang Loén's burger has several interesting things going for it, but they've taken too many shortcuts and made some unnecessary mistakes. The burger itself tasted quite alright, but we can't ignore the pre-grilled meat, and at that price-point we'd really hoped for more than this.