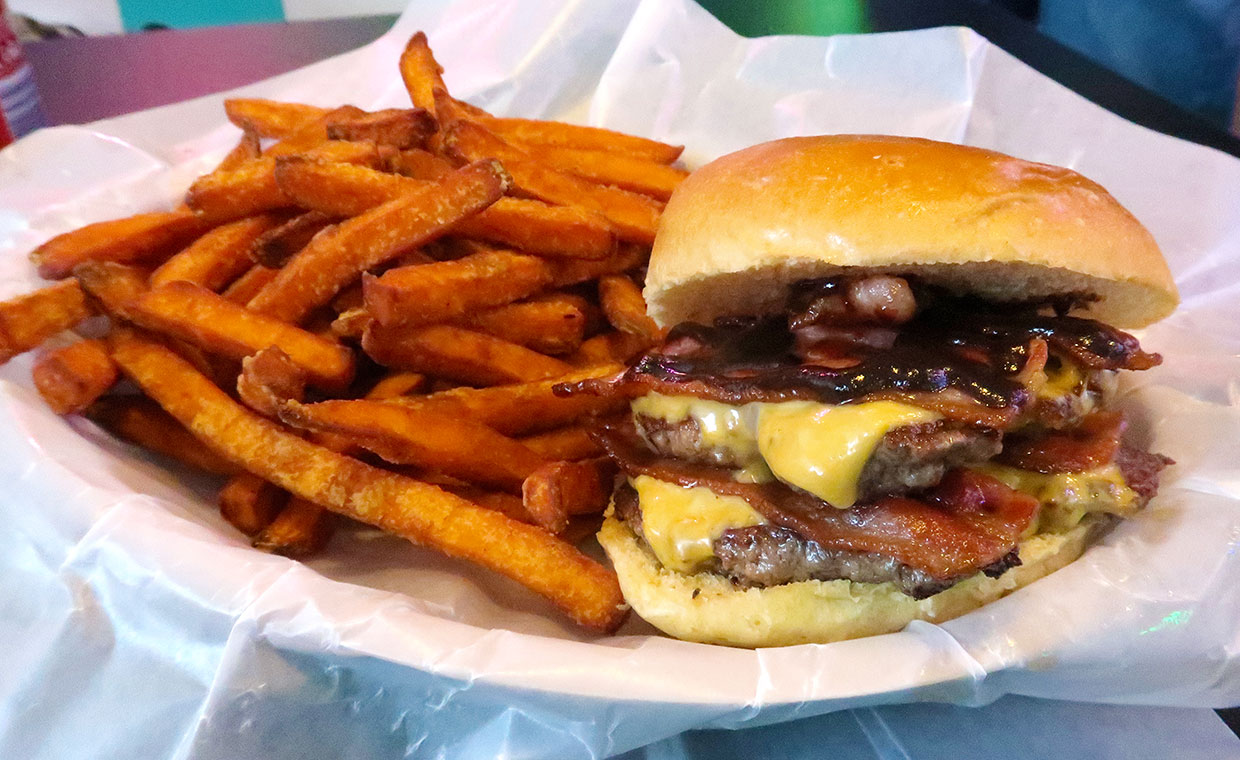 Rockin Burgers (som inte ska förväxlas med Rockin Grill) har numera två restauranger i Stockholm. De öppnade sin första restaurang i Bromma Blocks under 2015, och sedan våren 2019 finns de även på Fleminggatan på Kungsholmen.
Deras lokaler har hämtat inspiration från amerikanska färgglada diners, där huvudfärgerna består av rosa och turkos. Menyn har elva burgare som finns i tre olika storlekar, och vi valde bl.a. deras dubbla cheeseburgare med bacon och barbecuesås för 145 kronor, inklusive en portion pommes frites. Att byta ut pommesen mot sötpotatispommesfrites kostade 20 kronor extra, så vi testade även den.
När burgaren serverades fick vi fri tillgång till deras salladsbar, där det bland annat fanns lök, jalapeños, pickles, majonnäs, senap och ketchup. Det var ett ganska så trevligt upplägg där vi fick möjlighet att bygga våra burgare exakt så som vi ville ha dem.
Själva burgaren såg fin ut, och briochebrödet kändes bra i handen. Tyvärr hade brödet knappt rostats på insidan, vilket gav det en ganska så intetsägande smak och textur. De dubbla 100-gramsköttpuckarna var dessutom alldeles för magra, och saknade den där karamelliserade stekytan och saftigheten som vi alltid är ute efter. Baconet var alldeles för hårt stekt och var inte alls följsamt.
Vi tyckte att deras vanliga pommes frites saknade den viktiga krispigheten och potatissmaken, men sötpotatispommesfritesen hade dock en riktigt fin smak och textur. Oavsett potatisval så var portioner riktigt generösa, men 20 kronor extra för att byta mot sötpotatisen kändes lite väl dyrt.
Sammanfattningsvis så är burgarna på Rockin Burgers tyvärr lite för tråkiga och intetsägande för att rekommenderas, särskilt i innerstan där du hittar flertalet bättre burgarhak bara några minuters promenad bort. Men visst, om du är riktigt hungrig kan detta ändå vara ett värdigt alternativ.
In English
Rockin Burgers (not to be mistaken with Rockin Grill) have two restaurants in Stockholm. They opened their first joint in Bromma Blocks in 2015, and their second one on Fleminggatan on Kungsholmen in 2019.
The interiors are inspired by classic 50's diners of old, with a lot of pink and turquoise. Their menu has 11 burgers in 3 different sizes each, and we ordered their double cheeseburger with bacon and barbecue sauce for 145 SEK (about 15 USD), including an order or fries. Since we were given the option to switch the regular fries to sweet potato fries for an additional 20 SEK (2 USD) we did that too for some of our burgers.
When the burgers were served we got to add our own toppings at their salad bar, where they had onions, jalapeños, pickles, mayo, mustard and ketchup, among other things. We quite of enjoyed adding our own personal favourites this way.
The burger itself looked pretty nice, and the brioche bun felt great. But since it hardly had been toasted on the inside it didn't really pop texture or flavour wise. The double 100 gram patties were too lean, and couldn't get that nice char and juicyness we were hoping for. And the bacon was overcooked and a real hassle to eat.
We didn't enjoy their regular fries at all. They weren't crispy enough and we're quite bland. However, the sweet potato fries had a great texture and taste, even though the 20 SEK surcharge was a bit too expensive for our taste. Both side-orders came in huge portions though, so you won't leave the restaurant hungry.
The burgers at Rockin Burgers don't really measure up to the standard we've become accustomed to in Stockholm, which especially runs true for their Kungsholmen location, since it's just a few minutes' walk from several superior competitors.