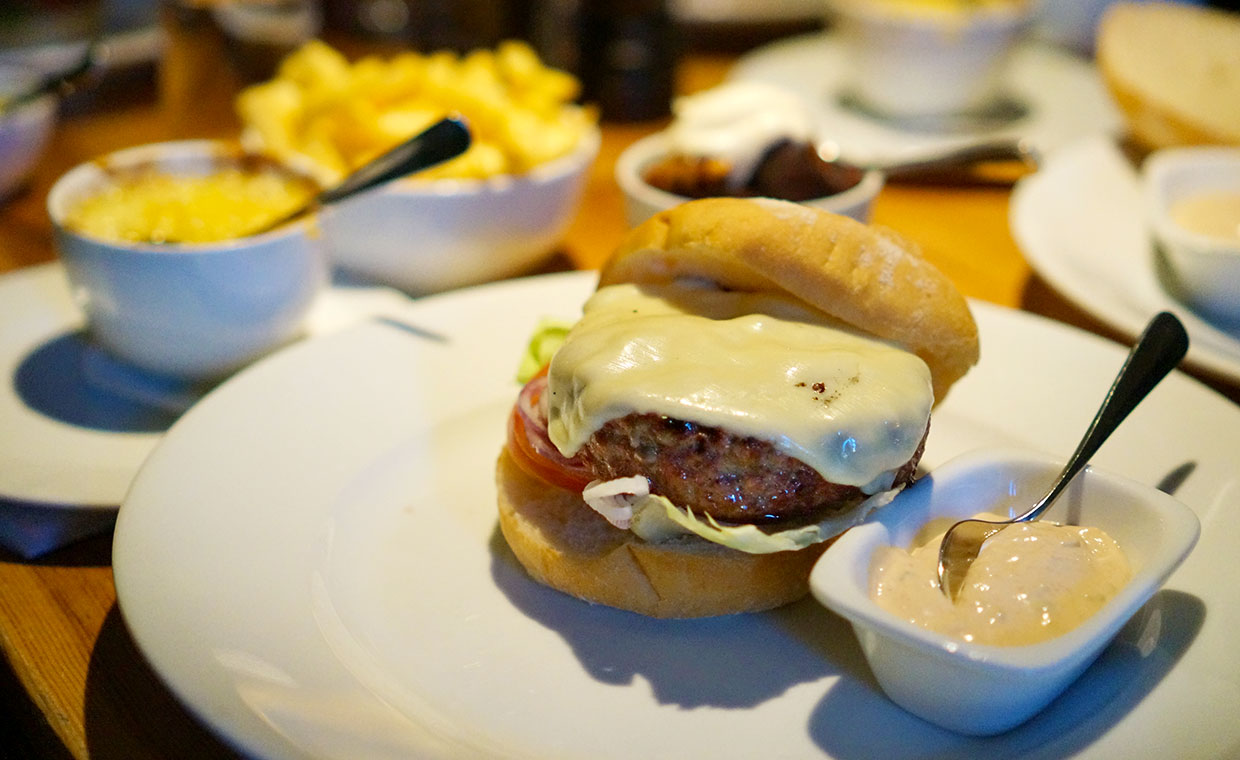 Ruby Grill och dess storasyster Ruby Bistro ligger i Gamla stan i Stockholm och har serverat finburgare sedan 1995. För 10-15 år sedan hade de ett väldigt gott rykte, men det har hänt en hel del i hamburgarbranschen sedan dess – särskilt nu när Barrels och The Flying Elk ligger i närheten.
Cheeseburgaren med mac 'n cheese och pommes frites som tillbehör kostade 194 kronor, plus 20 kronor extra för bacon.
Vi kan börja med det positiva: köttet var vackert rosa. Så, då var vi klara med det, för det fanns inget mer. Det torra och mjöliga brödet som föll sönder efter halva måltiden ramade in ett tjockt lager av kylskåpskall sallad, tomat och rödlök. Burgaren i sig smakade nästan ingenting och kändes oväntat torr, och osten tillförde ingen nämnvärd smak. Pommes fritesen smakade som papper och vår mac 'n cheese bestod av hälften smält fett och hälften sönderkokt pasta. Den sistnämnda smakade dock tryffel, precis som utlovat, så det var inte helt misslyckat.
Om det här hade skett på ett gatukök för under hundringen hade vi eventuellt satt en tvåa och konstaterat att det fanns ambitioner. Nu, på en köttrestaurang och med en gourmetprislapp, var det bara pinsamt. Bistro Ruby är ett bevis på att ett bra läge ensamt kan bära en restaurang, och sällan har epitetet turistfälla känts mer passande.
In English
Ruby Grill is located in Gamla Stan in Stockholm. They have served gourmet burgers since 1995 and had a really good reputation 10-15 years ago. Their cheese burger with two sides costs 194 SEK, with an additional 20 SEK for bacon. The patty was beautifully pink inside, which was the only positive thing about the burger. The bun was dry and fell apart, the meat was dry and fell apart and the lettuce, tomato and onion, well they didn't fall apart but were ice-cold instead. The cheese, as the rest, didn't really taste of anything. Our fries tasted like cardboard and our mac 'n cheese was mostly mac 'n grease. This was a terrible burger at a high price and we can not recommend this to anyone, anytime for any reason.