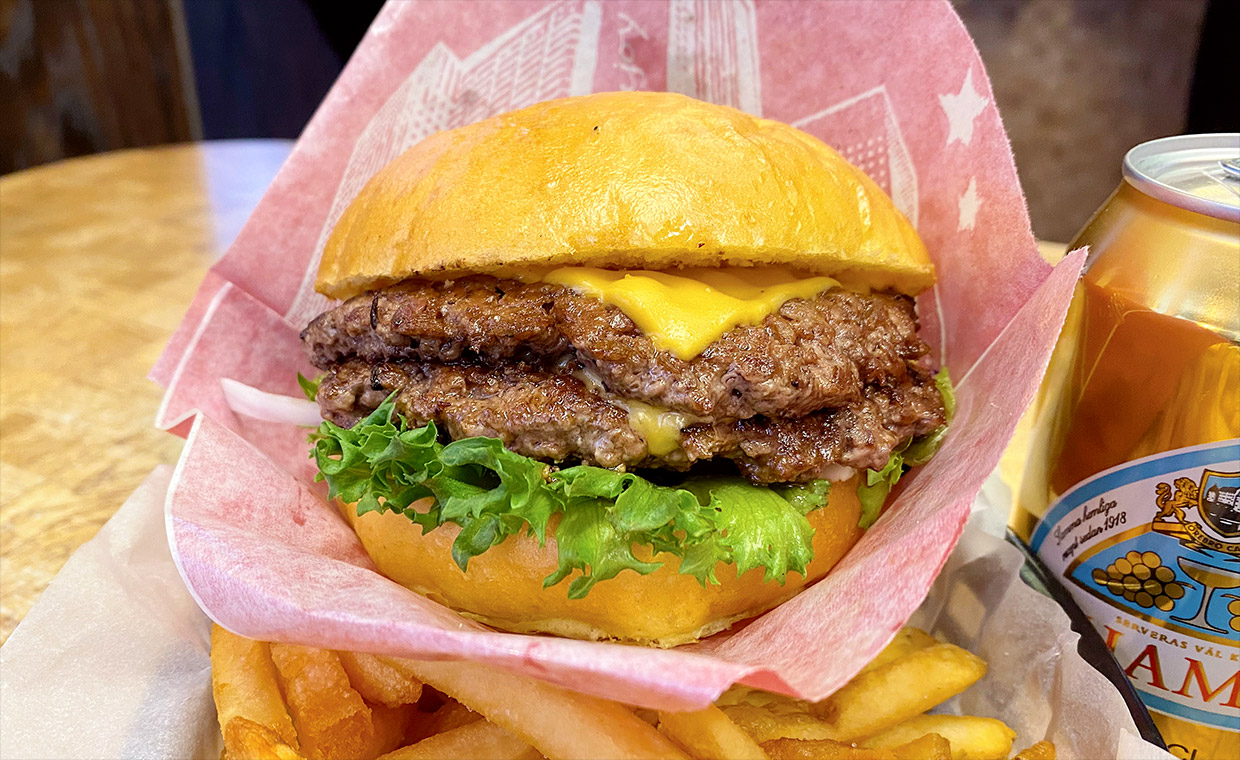 Slakthusgrillen ligger i Slakthusområdet i Stockholm, i närheten av Globens tunnelbanestation. Den enkla grillen har serverat snabbmat till hungriga arbetare i industriområdet i flera årtionden, och öppettiderna talar sitt tydliga språk om att det är dessa personer som är målgruppen – de öppnar redan klockan sex på morgonen och har stängt på helgerna. På senare tid har de börjat sälja en högrevsburgare, och läsartipsen har inte låtit vänta på sig. Den slitna lilla grillkiosken rymmer tiotalet sittplatser, och servicen var gemytligt barsk vid vårt besök. Vår högrevsburgare innehöll två köttpuckar à 100 gram, ost, rödlök, tomat och en dressing, och kostade endast 99 kronor inklusive pommes frites och läsk.
Burgaren såg inte särskilt anmärkningsvärd ut, men redan vid första tuggan märkte vi av den höga kvaliteten på köttet, som var supersaftigt och ordentligt kryddat med salt och peppar. Brödet var mjukt och höll ihop genom hela måltiden, men det blev ändå ganska kladdigt framåt slutet. Dressingen var inte mycket att hurra för, och påminde nästan om remouladsås. Annars gillade vi enkelheten med den tunnskivade tomaten och de spartanska mängderna sallad och rödlök. Pommes fritesen var av gatukökskvalitet, och tillförde inte särskilt mycket. Den ingick och var mättande, men vi hade inte beställt in den separat.
Slakthusgrillen serverar en klart godkänd burgare, och vi uppskattar verkligen att det går att få tag på en god hamburgare i det lite sjaviga Slakthusområdet. Ibland behöver det inte vara mer komplicerat än så.
In English
Slakthusgrillen is located in the industrial Slakthusområdet area in Stockholm, close to the Globen subway station. This unassuming grill kiosk has served fast food to hungry workers for decades, and their opening hours clearly show who they cater to seeing as they open at 6 in the morning and are closed during the weekends. Lately, they've started selling burgers made from fresh chuck beef, and we've received loads of tips about them. The small and run-down grill kiosk has about 10 seats or so, and the service was curt but friendly during our visit. Our burger contained two 100-gram patties, cheese, red onions, tomato and sauce, and only cost 99 SEK (12 USD) including a soft drink and an order of fries.
The burger looked pretty basic, but we could immediately tell that they'd used high quality beef. It was super juicy and excellently seasoned. The bun was soft and held together throughout our meal, even though it got a bit soggy towards the end. The sauce wasn't our favourite though, and tasted a bit like a remoulade sauce. But apart from that we appreciated the simplicity, with just some thinly sliced tomato and a small amount of lettuce and red onions. The fries were classic grill fries – filling but not worth writing home about. We wouldn't have ordered them separately.
Slakthusgrillen serve a decent burger, and we really like the fact that we now can find a good hamburger in the somewhat rough Slakthusområdet district. We couldn't really have hoped for anything more than that.